Winter RV Driving Tips: Getting There Safely in Your Motorhome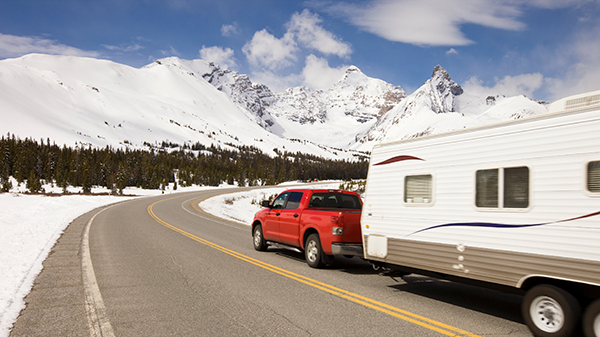 Driving an RV in winter is nothing like it is when the weather is mild. You may have driven an RV in perfect weather and have decided you want to take that winter wonderland trip. Or, maybe you've gone from being a part-time RVer to a full-time one and have no choice but to drive in snowy and freezing weather. Whatever your reasons are for driving an RV in winter conditions, we've got some tips for you if you're planning on hitting the road when it's icy or snowy.
Get the Right RV Tires
Chances are that the tires on your motorhome are ones from the manufacturer, which are summer or highway tread tires. You may want to get tires with a better tread pattern for traction. While they are not very quiet, they will provide protection against your RV skidding on ice and snow. On standard tires, your traction is compromised in winter so you will have a false sense of stability due to the weight of the RV alone. You must be especially careful when you slow down or try stopping because sliding is very common.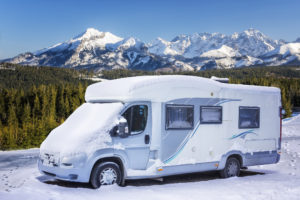 Do not make excuses: If an ice or snow storm begins while you're driving, get off the roads as soon as possible. Invest in snow chains if you want to conquer any kind of storm without having problems. Otherwise, plan for stopping for the night until the storm passes and the roads are paved for safety again. That means having a full tank of gas, and possibly an extra tank, to use as fuel through the night. You may even get stuck for several nights depending on the severity of the storm.
If you have snow chains and are driving through the night, drive with your low beams on because the high beams will reflect off the snow and essentially blind you from seeing the road. It never is ideal to drive through a storm.
Steering
If you're lucky your motorhome has anti-lock brakes, but if it is rear-wheel drive, you'll have to follow an old trick to gain control if your vehicle begins to skid: Just pump the brakes very gently and avoid cutting the wheel abruptly in the opposite direction of the sway.
Sliding can be very scary and dangerous, especially if you have a trailer hitched to your main vehicle. Applying gas usually makes the slide worse. The best way to prevent disaster is to leave ample room between you and the car in front of you at all times and break ever so slowly. Also, if you have a diesel RV, shut off your exhaust brake so the back-end of the RV doesn't swerve.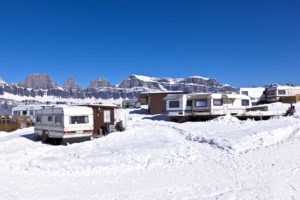 If your RV slides off the road and into a ditch, it could very possibly sustain structural damage, even worse than car or truck would sustain. If you're towing a trailer, the sway may end up controlling you instead – and that's very dangerous.
Don't assume that you can handle a storm because you have done so in a car. In a motorhome, staying off the roads until a storm has passed is the wisest thing you can do. Also, you want to make sure you have ample RV insurance in case you ever do have an accident. Again, repairs to an RV are costly, so speak with an insurance specialist at (866) 501-7335 about your concerns, especially if you're a winter RVer.
---
The information in this article was obtained from various sources. This content is offered for educational purposes only and does not represent contractual agreements, nor is it intended to replace manuals or instructions provided by the manufacturer or the advice of a qualified professional. The definitions, terms and coverage in a given policy may be different than those suggested here and such policy will be governed by the language contained therein. No warranty or appropriateness for a specific purpose is expressed or implied.