Top 8 Pop-Up Campers For Easy Towing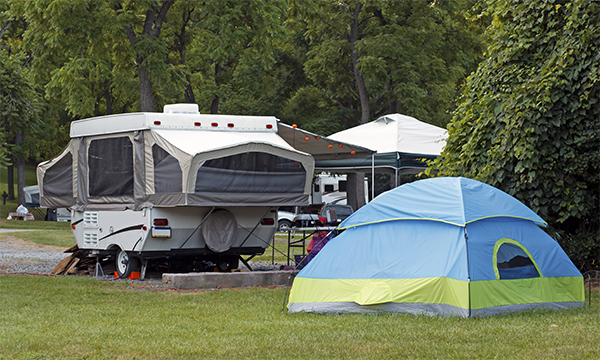 RVing has always been a popular lifestyle and the latest trend has been to downsize as much as possible. However, it's a good idea to test the waters of the RV lifestyle before diving right in. A great way to see if you like RVing is to start small with something like a camper or trailer versus a large, expensive motorhome or bus conversion.
Starting small with a pop-up camper allows you to experience RV life in a much more affordable way. Additionally, many pop-up campers can be towed by most vehicles. That means you may not have to worry about whether or not the car you're currently driving can haul your camper.
What Is A Pop-Up Camper?
As you may know, there are many types of recreational vehicles to choose from. Common smaller RV options include travel trailers, camper vans, and of course, pop-up campers.
A pop-up camper is classified as a recreational vehicle that is towed, collapsible for easy storage and transport and provides a large amount of interior space while open. They tend to be the lightest type of recreational vehicle. Many people may start with a pop-up camper before investing in a larger class of RV. This way they can see if they like the outdoor lifestyle and/or require a larger option.
Advantages of Pop-Up Campers
Are you someone who loves camping, but only ventures out into the wilderness for a weekend or a few days at a time? Then, a pop-up camper could be perfect for you. However, if you like to camp for weeks or even months at a time, you may want to consider a travel trailer or motorhome that has more long-term amenities.
Here are some of the advantages of pop-up campers:
Convenience. Pop-up campers are a portable way to upgrade your camping experience with added comfort and protection in the great outdoors. Plus, they are easier to store than a larger motorhome or travel trailer.
Towing. Because they are so lightweight, you can easily pull a pop-up camper with almost any vehicle. They are also smaller and therefore easier to fit into garages, storage units and parking spaces.
Comfort. Modern pop-up campers come with pretty much all the amenities you need for a weekend getaway. They typically include a sleeping area, storage space and a cooking area.
Finding The Right Pop-Up Camper For You
Before you begin to compare campers, it's helpful to have a list of must-haves. Figure out the size, weight and amenities you require in your pop-up camper. Think about how frequently you will use it, what you will be using it for and how many people need to fit inside it at once. When you have a good idea of what you're looking for, narrow down your list further by budget.
Below we've compiled a list of eight highly-rated pop-up campers that range in price (but are all under $25,000), so you can find the one that's perfect for you.
1. Coachmen Clipper Pop-Up Camper
This is a great pop-up camper for those who want a luxurious-feel while also being able to fit a lot of people inside. There are 15 different floorplan options you can choose from, depending on how light you want the camper to be and how many people you need to fit in it. The lightest floorplan weighs in at a dry weight of just over 1,500 pounds and the heaviest one comes in at a little over 3,000 pounds. Overall, the Coachmen Clipper has extremely positive ratings, making it a trustworthy option for first-timers. Additional key features include a sturdy tubular steel frame, residential laminated countertops and walnut cabinetry.
Base Price: $18,585* | Length: 12-21 feet | Sleeps: 2-7 people
2. SylvanSport Go Pop-Up Camper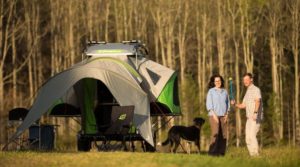 If portability is your main priority in a pop-up camper, then the SylvanSport Go is a great, affordable RV to consider. It weighs in at a featherlight dry weight of 840 pounds and has two floorplan options. Key features include stargazing windows, awnings over the entrance and rear, insulating bed platforms and waterproof gear storage. There are also many add-ons to choose from, making the SylvanSport Go fantastic for customization in a small space.
Base Price: $10,995* | Length: 12 feet | Sleeps: 2-4 people
3. Forest River Rockwood Pop-Up Camper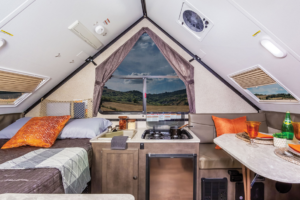 For someone looking for a pop-camper that's a bit more spacious, check out the Forest River Rockwood camper. There are a few floorplan options to choose from, each including luxury features like a 3-burner cooktop, microwave, USB charging ports, TV outlet and controlled heated mattresses. It is a little bit more expensive than other pop-up campers, but the extra space and luxurious feel is worth it.
Base Price: $19,995* | Length: 19-21 feet | Sleeps: 6-7 people
4. Jayco Sport Pop-Up Camper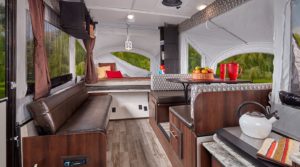 This pop-up camper is compact and primarily appeals to tailgators. This is due to its canopy awning's capacity to fit a table and chairs, in addition to its dedicated space for an outside stove. The interior also features two small refrigerators, a stereo speaker and air conditioning. The Jayco Sport has four floorplans to choose from, expansion package options and a dry weight of 1,720-2,385 pounds.
Base Price: $12,000* | Length: 11-18 feet | Sleeps: 4-7 people
5. Livin' Lite Quicksilver Tent Camper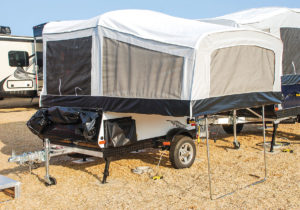 The Quicksilver Tent Camper by Livin' Lite is reliable, luxurious and affordable. In fact, it's everything you want in a pop-up camper as long as you don't require too much space. There are four floorplans to choose from and many exterior color options. Key features include aluminum cabinets, composite counter tops and vinyl cushions. There are also several amenities you can add on, which you may choose to splurge on since the base price is lower than most.
Base Price: N/A | Length: 10-20 feet | Sleeps: 2-6 people
6. Newport Aliner & Somerset Pop-Up Campers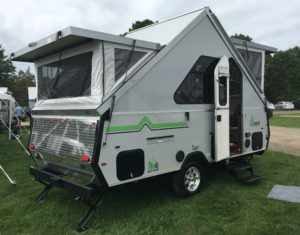 With their simple design, the Newport Aliner & Somerset campers are ideal for the outdoorsmen not looking for fancy bells and whistles. Even in their simplicity, the campers have a decent amount of storage space, fit two 4-inch mattresses and come with a three-way refrigerator and microwave in the dinette. The Aliner has a starting dry weight of 1,590 pounds while the Somerset starts at 2,650 pounds. Additionally, both models have straightforward features that make them a breeze to set up. Their large tires also tread various terrain without trouble.
Base Price: $14,000* | Length: 18 feet | Sleeps: 2-6 people
7. Air Opus Pop-Up Camper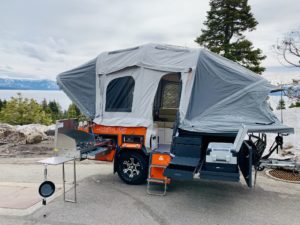 This camper is on the pricier side of the spectrum, but for good reason. It's made for off-roading, so you know it's reliable and durable. It's also known for being lightweight and compact, but still spacious when open. The Air Opus camper's dry weight is 2,870 pounds and has the capacity to sleep 10 people. Additionally, it was designed with luxury and ease-of-use in mind. Key features include waterproof flooring, a kitchenette with a sink and running water, a refrigerator, a microwave and more that you definitely need to check out yourself.
Base Price: $18,999* | Length: 18 feet | Sleeps: 4-10 people
8. Forest River Flagstaff Pop-Up Camper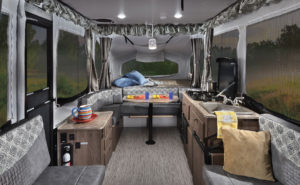 Last but certainly not least, is the Forest River Flagstaff camper. You get the best of both worlds when it comes to this pop-up camper. It has all the pop-up qualities needed to keep it portable, while also having hard walls comparable to a travel trailer. With eight different floorplans to choose from, you can also customize it to your liking. The camper is also not lacking in modern amenities, with a solar panel option, large kitchenette, microwave, TV outlet, USB ports and other luxuries. There's even a hard wall shower and toilet.
Base Price: $24,995* | Length: 19 feet | Sleeps: 2-8 people
RV Insurance for Pop-Up Campers
Just like any other recreational vehicle, a pop-up camper requires Specialty RV Insurance. A camper is not that same as a car because it has amenities like beds, kitchen appliances, plumbing, etc. That's why Car Insurance won't provide sufficient coverage in the event that your camper is in an accident, damaged or stolen. However, RV Insurance may not be as expensive as you think. Speak with an RV Insurance Specialist at (866) 501-7335 to find the coverage you need at a rate that fits your budget.
---
*The base price listed in this article is an estimated MSRP of the 2018 or 2019 model at the time the article was written and may not reflect current market prices.
The information in this article is obtained from various sources. This content is offered for educational purposes only and does not represent contractual agreements. The definitions, terms and coverage in a given policy may be different than those suggested here. Such policy will be governed by the language contained therein.