Top 6 Glamping Destinations in California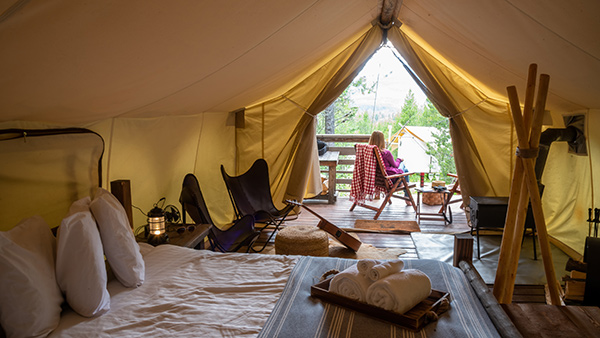 In California, it can get expensive to plan even a short weekend vacation. This is your sign to say no to a pricey hotel stay and instead choose a glamping cabin or yurt instead. There are so many fantastic destinations to choose from in the Golden State that offer both a getaway from the city and a luxury experience that doesn't require a hotel resort. Check out the six glamping destinations we've rounded up and discover your next vacation location!
1. El Capitan Canyon, Santa Barbara
Head to the beach and enjoy luxury camping at El Capitan Canyon. Hidden amongst 350 acres of forest and hills, you can choose to stay in furnished cedar cabins, adventure yurts, or canvas safari tents. Whichever extravagant accommodation you choose, there are willow beds adorned with hotel-worthy duvets and western-themed blankets in each. As far as activities go, there is a private hiking trail leading to a llama and goat farm, complimentary cruiser bikes, and a heated swimming pool available to guests. They call it glamping for a reason!
2. Sequoia High Sierra Camp, Kings Canyon National Park
Looking for a glamping destination that's remote and away from the hustle and bustle of city life? Check out Sequoia High Sierra Camp offering off-the-grid cabins. These are no ordinary cabins, though. Each one is a deluxe "tent-en-suite" style cabin on a fixed platform with canvas sidewalls, roof, and doors. As a guest, you will be provided with three meals a day, including a five-course dinner prepared by a gourmet chef. This exceptional glamping experience wouldn't be the same without its hiking trails, fly fishing lake, horseback riding, stargazing, and more. Plus, you're surrounded by beautiful sequoias and epic views of the mountains.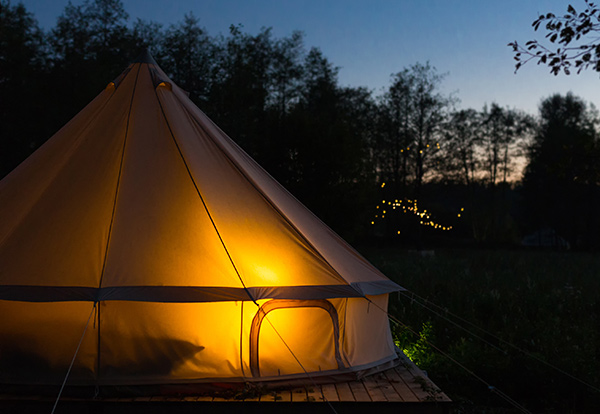 3. Blue Sky Center, New Cuyama
At Blue Sky Center, all types of campers are welcome. That means you can bring your RV, car, motorcycle, or any other vehicle you're traveling in. Choose from one of many campsites to park your RV and pitch your tent, or reserve one of the five Shelton Huts available. And yes, there are clean restrooms and showers available as well as other amenities like the Khalili Cantina, the Warehouse, a fire pit, and hammocks. What are you waiting for?
4. Mendocino Grove, Mendocino
Here at Mendocino Grove you'll find a rustic, chic glamping site surrounded by nearby beaches, redwoods forests, and meadows. Because of its location, there is so much of the great outdoors for you to explore! There are 60 luxury safari tents available at the campground, each adorned with comfy beds, warm down comforters, wool blankets, and cotton linens. Each tent also includes a fire pit and picnic table. Besides barbequing over a fire pit, there are also eatery options like the Trillium and Good Life Café.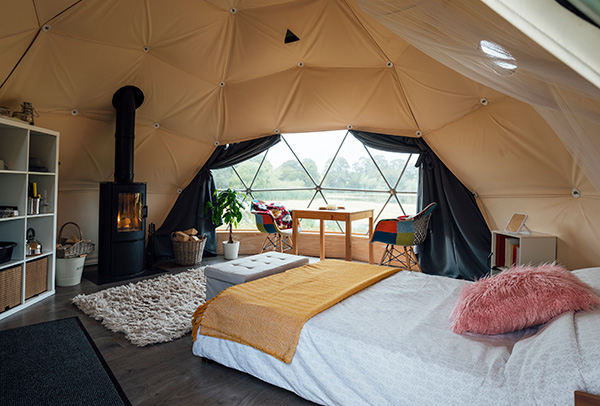 5. Mary Smith Campground, Lewiston
Want to explore a kayaking, birdwatching, hiking paradise among the Trinity Alps? Look no further than Mary Smith Campground! There are typical campsite options here, but for a glamping experience, you'll want to reserve one of the six luxury yurts. Enjoy queen beds layered in down comforters, as well as a fire pit, picnic table, and more. Since you'll be right next to Lewiston Lake, you can go boating, fishing, whitewater paddling, and swimming. And you can do all of these activities surrounded by panoramic views you won't find anywhere else.
6. Ventura Ranch KOA, Santa Paula
This 76-acre campground is nestled in the mountains between Santa Paula and Ojai. There are several accommodation options to choose from, including tent sites, RV sites, teepees, safari tents, and cabins. We recommend reserving one of the safari tents or teepees for an authentic glamping getaway. While you're immersed in nature at the Ventura Ranch KOA, there are also unique amenities to take advantage of like the outdoor pool, rock climbing wall, trampoline, and more.
More on Glamping
Interested in glamping destinations outside of California? Check out these 10 glamping sites that are perfect for parking your RV, too.
---
The information in this article is obtained from various sources and is offered for educational purposes only. It should not replace the advice of a qualified professional. No warranty or appropriateness for a specific purpose is expressed or implied.