6 Things You Should Consider When Buying an RV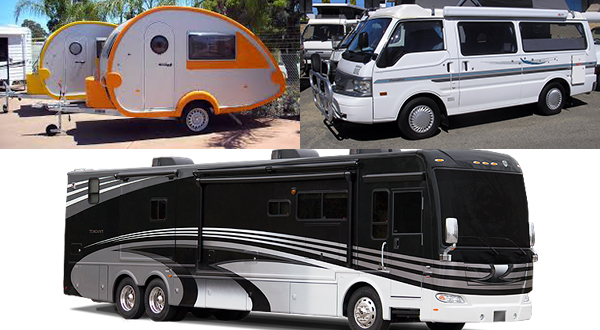 There are many kinds of RVs out there and each one is special in its own way. Only you know what you need and can afford. While many RVers start off small and build up to a large motor home after ditching their tents, some people choose to go for the gold right away because they spend so much time camping or are retiring soon. The following 6 things you should consider when buying an RV will help making a decision a little easier.
1. Where do you plan to go camping?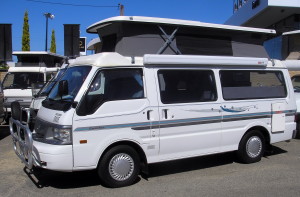 This question is important because certain campsites will have size restrictions. Do your research. If you know you'll be camping at several parks where there is a 30 foot limit, then your decision is made for you.
Also, you may need to narrow your search for a vehicle depending on the kinds of roads you'll be taking. For example, if you know you'll be RVing often in mountainous terrain, you're going to want to get the biggest engine you can afford.
2. Do you plan on using the RV as a main vehicle or do you plan to haul a small car (or haul a trailer with a truck)?
Think about the day-to-day of RVing and what type of driving you're most comfortable with. If you know you'll be driving along tight, winding roads, you'll either want to buy an RV that can haul your car or buy a smaller RV (an A, B+ or C class) under 30 feet.
3. What type of RV fits your needs and your budget?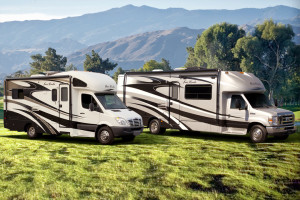 Some RVers only use their vehicles on weekends while others are full-timers.
Since an RV is a mini-home, this is an important question to ask yourselves. If you're only using the vehicle for short periods of time, you may be able to deal with a less than spacious vehicle or a bare-bones kitchen and small bed. If you're going to be making this your home, you may want to tack on a few luxuries and buy a bigger RV.
First, you have to consider your budget. If you know you won't be able to purchase a vehicle that costs between $60,000 and $1 million, then forget about the Class A motorhomes and move on to the others. Here's a brief description of each type.
Class A Motorhomes: These are usually colossal and feature all the amenities you'd find in a house, including queen-size beds and even dishwashers. An entire family can be pretty comfortable in one of these. Expect a full-size fridge, maybe even a dishwasher.
Class B Motorhomes: Also called Camper Vans, these offer many of the amenities in a Class A but in a more compact size. The foundation of a Class B vehicle is a van, so more than 3 travelers will feel suffocating, especially on a long trip.
Class C Motorhomes: These are the most rented types of RVs and the ones you see most often. They can range between 20 and 40 feet, but are usually roomy enough to fit a whole family. A cross between a Class A and B, the C class is usually much less expensive than the A.
Travel Trailers: Lightweight yet spacious, these RVs need to be towed, usually by a pickup truck, SUV or even some minivans. They come in a range of sizes and styles, ranging from the small teardrop trailers measuring 12 feet long to the 33-foot ones that can carry a price-tag in the $70,000 range.
Fifth-Wheel Trailer: This type of RV attaches to a special mount on top of a powerful pickup truck. Unlike other trailers, there is no pulling involved here and backing up is much easier because everything moves as one unit.
Pop-Up Trailer: This is the smallest type of trailer and does exactly as its name implies: to expand for more spaciousness, its hard roof rises and the bed trays slide out when it's time to turn down. Even though these trailers are small, many come with showers, kitchens and toilets. Because it's so lightweight, the pop-up trailer can be towed by a minivan. These are also the most affordable RVs and are great for newbies.
Toy Hauler: This type of trailer has a built in garage area in the rear. The space is used to haul motorcycles, ATVs and those sorts of toys. After unloading, the space can easily be transformed into sleeping area.
Truck Camper: This RV can slide into the bed of a standard pickup truck. It's also the cheapest camping option, aside from a tent. Many of these also come with a small kitchen, toilet and even a shower.
4. What should I know about insurance?
Just like as you would with any type of vehicle, you will need to get insurance on your RV. Keep in mind that the more expensive the rig, the more you'll be paying for coverage. There are also seasonal options for people who only want to insure their vehicle for short periods of time during the year.
There are many of insurance carriers that can offer you coverage, so the best option is to get RV Insurance quotes to compare prices for you. By getting quotes, you can see what coverages are available to you and the different rates from different vendors.
5. Should I buy a new or used RV?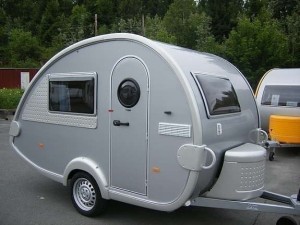 A brand new RV is just like a car in that it will depreciate in value as soon it leaves the lot. If you can afford one, by all means, don't stop yourself from buying a brand new vehicle, but do note that many people who live out of their RVs turn them in every two years for a brand-new rig. This is good news for buyers looking to save thousands. However, just as with a used car, you can never be sure of what kinds of mechanical problems you are buying until you do it.
Whether you do decide to buy used or new, make sure you are purchasing the vehicle with a reputable dealer who is known to service your needs even after a sale. If you can, always request the service records, especially if you're buying from an individual. Chances are you'll save money by avoiding the dealer, but you never know what may happen after the rig is yours without a warranty.
6. Other important things to consider:
Service and Warrantee: Not all dealers of the manufacturer of the RV you buy will service your car or help you with any problems you may arise once you buy your RV. It's important to know you have a go-to person/dealership, especially if you're a newbie. This is the reason why price should not be the only determining factor in buying a rig. Make sure your selling-dealer has a good reputation for after-sale service.
A thorough walk-through of the vehicle you buy should take days not just an hour or two. Be sure you know how to operate every knob and switch in the RV.
Most importantly, you want to have good insurance on your new trailer or motorhome. For reliable protection and incredible customer service, try Quick RV Insurance. Specialists will compare rates for you while matching your specific needs.
The information in this article was obtained from various sources. This content is offered for educational purposes only and does not represent contractual agreements, nor is it intended to replace manuals or instructions provided by the manufacturer or the advice of a qualified professional. The definitions, terms and coverage in a given policy may be different than those suggested here and such policy will be governed by the language contained therein. No warranty or appropriateness for a specific purpose is expressed or implied.