A Complete Thanksgiving Menu: 5 Delicious Recipes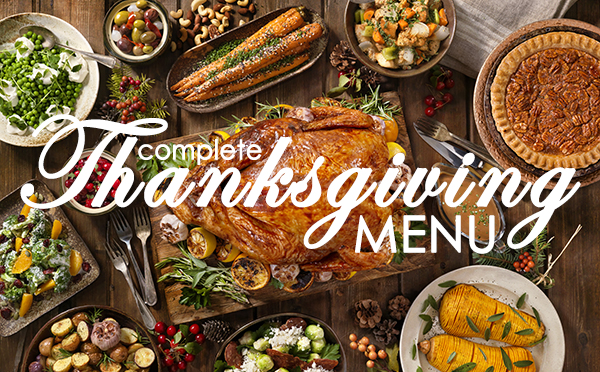 It's almost that time of year! Family comes together to gather around the table and feast on delicious food. Most of the recipes are only made on Thanksgiving Day, so you want to make sure they're memorable! We have a complete Thanksgiving menu with recipes you can make in your RV or any other kitchen. All you need is the right ingredients and an oven!
Appetizer
Cranberry Brie Bites
Let's face it. Not everyone enjoys that sticky mess of cranberries as a side dish on Thanksgiving. So, why not turn it into something everyone will definitely enjoy? After all, everyone loves cheese and croissants. This recipe is also the quickest and easiest one on our Thanksgiving menu, so you can start serving your guests in no time.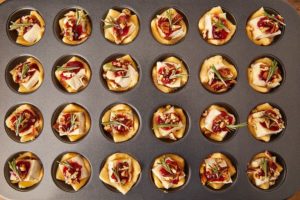 Ingredients
1 (8-oz.) tube crescent dough
1 (8-oz.) wheel of brie
1/2 cup whole berry cranberry sauce
1/2 cup chopped pecans
6 sprigs of rosemary, cut into 1-inch pieces
Cooking spray
Flour, for surface
Directions
Preheat the oven to 375°F and grease a mini muffin tin with cooking spray.
On a lightly floured surface, roll out the crescent dough. Pinch the seams together. Cut into 24 squares and place the squares into the muffin tin slots.
Then cut the brie into small pieces and place one piece in each crescent dough slot. Top the brie with a spoonful of cranberry sauce and some chopped pecans. Add one sprig of rosemary on top. Bake for 15 minutes or until the crescent dough is golden.
Place the bites on a platter and serve warm.
Total Time: 35 min.| Servings: 24 bites | Recipe: Delish
Sides
Instant Pot Mashed Sweet Potatoes
The best part about this recipe is that it frees up the oven. Just stick it in your instant pot for about 20 minutes and you'll end up with a delicious take on a traditional Thanksgiving yams dish. Oh yeah, the marshmallow crème is optional but highly recommended.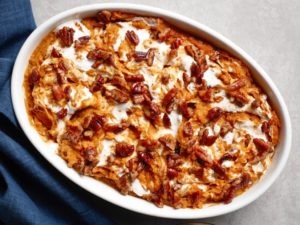 Ingredients
4 lbs. medium sweet potatoes, peeled
3/4 cup pecans, chopped
1 stick unsalted butter
1/3 cup heavy cream
1/4 cup pure maple syrup
1/2 teaspoon ground cinnamon
Kosher salt
Freshly ground black pepper
1/2 cup marshmallow creme
Directions
Cut the sweet potatoes in half lengthwise, then crosswise into 1-inch pieces. Set aside.
Turn your 6-quart Instant Pot® on to the normal sauté setting. When the pot is hot, add the pecans and cook, stirring constantly, until toasted and slightly darkened in spots. It should take about 6 to 8 minutes. Remove and place in a bowl and reserve.
Then, add the butter and cook, stirring, until melted. Stir in the cream, maple syrup, cinnamon, 1 tablespoon salt and a large pinch of pepper. Add the sweet potato pieces and stir to combine. Set to pressure cook on high for 12 minutes. After the pressure cook cycle is complete, follow the manufacturer's guide for quick release and wait until the quick-release cycle is complete. Being careful of steam, unlock and remove the lid.
Next, use a potato masher to mash the potatoes as desired. Season with additional salt and pepper to taste. Scoop the sweet potato mash into a large baking dish and use a large spoon to smooth it out into a single layer. If desired, scoop tablespoons of marshmallow creme onto the potatoes and allow to melt for 1 to 2 minutes. Use a butter knife to create a swirl effect. Lastly, top with the pecans.
Serve warm in your favorite dish.
Total Time: 40 min. | Servings: 10-12 people | Recipe: Food Network Kitchen
Garlic and Thyme Custard Cornbread
What is Thanksgiving without cornbread or at least form of biscuit? This is a more sophisticated take on traditional cornbread. Don't worry, it's just as tasty and only takes about 35 minutes to bake.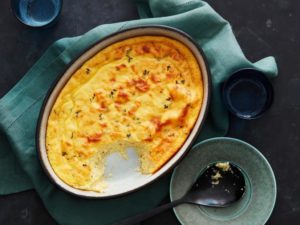 Ingredients
1 cup stone-ground cornmeal
1 1/2 cups buttermilk
2 cups half-and-half
6 tablespoons unsalted butter, plus more to butter the dish
2 large eggs, beaten
1 teaspoon baking powder
1/2 teaspoon baking soda
1 clove garlic, finely grated
1 tablespoon sugar
2 teaspoons kosher salt
1 tablespoon fresh thyme leaves, chopped (about 8 sprigs)
Directions
Preheat the oven to 400°F and generously butter a 2-quart baking dish.
First, add the butter to a medium saucepan and melt over medium-high heat. Once melted, add the garlic and stir until the garlic becomes fragrant and the butter begins to bubble, about 1 minute. Pour in the half-and-half and buttermilk. Add the cornmeal, sugar and salt and cook. Whisk continuously until the mixture begins to thicken, about 6 minutes. Then remove from the heat and set aside to cool slightly.
Once the mixture is no longer piping hot, whisk in the eggs, baking powder, baking soda and thyme. Next, transfer the mixture to the buttered baking dish. Bake until the top is golden brown, but the center is still slightly soft and jiggly. This should take about 35 minutes.
Serve warm and dig in!
Total Time: 1 hr. | Servings: 6-8 people | Recipe: Food Network Kitchen
Entrée
Juicy Apple Sage Roasted Turkey
The flavors of this roasted turkey recipe are aromatic and delicious. Plus, they pair well with the rest of the dishes on our Thanksgiving menu. The recipe is also pretty simple and results in a juicy, tasty bird!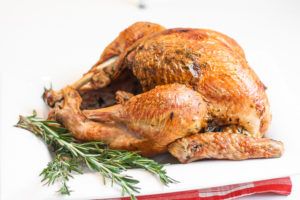 Ingredients
1 turkey, 14-16 lbs.
1 apple, sliced
4 sprigs fresh rosemary
1 cinnamon stick
6 leaves fresh sage
Olive oil or butter
Directions
Preheat the oven to 500°F.
Remove the turkey neck and giblets (you can set these aside if you plan to make homemade gravy). Then, wash and pat dry the turkey with paper towels. Place the turkey on a roasting tray and tuck the wings underneath the bird. Next, coat the turkey skin both on top and underneath generously with olive oil or butter. If desired, add any extra rosemary and sage on top of the bird. Then, insert the apple, cinnamon, rosemary and sage into the turkey's cavity.
Roast the turkey on lowest rack for 30 minutes. Then, lower the oven temperature to 350°F and roast until the internal temperature of the turkey reaches 165°F. You can check the internal temperature by inserting a cooking thermometer into the thickest part of the turkey breast. For a 14-16 lb. turkey, roasting should take approximately 2-1 /12 hours.
Once done, remove the turkey from the oven and loosely cover it with aluminum foil. Let the turkey rest for 15 minutes (Remove the turkey drippings for gravy, as well. You can find the homemade gravy recipe here).
Lastly, carve the turkey and serve!
Total Time: 3 hrs. | Servings: 10-12 people (with some leftovers, of course!) | Recipe: Ahead of Thyme
Dessert
Pumpkin Caramel Cheesecake Bars
No matter how full you are from Thanksgiving dinner, there's always room for dessert. Do you want something seasonal that the kids will still enjoy? Then, this pumpkin caramel cheesecake recipe on our Thanksgiving menu is exactly what you're looking for! Plus, the bars easy to pack up so people can take them home with their leftovers.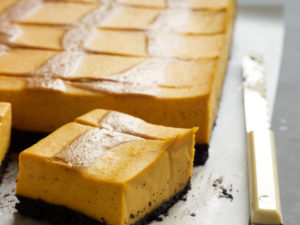 Ingredients
For the caramel sauce:
1/4 cup sugar
2 tablespoons heavy cream
1 tablespoon unsalted butter
1/4 teaspoon pure vanilla extract
Salt
For the crust:
3 cups (13 oz.) chocolate wafer cookies, crushed
1/4 cup plus 2 tablespoons sugar
1 stick unsalted butter, softened
Salt
For the cheesecake:
1 1/2 pounds cream cheese, softened
28-oz. can pumpkin puree
4 large eggs
3/4 cup sugar
1/4 cup sour cream
1 tablespoon pure vanilla extract
Hot water
Directions
Caramel Sauce. In a small saucepan, combine the sugar and 2 tablespoons of water. Bring to a boil over high heat until a deep amber caramel forms, about 6 minutes. Remove saucepan from heat and slowly whisk in the cream, butter, vanilla and a pinch of salt. Let the caramel sauce cool to room temperature.
Crust. Preheat the oven to 350°F. Butter a 9-by-13-inch baking pan. In a food processor, pulse the chocolate wafer cookies, sugar and a pinch of salt until fine crumbs form. Then add the butter and process until crumbs are evenly moistened. Press the crumbs into the prepared baking pan in an even layer. Bake the crust for about 10 minutes, until set. Let cool completely.
Cheesecake. In a large bowl, beat the cream cheese and sugar at medium speed until blended. Beat in the pumpkin puree, sour cream and vanilla. Then beat in eggs until incorporated. Transfer 1/3 cup of the cheesecake batter to a small bowl. Stir in the caramel sauce.
Set the pan with the crust in a large, deep roasting pan. Pour the remaining pumpkin cheesecake filling over the cookie crust. Drizzle the caramel mixture over the top. Swirl with a toothpick.
Transfer the roasting pan to the oven and pour in enough hot water to fill the baking pan halfway. Bake the cheesecake for about 55 minutes, until the filling is barely jiggly in the center. Transfer the roasting pan to a rack. Let the cheesecake cool completely. Remove the baking pan from the water bath and refrigerate the cheesecake overnight.
Cut into bars and serve.
Total Time: 1 hr., 45 min. (plus overnight cooling) | Servings: 36 bars | Recipe: Food and Wine
Protect Your RV Kitchen from Disaster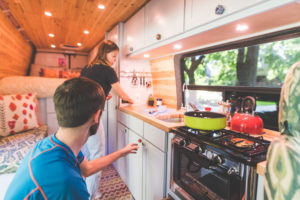 It's important to take safety precautions when cooking in a confined space like an RV. Always keep a fire extinguisher nearby. Also, make sure you're extra careful if you decide to make a fried turkey. If something does go wrong, ensure you have Specialty RV Insurance for financial protection. A standard Auto Insurance policy won't cover you in the event of an RV kitchen fire.
To learn more about your coverage options and rates, call (866) 501-7335 to speak with an agent.
---
The information in this article is obtained from various sources. This content is offered for educational purposes only. It should not replace manuals or instructions provided by the manufacturer or the advice of a qualified professional. The definitions, terms and coverage in a given policy may be different than those suggested here. No warranty or appropriateness for a specific purpose is expressed or implied.