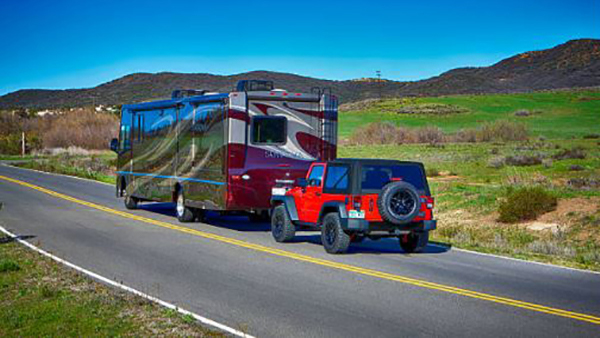 Many RVers opt to tow a lightweight vehicle behind their motorhome. Having a car makes it easier to see nearby attractions and eat in restaurants without having to lug your RV around everywhere you go. As long as you tow safely, bringing along a small car is a great idea. The convenience of a having a car does, however, put some strain on your braking capability. RV towing can be dangerous, no matter how lightweight your vehicle is. There will be extra weight being pulled, so it's important to have an auxiliary braking system on a dinghy setup. See how you can choose the right set up for your lifestyle.
Choose the Right Dinghy Braking System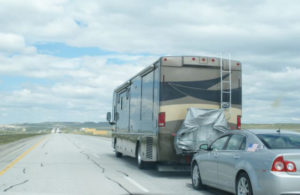 There are many different kinds of braking systems that come in a range of prices. Do research to see which system fits your needs. Basically, all braking systems fall into one of two categories, built-in and portable. The built-in systems connect to your RV's brake system. A portable unit is installed on the driver's seat floor, which then clamps to the brake pedal.
Installation can range from easy to complicated. A permanently installed system should always be done by a professional. Most brake systems have a breakaway switch and cable too.
Some of the most popular brands include:
Brake Buddy Vantage Select
Brake Buddy Stealth
Blue Ox Patriot Portable Supplemental Braking System
Roadmaster Brakemaster
Invisibrake
Danco Manufacturing RVibrake 2
SMI Air Force One Braking System
Stay-In-Play Duo Braking System
Delta Force
RV Towing Facts
Towing a car is not very different from towing a heavy trailer to a truck. However, there are a few notable differences. First, the car is connected to the RV but it's not a fixed connection. Also, all four wheels of the car being towed remain on the ground. This requires some "steering" on the part of the car. Unless you're able to brake during a stop, there needs to be stopping power that will compensate for the RV and the dinghy. If the hitch or tow bar fails, the braking device needs to bring the dinghy to a stop. This is why your braking system is important and you should familiarize yourself with how it works before taking a long trip.
RV Towing Laws
In most states, it's required to have brakes on anything towed behind another vehicle. Weight restrictions vary from state to state, but many require vehicles and trailers over a certain weight to have brakes or to stop within a specific distance. Your best bet is to have a braking system since most areas you drive through require it. Otherwise, you need to carefully research the areas you'll be traveling through and note down required distances for stopping.
Choosing a Vehicle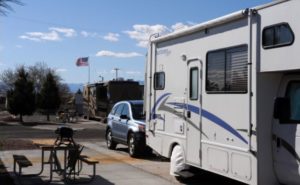 First, make sure your car is dinghy-towable. Some cars do not receive lubrication when the engine is not running. If you tow this type of car you will damage it severely when towing at highway speed limits. A handy annual guide published by Motorhome lists all the current vehicles that can be towed. It also gives vehicle weight, transmission, speed and distance limits. These limits need to be taken seriously. If a car is listed as not towable past 60 miles an hour, it really cannot do 65 without incurring damage.
Baseplates and Tow Bar
A baseplate mounts to the frame under the front of the car and attaches to a tow bar. Sometimes, the baseplate is bolt-on or it may require the removal of the front of the vehicle. Do some research to see if there is a baseplate made for your specific vehicle. Most people use tow bars that mount to the motorhome and connect to the car being towed. Make sure your tow bar is rated for the weight of your vehicle.
Lights
There is no way of plugging your tow vehicle into your RV to have running lights and turn signals. However, your brake lights will work if you have them set up to a braking system.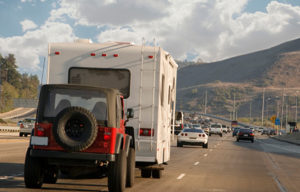 For your other lights to work, you have three choices:
Getting one-way diodes hardwired into the tow car's electrical system
Installing independent bulbs in the taillight fixtures of the tow vehicle to mimic a trailer connection
Using auxiliary lights like tow-truck drivers use
In all three cases, it's best to have a professional do the installation.
Other Important Tips
Even after you've taken care of everything mentioned above, there are more precautionary steps you should take before hitting the open road. For tips on what to do and what not to when RV towing, visit here. You'll find a good first step in determining whether or not there are other procedures required to tow your vehicle. In some cases, transmission preparation, ignition-key positioning, fuse removal and other steps are required.
RV Insurance
You'll want to have Specialty RV Insurance for your RV because standard Auto Insurance will not cover you properly in the case of an accident. RV Insurance doesn't have to be expensive either. Speak with an Insurance Specialist about getting the right RV Insurance coverage for you at (866) 501-7335.
---
The information in this article was obtained from various sources. This content is offered for educational purposes only and does not represent contractual agreements, nor is it intended to replace manuals or instructions provided by the manufacturer or the advice of a qualified professional. The definitions, terms and coverage in a given policy may be different than those suggested here. Such policy will be governed by the language contained therein.