Is RV Insurance Required?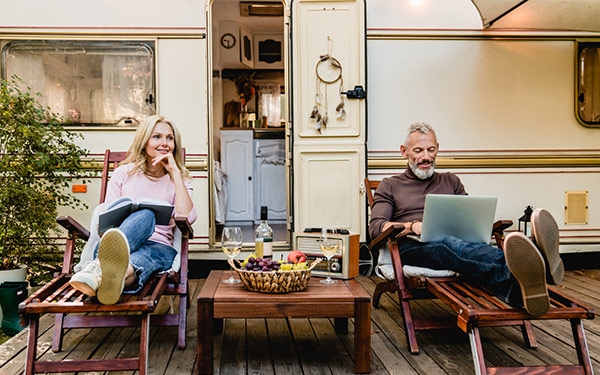 Are you planning on taking your RV on the road? Whether you have a luxury Class A motorhome, a tricked-out travel trailer, or a retro camper van, you may need to purchase specialized RV insurance. Not because your state may require it, but to cover you for any damages or injuries you cause while on the road. Not to mention, RV insurance protects your investment because we know RVs can cost as much as a small house. Here's what you need to know about insuring your RV and when it is required or not.
Are You Required to Carry RV Insurance?
Like any insurance policy, coverage requirements vary widely between states. Generally, coverage for any motorized recreational vehicles and those driving on the road are required. For these types of RVs, you must carry at least the state minimum for liability coverage. Keep in mind that your state's minimum liability limits are often not enough coverage for your situation. Without enough liability coverage or not having the proper specialized coverage for your RV, you may risk going into debt or losing assets you've worked hard for if you are involved in a serious accident or lawsuit.
When Is RV Insurance Optional?
There are a few conditions when you don't need RV insurance. RV insurance is optional if your RV is towable, such as a 5th wheel or travel trailer. Your RV must also be fully owned by you, meaning you are not making payments to a lender. Additionally, you must live in a state that does not require you to insure a towable trailer. If these conditions are met and you have notified your auto insurance company you will be towing a trailer using one of your policy's vehicles, then liability coverage from your car insurance may be extended to the trailer. It's important to note that no matter what type of RV you may have if you took out a loan to purchase your RV, your lender may require you to purchase physical damage coverage to protect the asset.
Standard Coverages For Motorhomes and RV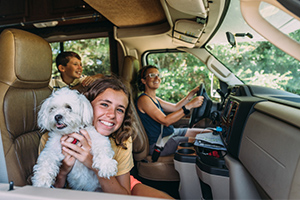 Choosing the best coverage for your RV takes a little research. Most RV insurance policy includes these coverages listed below, which you may typically see in an auto insurance policy.
Bodily Injury Liability: This protection helps cover bodily injury damages you may become legally liable for due to an accident. This includes paying for an injured party's medical bills and loss of income, up to your coverage limit.
Property Damage Liability: Helps pay for damages to another person's vehicle or property you may become legally liable for due to an accident.
Uninsured/Underinsured Motorists Coverage: If your motorhome is hit and damaged by a driver who isn't carrying insurance or does not have enough to cover the damage they've caused, uninsured/underinsured motorists coverage may reimburse you for injuries or damages up to your coverage limit.
Physical Damage Coverage: Comprehensive coverage protects your RV from theft, falling objects, vandalism, fire, or damage caused by contact with animals. Collision coverage pays for damage to your RV due to an accident with another vehicle or object, regardless of fault. It's important to know that both of these coverages include a deductible.
Medical Payments: Medical expenses up to the limits you choose may be covered for you, your family household members, and your passengers if you're in an accident, no matter who is at fault.
Specialized Coverages For Motorhomes and RV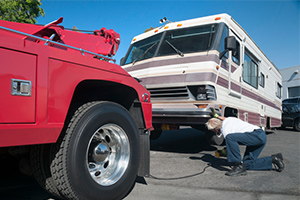 While the coverages above describe the basic form of RV coverage, if you live in your RV full-time or have an expensive rig, you should consider the following add-ons. The beauty of RV insurance is the ability to personalize and customize your protection based on your needs.
Safety Glass Replacement: Provides coverage for the repair or replacement of your RV's windshield.
Custom Equipment: Includes coverage for aftermarket parts and equipment that the manufacturer did not originally install.
Awning Replacement: Provides coverage to replace an awning destroyed in a covered loss with a brand-new awning.
Personal Contents Coverage: Protects the valuables you leave inside your vehicle.
Roadside Assistance: Get 24/7 emergency help if you need a tow, fuel, tire change, a jumpstart, or lock your keys in the RV.
Vacation/Campsite Liability: Helps cover bodily injuries sustained to another camper if they are hurt in your RV or on your campsite.
Full-Time RV Coverage: Provides protection if you use your RV as a permanent residence and do not own or reside in another dwelling.
Total Loss Coverage: There are four types of Total Loss Coverage. The type of Total Loss Coverage determines how much you will receive if your RV is determined a total loss.  

Actual Cash Value
Agreed Value
Purchase Price Guaranteed
Total Loss Replacement
Get An RV Insurance Quote Today
Insurance for RVs is something that you need as an RV owner. It provides reassurance for your safety, both financially and while traveling, and comes in handy when anything unexpected occurs. At QuickRVInsurance, we have the RV coverage you need. Speak with a licensed RV insurance specialist today at (866) 501-7335. We'll help you compare dozens of quotes so you can choose the best coverage for your RV.
---
The information in this article is obtained from various sources and is offered for educational purposes. It should not replace manuals or instructions provided by the manufacturer or the advice of a qualified professional. No warranty or appropriateness for a specific purpose is expressed or implied.