What to Do with Your RV and Recreational Toys During a Hurricane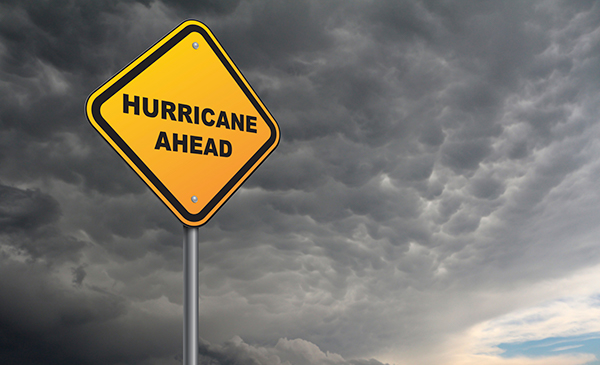 There are many RV owners in the South who are being hit hard by Hurricane Matthew. From Texas all the way up to the coast of Maine, people should be aware of the threats of hurricanes and tropical storms which may affect their trailers, motorhomes, ATVs and all other recreational vehicles. Hurricane safety is very important for RV owners.
You may think your RV is strong, and it may be, but it probably won't be any match for a category 3 or 4 hurricane. It's still wise to flee in a category 1 or 2 (especially if you're near a body of water), but you definitely don't want to chance staying when the storm is more severe. Think of it this way: a big storm surge can send water as high as 12 feet above normal sea level, so that water will destroy everything in its path and flood anything and everything that remains intact.
Do not ever take shelter inside your RV when a storm strikes, no matter how heavy and secure you may think it is. It won't serve you well at all. As for all your toys, the smartest thing you can do is store all these items in a storage facility as well. A home garage is very vulnerable to storms and flooding.
What to Do Before the Storm Surges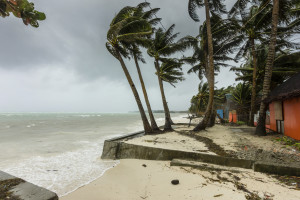 The most important thing you can do is to make sure you're properly insured, both for your home (homeowners insurance and a separate flood insurance policy) and your RV and recreational toys. As soon as a storm is trackable through sources like the popular Weather Channel, it's already too late for you to buy insurance and be covered.
Find a garage or storage facility made of sturdy concrete or cinderblocks.
Fill your gas tank if there's any chance of storm coming. Lines will be tremendous after word spreads about an imminent storm.
Replace worn tires before the rain comes and make sure they are filled with the proper amount of air.
Do not drive on roads if winds are 40 miles an hour or more – The National Guard doesn't even do that.
Don't drive into standing water. Leave before the flood.
Make reservations at campsites not affected by the storm as soon as you hear about an imminent threat. Other RV owners will likely be trying to get out of town at the same time and spaces with hookups will become limited.
Be prepared to be without power for days if you are within 50 miles of the storm's path.
What If You Can't Move Your RV Out of the Area?
Park your RV away from large trees or else it may fall on your vehicle.
Board up your windows just as you would in a house.
Board up windows with plywood and/or a heavy tarp.
Have all your personal items and important paperwork organized and ready in case you have to make an insurance claim.
Tie everything down, including your awning(s).
Remove antennas, steps and all external features.
If you have no choice but to park your RV outside, at least point it away from the wind, which can send objects flying into the windshield.
Remove all emergency supplies and items you cannot replace which may get destroyed during the hurricane.
Do not park on deep sand.
Do not park near a hill, which can quickly turn into a mudslide from rains.
Place heavy objects and or 5-gallon water containers inside the RV to make it heavier so the wind cannot knock the vehicle over.
Be prepared for the RV to leak because it will. Protect what you can.
Do not store your generator inside your RV or home. People die of carbon monoxide poisoning after every storm because of this mistake.
If you're stuck inside your RV during the storm, the safest place is the toilet, unless the vehicle gets picked up by the wind entirely, then you're just in a big mess.
If you have enough time before leaving the area with your loved ones but have to keep your RV at home and not in a safe storage facility, you can try to anchor the chassis of the rig to the ground using a couple of junk tires, nylon rope and cargo straps. Bury the tires (flat, not standing) under a few feet of earth/soil after attaching it to your rig's frame (near the axles) with the rope. This doesn't guarantee that your rig will not be carried by the wind but it may help if the storm is not as bad as anticipated.
Throw tarps on mattresses because your rig will get soaked no matter how much you take care to cover windows.
Disconnect your shore power cord and stow it, otherwise you risk destroying electric and electronic devices inside your RV.
While you may have a hard time leaving your RV behind knowing a storm may damage it, it's always wiser to file an RV insurance claim than stay behind trying to figure out a way to protect your rig. Have a plan in action well before a storm. The best bet is a sturdy storage facility. Staying in your RV is like begging to file a life insurance claim instead!
Make sure you have ample RV insurance to cover whatever damages may be incurred during a hurricane, a tornado or tropical storm. If you have any questions or would like to purchase RV insurance contact an Insurance Specialist call (866) 501-7335.
The information in this article was obtained from various sources. This content is offered for educational purposes only and does not represent contractual agreements, nor is it intended to replace manuals or instructions provided by the manufacturer or the advice of a qualified professional. The definitions, terms and coverage in a given policy may be different than those suggested here and such policy will be governed by the language contained therein. No warranty or appropriateness for a specific purpose is expressed or implied.