RV Checklist for the Kitchen: What You Can't Travel Without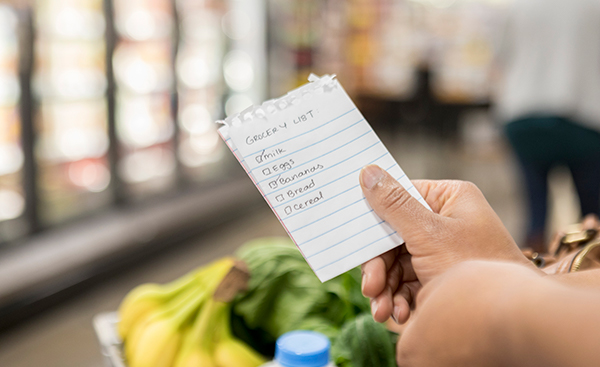 There's more to packing the kitchen of your RV than sticking a bunch of food in the fridge. You have to make sure to bring along all the essentials like cooking oil and spatulas. And don't forget that when it comes time to eat, you'll need to have things to serve the food in. Our RV kitchen checklist is full of all that stuff most of us completely forget about until it comes time to make a meal. Keep in mind that your RV kitchen is probably much smaller than the one in your home. Make sure you have all you need and not much more.
RV Checklist 1: Kitchen Essentials
Paper plates
Paper bowls
Nice dishes (fully secured)
Plastic cups
Coffee mugs
Non-slip shelf liner
Coffee filters
Knives, forks, spoons
Serving bowls and platters
Salad bowl
Cutting board
Can opener
Corkscrew
Colander
Spatulas, wooden spoons, peelers
BBQ tongs
Chip clips
Spices
Salt & pepper (and shakers)
Pots, pans, skillets
Pizza pan (if you plan to make pizzas)
Dish rack for drying
Paper towels and holder
Napkins
Dish towels
Sponges
Steel wool pads
Scissors
Trash can
Trash bags
Ziploc bags
Dish drying rack
Tupperware
Aluminum foil
Plastic wrap
Toaster
Broom and dustpan
Coffee maker and filters
Rice cooker
Crockpot/slow cooker/cast iron skillet or Dutch Oven
Recipes
RV Checklist 2: Pantry Essentials
We highly advise creating a menu for the duration of your next RV trip. The best advantage of doing this is that it gives you a sense of what you need to shop for before you leave. Otherwise, you will be buying random amounts of food, which may be too much or too little by the trip's end.
Drinking water (gallons and individual bottles)
Coffee
Tea
Hot chocolate
Milk/powdered milk
Butter
Flour
Sugar
Baking powder, baking soda etc. (if you plan to bake)
Cooking oil (olive, vegetable)
Vinegar or balsamic vinegar (for salad)
Pancake mix and syrup
Oatmeal
Cereal
Protein and/or granola bars
Beer, wine
Soda
Pasta, rice, noodles, taco shells
Pasta sauce
Rice
Tuna/sardines
Soups/broths
Chips
Crackers
Bread
Peanut butter
Jelly
Snacks (nuts, popcorn, cookies, candy)
Sandwich meats/sliced cheese
Condiments
Milk
Juice
Fruit
Eggs
Nuts
Ice
Hot dogs/buns
Hamburger meat/buns
Vegetables (canned and fresh)
Other meats for grilling/cooking
Beans, soups, sauces
Bread (toast, tortillas, etc.)
Honey
Peanut Butter
RV Checklist 3: Insurance
Before any road trip, it's best to make sure you have the right insurance. Your RV needs Specialty RV Insurance. Your regular Auto Insurance won't sufficiently cover either vehicle. To find out what insurance coverage is right for you, speak with an Insurance Specialist at (866) 501-7335.
---
The information in this article was obtained from various sources. This content is offered for educational purposes only. It does not represent contractual agreements. It is not intended to replace manuals or instructions provided by the manufacturer or the advice of a qualified professional. The definitions, terms, and coverage in a given policy may be different than those suggested here and such policy will be governed by the language contained therein. No warranty or appropriateness for a specific purpose is expressed or implied.