Protect Your Investment with Motorhome Insurance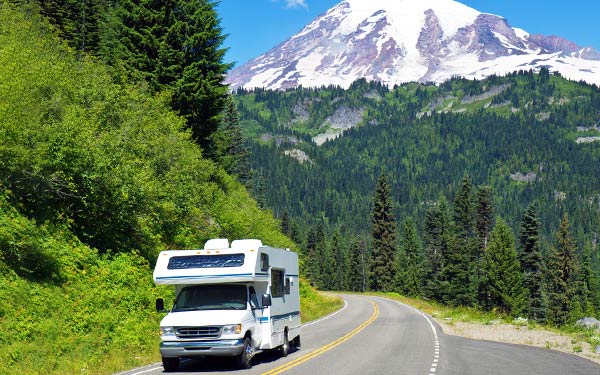 Whether you have a small camper van or a large fifth wheel, owning an RV is a huge investment. So, it makes sense to invest a little more to guard your pockets from potential damages and loss from mishaps occurring to your home on wheels. One of the best ways to protect your motorhome is to have a specialized RV policy and not a traditional Auto policy. We'll break down how a custom RV Insurance policy may help you eliminate most out-of-pocket expenses and why a typical Auto policy may leave you with gaps in coverage.
Why You Shouldn't Add Your RV to Your Auto Policy
RV owners often make the mistake of assuming that their motorhome is fully covered under their Auto or Homeowners Insurance. As tempting, it sounds to get the cheapest or quickest coverage, having the wrong insurance or being underinsured may leave you paying for a loss out of your pocket. Piggybacking off your Auto Insurance is like having the basic and minimum coverage for your expensive hybrid.
An RV is unique in that it is not just a vehicle, but also a home. It's furnished with a living space and basic amenities like a kitchen and bathroom intended for camping or extensive traveling. Your Home and Auto coverage might help cover some basic liability costs, but they rarely cover the cost of injuries, lawsuits, or the cost to replace your rig. The liability may also not be enough, especially when you're living life on the road frequently. It's worth mentioning that when you call your insurance company to report an accident on your RV, your insurance adjuster may only specialize in home and auto. You need an RV Insurance expert who knows the ins and outs of your rig and gets you back quickly and safely on the roads again.
Accidents That RV Insurance Cover
RV Insurance policies offer relief for accidents, mishaps, and injuries. The following are common RV Insurance claims that an Auto Insurance policy won't cover:
1. Fire Protection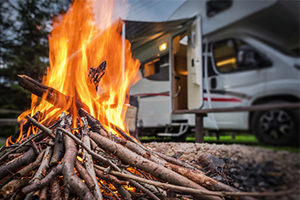 Unfortunately, RV fires are one of the largest causes of RV loss. Even the smallest gas leak can cause immediate fire danger and possibly a total loss for your motorhome. With Total Loss Replacement coverage, your insurance carrier may replace your RV with a brand new rig if it was purchased new in the first couple of years, depending on your policy.
2. Injuries and Lawsuits
Imagine finding the perfect campground to park your home on wheels. Your outdoor patio is nicely set up with a cozy firepit when, unexpectedly, a neighbor trips over your outdoor chair and accidentally burns their leg. Generally, your Home or Auto Insurance does not cover injuries that occur in or near your RV while it's parked. However, if you have Campsite and Vacation Liability coverage on a specialized RV policy, you may be protected against bodily liabilities and lawsuits.
3. Tire Blowouts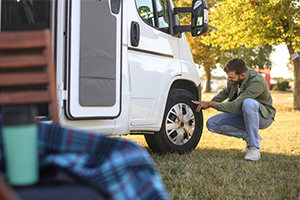 Tires blowing out are a very common RV problem. Due to your motorhome's size and weight, it is more likely for them to have tire issues. Motorhome Insurance can protect you here too. With Roadside Assistance coverage explicitly specialized for recreational vehicles, you can get the help you need from experts when you need a tow, jumpstart, or fuel.
4. Pest Protection
Pests and critters target RVs whether they are parked for a long term in storage or short term at campgrounds. Animals, such as mice, squirrels, and even cats like to crawl into tight, dark spaces. However, sometimes it's easy to forget to close any openings before leaving on a hike or other outdoor adventure. You guessed it—a specialized RV policy can cover this pesky problem too.
5. Awning Protection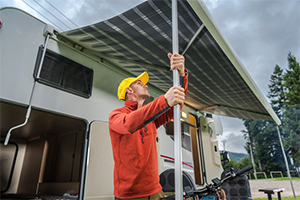 RV Insurance also automatically covers unique RV features, such as awnings. Awnings tend to get damaged easily because of their placement on the RV. We all try to remember to lower the awning when it isn't in use, and also make sure it's put away when there is extreme weather like rain, wind, and sleet. But the weather isn't always predictable and the unexpected can happen to anyone.
Protect Your Investment With The Right Coverage
The best way to assure that your trip is relatively hassle-free is to have the proper coverage, which you can't get with an Auto Insurance policy. With so many versatile functions and styles of an RV, it's understandable that RV Insurance should be too. As you can see, a custom RV policy typically covers more because your RV is more than just a car. You may also be surprised to find out that the cost of RV Insurance is more affordable than you think. Speak with an RV Insurance Specialist today at (866) 501-7335 to discover the best rates and coverage options that fit your needs. Peace of mind is one thing that you want to take with you on any trip in your recreational vehicle.
---
The information in this article is obtained from various sources. This content is offered for educational purposes. It should not replace manuals or instructions provided by the manufacturer or the advice of a qualified professional. No warranty or appropriateness for a specific purpose is expressed or implied.