How a Mercedes Sprinter Van Conversion May be Your Ticket to #VanLife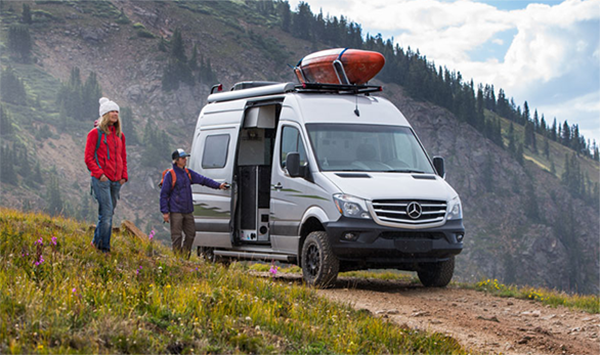 Already, the heavy hitters in the RV game are picking up on the fact that younger RVers are interested in traveling in compact vehicles that function as everyday vehicles. The smaller the RV, the easier it is to park in normal lots or step out for a night of entertainment. Nowadays, no one wants to lug around a full-size RV, and towing a car is an added expense (and headache). These reasons could explain why RV shows, particularly the Pomona RV Show in California, have been full of class-C RVs. And guess what? These smaller RVs are selling very well.
However, even the class-C models seem to be too imposing for those millennials who love everything from their homes to their RVs to be quite tiny. That's where the Mercedes Sprinter van chassis comes in. Some of the biggest manufacturers have customized the already-popular Sprinter van to their own specifications. And these RVs are a hit. Below, we share the top three models on the market today. We also let you know how you can save some money by customizing a Mercedes Sprinter van on your own (if that's your thing).
1. Airstream Interstate Nineteen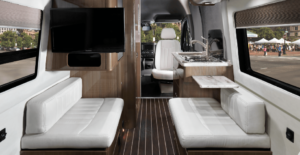 Airstream jumped into the game in 2018, just in the nick of time, when RV sales began dipping. Airstream's success with the fiberglass Nest trailer gave way to another smart product, the Interstate Nineteen. The Interstate Nineteen is a class-B Mercedes-Benz Sprinter van conversion RV. It's still has its drawbacks to a class-C motorhome (a wet bath versus a shower), but millennials are becoming very European with their RVing lifestyle. Basically, what may seem like a negative to one RVer can be a blessing to another. If you want to live #vanlife without picking out customizing kits and rolling up your sleeves, this model may be just what you're looking for. It doesn't come cheap though. Expect to spend in the ballpark of $150,000 or more.
2. Winnebago Revel
Yet another departure from its usual line of RVs, Winnebago offers the Revel, a class-B RV. The Revel doesn't look like it comes from the same makers of the Minnie Winnie, Winnebago's signature trailer. The Revel does, however, retain the reliability of the brand. Contemporary #vanlifers like the simplicity of the Winnebago Revel's straightforward look and layout. Again, we are talking about an RV built on a 4X4 Mercedes-Benz Sprinter van chassis, so this is a luxury camper van. It too starts at around $150,000, much in line with the Airstream's price tag.
The Revel also boasts a "cassette-style" toilet that eliminates the need for a separate black-water holding tank. Basically, the removeable cassette is a 5-gallon black water holding tank on wheels with a pressure button for easy dumping. Now, you can just drag your tank to the dump station. But why not just drive there, right? Well, fine, but the cassette makes it so you won't be reliant on dumping stations anymore. You can wheel your waste to any restroom instead of waiting in a stinky line. How's that for easy living?
3. Jayco Melbourne Prestige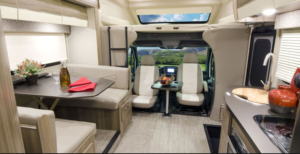 When two huge manufacturers bank on the Mercedes Sprinter as the chassis for their camper vans, you bet that Jayco, one of the leaders in the RV industry, is going to follow suit. The 2019 Melbourne Prestige Class C is a little bigger than the other 2 class-B camper vans listed above, but you know what that means, don't you? An actual shower where you don't wash up on top of a toilet (like a wet bath)! This luxurious Sprinter van vehicle has a porcelain foot-flush toilet, shower skylights, LED lights, panoramic windows (which will require window treatments in summer) and an electric roof vent. Prices are still a little hefty, starting at around $142,000. But considering that you're also getting more room, this may be the fuel-conscious and roomier RV you've been looking for!
The Overland Expo: Getting Started on a DIY Mercedes Sprinter Van
When you do it right, customizing your own Sprinter van will not only save you money, but it may also mean that you end up with the RV of your dreams. If a DIY project is in the cards, you'll want to attend the Overland Expo East, from November 9-11 2018, in Asheville, North Carolina. If that doesn't fit your schedule, there's also the Overland Expo West, May 17-19, 2018 in Flagstaff, Arizona.
At the expo, you'll meet experts and find the parts and accessories you'll need to finish your Sprinter van. If you're starting out with no knowledge of van conversions, you may make all the contacts you can at this annual exhibit. Why? Well, it features over 300 vendors! Classes will also be offered on topics that include first aid, driving, maintenance, DIY repairs and more. Demo areas will showcase a series of vehicle and moto customizations, which may be helpful too.
Sprinter Van Conversions: DIY or with a Little Help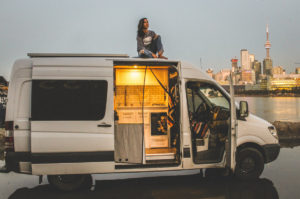 Overland Sprinters offers bed kits and all sorts of accessories to customize your Mercedes Sprinter van. Other companies that will help do the legwork for you are: Glampervan, Zenvanz, Outside Van, This Moving House, Adventure Co., Van Life Customs, and Rossmönster Vans. Research each one to see which vision fits with yours (of course the prices matter, too). We wish you luck in creating your perfect camper van!
Other Things to Consider
It's a good idea to keep receipts for all the parts and accessories you add onto your Mercedes Sprinter van. The value of your RV may be dependent on these additions and should be reflected in the Specialty RV Insurance you buy. Auto Insurance will not be adequate for a camper van like the one you're creating. Only Specialty RV Insurance has all the coverages specific to a vehicle that is also a home. Contact QRV Insurance at (866) 501-7335 to get free quotes and learn about your options and possible discounts.
---
The information in this article was obtained from various sources. This content is offered for educational purposes only and does not represent contractual agreements, nor is it intended to replace manuals or instructions provided by the manufacturer or the advice of a qualified professional. The definitions, terms and coverage in a given policy may be different than those suggested here and such policy will be governed by the language contained therein. No warranty or appropriateness for a specific purpose is expressed or implied.