Is RV Travel or Air Travel Cheaper?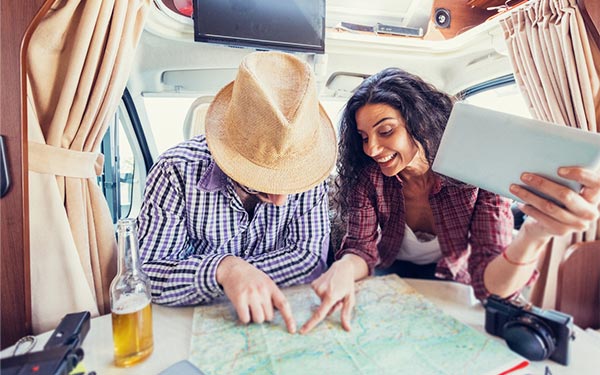 A question that we often ask ourselves before taking a trip is "how do we get there, and what is the cheapest way to do it?" This common travel dilemma gets even more complicated when airports, cruise ships, trains, and bus stations are now breeding grounds for the coronavirus. This makes solitary modes of transportation, such as RVing, one of the safest ways to travel. For those seeking to travel, it is always a good idea to forecast expenses. We're here to help you weigh RV travel costs versus flying so you can see and do more without the hefty price tag.
Questions to Ask Yourself Before Deciding to Travel by RV or Plane
Before you decide to fly or take an RV trip, ask yourself these three questions:
How far are you traveling?
How much time do you have to travel?
How many people are traveling with you?
Depending on your answers, these questions can easily push you over your budget. For example, you are traveling with a family of six means six plane tickets you must purchase. Without including lodging, those plane tickets alone may easily add up to over $1,000, depending on your destination. On the other hand, renting an RV big enough for six people can get pricey, too. That's not even including the cost of gas. After answering these questions, create a budget sheet to break down each expense for both scenarios of RVing versus flying.
Pros & Cons: RV Travel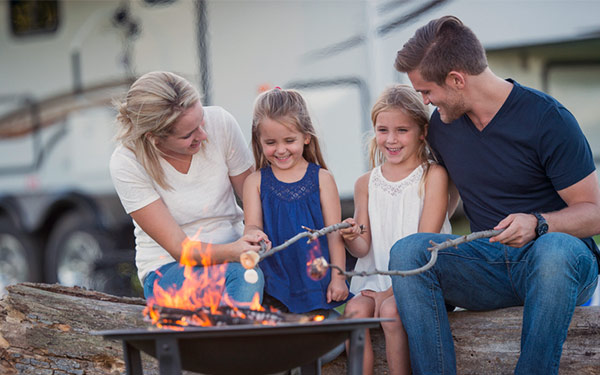 While you may assume that traveling by RV is cheaper than by plane, you must consider that RV ownership is expensive. The average cost of purchasing a new RV can range from $10,000 to $300,000 depending on its amenities. Additionally, the amount of traveling you do consequentially increase your gas expenditures, especially when the average mileage an RV gets is around 6-10 miles per gallon.
Let's say you're going on a 2,000-mile cross-country road trip and gas prices are about $2.50 per gallon. Your transportation expense would equal roughly $500 alone. However, investing in an RV saves you money on lodging and food throughout the life of your travel. With an RV, you can stop whenever you want for some spectacular views along the way that you may not get to experience when flying. Of course, there's always the option of renting an RV. According to RV Share, renting an RV can cost anywhere from $50-500 per night.
Pros & Cons: Air Travel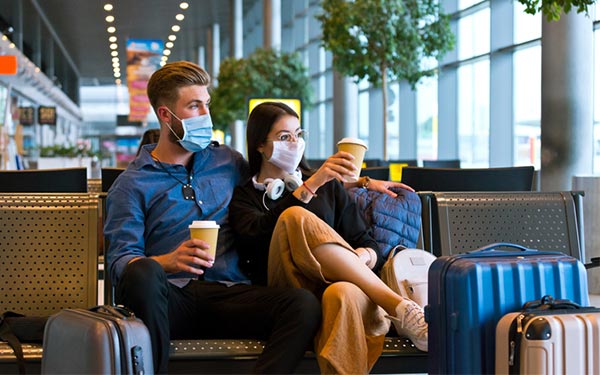 Although flying is the preferred method of transportation for many people, it comes with some disadvantages. Having your flight delayed, losing your baggage, incurring hidden fees, or experiencing unsanitary and uncomfortable seats are some of the significant downsides of flying. The average plane ticket price is $379, which is costly when traveling with family. Depending on what airline you choose, checking in your luggage can vary from $30-$50 and increases more per bag. Don't forget about transportation after arriving at your destination as well. You can save a few bucks taking public transit, but having a rental car is much easier to get around depending on the city you're traveling in.
RV Campsites vs. Hotel Stays
For RVing, this gets a little tricky. The total cost of lodging depends on where you want to park. Most RV sites and campgrounds with electrical and water hookups average around $30-60 per night. The holy grail is to find a location where you can stay for free. Some Walmart locations offer free overnight parking for RVs. Boondocking is also a great option to save money while exploring the great outdoors. No matter where you stay, the plus side is that you'll always get to sleep in your bed and enjoy the comforts of home while on vacation.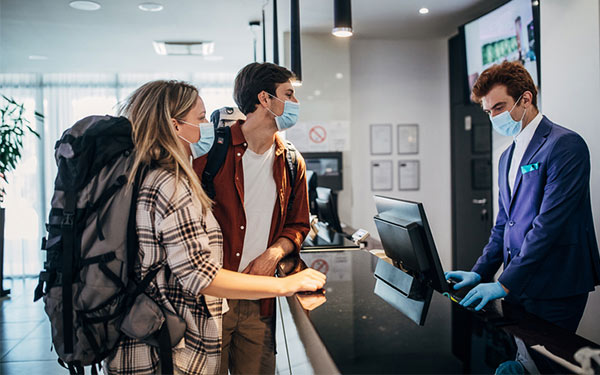 Unless you stay with friends or relatives, hotel lodging may be the second most expensive factor after airfare. The average cost of a hotel room is $177 per night. Keep in mind, traveling with a larger family may require you to book a second room, which can double your expense. However, staying in a hotel can come with perks like a swimming pool, laundry service, air conditioning, internet access, and attendants for housekeeping.
Cooking vs. Eating out
It's hard to beat the convenience of dining out. We get it. You're on vacation, so grocery shopping, cooking, and cleaning are the last things on your mind. But, when it comes to cost-saving, a cooked meal prepared at home costs around $4 compared to $13 for a restaurant meal. Consider the food cost for how many travelers you have to feed. Can you afford to take your family of four to eat out three times a day for the duration of your trip?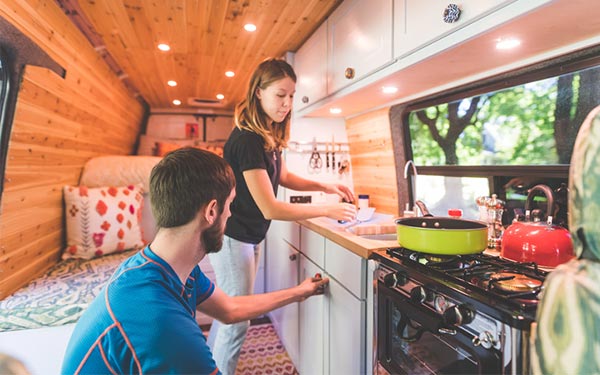 If food is not where you want to spend most of your money on vacation, then RV travel may be the better option. Most RVs have a kitchen where you can cook your meals. Some hotels indeed have a kitchenette, but they usually lack large appliances or the equipment you'd need to cook a real meal.
Prioritizing Comfort & Time
An RV is a house on wheels. That means you have everything within your reach from homecooked meals, bathroom breaks, lodging, and anything you want to pack for your trip. You can even bring your pets on your RV trip since it's the safest way for them to travel. Of course, the trade-off of traveling by RV is the duration of the travel. An RV trip is only a viable option for you and your family if you can afford a few more vacation days to account for the driving time to and from your destination.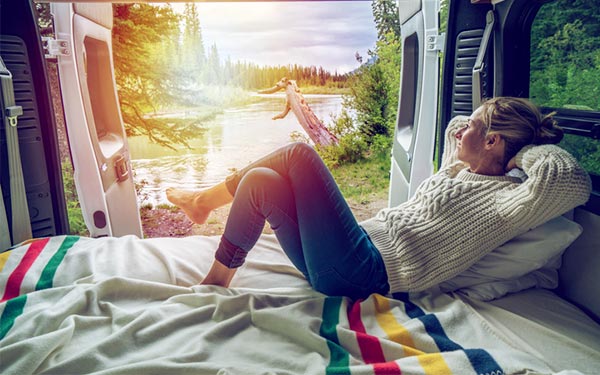 Flying is the clear winner when you need to get somewhere quick. You can take a weekend trip and fly from California to Florida in just under six hours, whereas an RV trip takes 40 hours without any breaks. There are limitations on what you can bring with you when flying and there's always the nuisance of TSA checks and screening. When it comes to comfort, airlines are notoriously known for packing travelers and their baggage together like sardines. Not to mention that public places like airports and airplanes are a riskier form of travel these days when you are taking social distancing into account.
So, Should You Drive or Fly?
Deciding whether to drive or fly ultimately depends on your travel priorities. Are you worried about the overall cost of the trip? Do you want more quality time with your family? Does your trip involve time constraints? Do you really want to deal with delayed flights, TSA check-ins, harsh weather, or bad traffic?
If you're traveling far, alone, and less than a three-night stay, you're probably better off flying. On the other hand, if you're bringing your family along and your trip is more than four nights, it's more cost-efficient to travel by RV. Check out this cost comparison of a family of four taking a four-night trip from Phoenix, Arizona to Austin, Texas. Keep in mind that this comparison provides a wide range because every situation is different.
| | | | |
| --- | --- | --- | --- |
| | Average Cost of RVing | | Average Cost of Flying |
| RV Rental | $0 – $2,000 | Air Fare | $1,516 |
| RV Site | $0 – $240 | Luggage | $120 – $200 |
| Gas | $240 – $400 | Hotel | $708 |
| Food | $192 | Food | $624 |
| Total | $432 – $2,832 | Total | $2,968 – $3,048 |
Don't Forget About RV Insurance
Should you decide that RVing is the best option for you, make sure your RV is properly covered before hitting the road. Speak with one of our RV Insurance Specialists by calling (866) 501-7335. You can also get a free RV Insurance quote here. We can help you find an RV Insurance policy that fits your needs and gives you better peace of mind.
---
The information in this article is obtained from various sources. This content is offered for educational purposes. It should not replace manuals or instructions provided by the manufacturer or the advice of a qualified professional. The definitions, terms and coverage in a given policy may be different than those suggested here. No warranty or appropriateness for a specific purpose is expressed or implied.