How To Find Jobs You Can Do From Your RV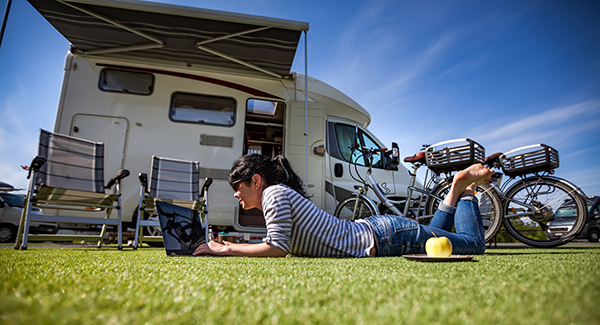 Right now, it's a popular trend to size-down and make the switch to living full-time in an RV. You get the freedom of the open road and the opportunity to continually experience new places, people and activities. That is, if you can figure out how to support this type of lifestyle. Luckily, more jobs are becoming available to full-time RVers, nomads and adventurers alike.
In fact, there are both part-time and full-time positions available for RVers, whether you need to make some money year-round or just for a couple months in the summer. We're here to help you start your job search journey, so you can support your RV dreams.
Starting Your RV Job Search
Before you do anything else, think about where you want to be first. What state, city or campground do you want to explore the most? This could be a location you enjoyed on a vacation and wished you had the time to hike more trails, eat at more local restaurants and learn more about the people. Or, maybe you don't want to settle down in one place for that long and plan to be in a different spot every month. Your desired location will be the most important determinant of what type of job you'll search for as a full-time RVer.
Once you decide where you want to be, ask yourself these 4 questions:
How much income does your lifestyle require?
What type of work are you interested in?
What skills and job experience do you have?
Are you willing to learn new things or go through training for a position?
Answering these questions is the next step to figuring out what type of jobs you should be applying to. If you plan to stay in one place for an entire season, then a Workamping job could be perfect for you. If you have some education and want a full-time career, then a remote job would probably fit your lifestyle the best. Or, maybe you're open to anything as long as you get to live in your home-on-wheels. Read on to see the many opportunities available to RVers.
Workamp Jobs
If you haven't heard the term before, a Workamper is someone who travels the country while also working part-time or full-time. Typically, Workampers are full-time RVers who want the freedom to move from place to place as they please. Typical Workamp jobs can include anything from managing property on a cattle ranch in the summer to selling photography from places you've been the last 12 months.
Common Workamp jobs are found at:
Campgrounds
Amusement parks
Retail shops
Fulfillment centers
Restaurants
Lodges
Fruit farms
Many more!
The one downside to Workamping is that you typically won't be receiving a steady income and you may not end up making enough money to replace a career income. This is because many Workamp opportunities are in trade for a free campsite and amenities as opposed to a paycheck. An employer may offer you a free campsite, Wi-Fi, access to laundry, etc. in exchange for working a certain number of hours per week. If you choose to do one of these positions, then you'll probably need another job that will provide you with a paycheck. Or, maybe you'll do the work that earns a free campsite and your partner will get a job that brings in the cash.
However, there are also many Workamp jobs that offer only an hourly wage or both an hourly wage and free amenities. There are organizations out there like the U.S. Army Corps of Engineers that have seasonal contract opportunities available for you to bid on. These types of positions offer free campsites and a contractual wage for a season. As you can see, there is no one type of Workamp position. A great place to find Workamping opportunities is Workamper News Magazine. It does require a paid subscription, but it's a great place to start your job search and learn more about Workamping.
Fulfillment Center Jobs
A new type of Workamper job is offered by Amazon.com. This type of position takes place at one of several CamperForce locations, which are Amazon warehouses. This is also an excellent opportunity to meet other RVers in the area and work alongside people with a similar lifestyle. These jobs are seasonal, pay at least $15/hour and provide many great benefits.
Monthly campsite allowance
Assignment completion bonus
Medical and prescription coverage
Weekly pay schedule
401(k) program
This type of position can be a great opportunity if there's a fulfillment center located in a state or city you'd like to be in. If there isn't a CamperForce position available where you want to park your RV, you can search local listings for similar warehousing or manufacturing opportunities. Keep in mind that these are physical jobs that could include heavy lifting and moving.
Remote Jobs
Remote jobs are more traditional than Workamping ones in the sense that they can be full-time careers that are entirely online instead of in an office or workspace. If you're looking for an online career, the Internet provides endless opportunities for remote jobs. A simple Google search will reveal hundreds of positions available. The hardest part will be figuring out which remote job is right for you. This will mainly be based on your skillset and income requirement. Keep in mind that you'll most likely have to apply to several positions before getting a call back for the right one.
Common remote jobs include:
Online teacher/tutor
Virtual assistant
Customer service representative
Sales representative
Telemarketer
Bookkeeper/accountant
Transcriptionist
Computer/IT Technician
Graphic designer
Freelance writer
Typically, the jobs listed above pay more than minimum wage, mostly because they require experience and education. However, don't be deterred from applying to a remote job because you don't think you have the skills needed. Not only can you find jobs online, but you can also find many courses to increase your skills, as well. Online platforms like CodeAcademy.com and Lynda.com offer training that teaches you the skills and programs necessary for many online jobs. Just remember that a remote job will probably need reliable access to Wi-Fi, which is something to take into consideration when traveling to a new location. You can also find remote job listings at Monster.com, Indeed.com or CareerBuilder.com.
Unique Jobs
RV living is a unique and a one-of-a-kind experience, so why can't your job be, too? Many RVers have jobs that are flexible to their lifestyle, yet still bring in the income they need for life on the road. If you have a special talent or skillset, then consider ways you can turn that into a job. You know what they say: "Choose a job you love, and you'll never have to work a day in your life!"
Unique jobs you can do from your RV:
Adventure photographer
Lifestyle YouTuber
Voiceover actor
Mural painter
Jewelry silversmith
Another great way to find job inspiration is by asking the RV community. This could be in an RV Facebook group, an RV forum or an RV club. Fellow RVers love sharing their experiences and tips, so use those as a resource, too.
Full-Time RV Insurance
As a full-time RVer, you need the proper insurance. Because it's a home-on-wheels, regular Auto Insurance will not cover your motorhome or trailer. However, Specialty RV Insurance doesn't have to be expensive. Get a free quote in minutes when you call (866) 501-7335. Our Insurance Specialists can tell you what discounts and bundles you qualify for, so you can save the most.
---
The information in this article is obtained from various sources. This content is offered for educational purposes only and it does not represent contractual agreements. It should not replace manuals or instructions provided by the manufacturer or the advice of a qualified professional. The definitions, terms and coverage in a given policy may be different than those suggested here. Such policy will be governed by the language contained therein, and no warranty or appropriateness for a specific purpose is expressed or implied.