How to Buy a Used Jet Ski and Not Get a Lemon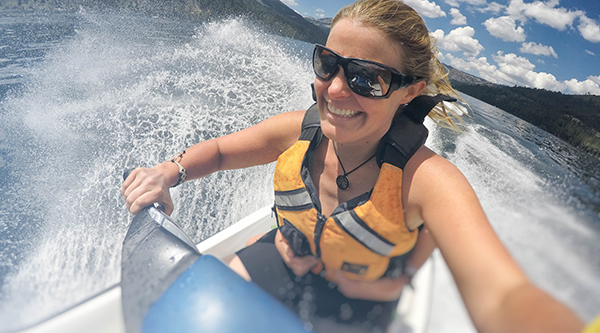 Buying a used jet ski or watercraft for sale is not the worst idea in the world. It's cheaper than renting, and if you find one that's been well taken care of, you could enjoy many hours of fun in the water before you need to consider investing in a new one. There are a few things you should look for when shopping for a personal watercraft. The factors below will help you determine whether or not the used jet ski is worth the price or your time. Take these tips into consideration when shopping and you should find yourself a great machine in no time.
How Many Hours Old Is It?
Get used to qualifying the worth of a jet ski or watercraft according to hours. Generally speaking, jet skis that have been used for 150 hours or more (say maybe 30 vacations or so) tend to show wear and tear. That usually means expensive maintenance and repairs. Essentially, with that much usage, a used jet ski is middle-aged. The average jet ski lasts only about 300 hours.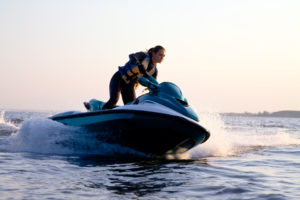 The hours a jet ski has been used shouldn't be the only determining factor of your purchase, however. An older machine may actually outlast a newer one that has been poorly maintained. For example, if the jet ski was not winterized or de-winterized properly. The best seller will have all the maintenance records to prove the used jet ski has been well cared for. Ask how many hours the jet ski has been operated. Certainly, no one logs each time they go for a cruise, but they should be able to approximate how many times a year they've used it on vacation.
What's the History?
Does the used jet ski you're considering have more than one owner? Just as with a car, you want the vehicle you're buying to have been in the surest hands. Usually, the fewer owners, the better. The problem when you buy a vehicle that has passed several hands is that maintenance records may be missing. But if they're all there and the machine seems to be running well, a multiple-owner history may be just fine.
Where Was it Stored?
Ask, and possibly see, where the watercraft was stored by the owner. Was it in the shade or outdoors? Did it have a cover? Direct sunlight over a long period of time can be damaging to a jet ski. All elements are damaging so it's best if it was stored in a garage, away from any exposure to sun and moisture.
Get an Expert Opinion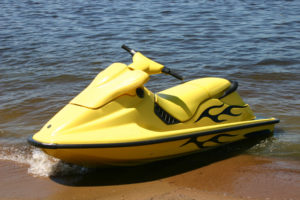 If everything we've covered here seems to check out with the used jet ski you're looking at, you still have one more hoop to jump through. It's time to call a mechanic. Even with a simple look-over, a mechanic will be able to determine some very important things a layman simply will not see. You'll also need to do a test ride even if it seems to check out okay. Ask your mechanic to check for leaks and other internal problems it may have. If the owner gives you a hard time about having a mechanic check it out, move on to your next option. Another option is take the jet ski to a nearby dealership. There, you can check the compression and any flaws that you may not be able to notice.
What to Look for:
Rust and Corrosion. These are the worst enemies of most vehicles, and watercraft are not immune to their damage either. When you see rust or corrosion, it means the watercraft was not cared for very well. Was it not hosed off after being saltwater? Did it have loose nuts or bolts that caused the decay? The battery should not be rusted. If it is, you know the vehicle may very likely have problems from its neglectful owner.
Check the Impeller. This is really what you'd probably call a propeller. It's what sends the watercraft forward and can be expensive to repair. Check the blades for damage and make sure it's not rigged to stay in place.
Is the Hull Sound? Look for cracks and dents that indicate a collision has taken place. Sometimes too much pressure on the watercraft will also make dents and cracks worsen and become very visible. Also, check for holes or frayed areas. Look closely to see if damage was patched up. If it hasn't been fixed properly and only polished up to look good, it may break down in the water after you buy it. Look very closely.
The Title
You don't always require a title. Some states allow that the previous owner simply sign the registration card and transfer it to you online. If there is a title being transferred over to you, see if the VIN number has been scratched out or altered. These are huge red flags. If the owner doesn't have the title, it's possible that he/she lost it. You can get the owner to sign a notarized lost title statement with the bill of sale. All you need is the vessel numbers to get a new title issued to you.
Used Jet Ski Pricing
Make sure to do your research well before deciding whether or not to buy a used jet ski. Get familiar with how much the model you're considering should be listed for, as well as what it's actually selling for. This is sometimes a big difference. If you're looking to save a few dollars, buy when it's not peak season. However, don't compromise on a taking a test ride.
Jet Ski Insurance
Even if you're buying a used watercraft, it's still an asset you should protect with RV Insurance. You don't have to spend much money on coverage either. Speak with an Insurance Specialist about the model and year(s) you're considering buying to see what your premiums will look like. If you have a motorhome or trailer, you may be able to bundle for optimal savings too. Call for multiple free quotes at (866) 501-7335.
---
The information in this article was obtained from various sources. This content is offered for educational purposes only and does not represent contractual agreements, nor is it intended to replace manuals or instructions provided by the manufacturer or the advice of a qualified professional. The definitions, terms, and coverage in a given policy may be different than those suggested here. Such policy will be governed by the language contained therein. No warranty or appropriateness for a specific purpose is expressed or implied.