Halloween Adventures: 6 Haunted RV Destinations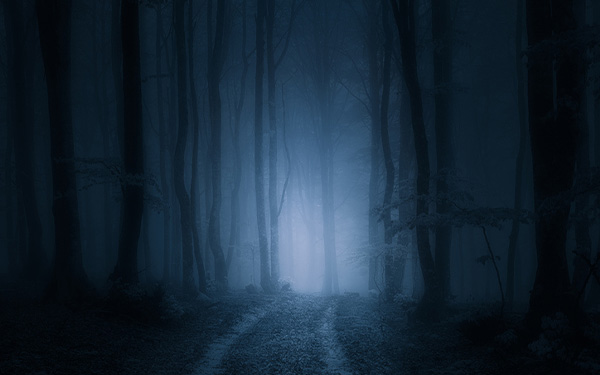 Fall is officially here, which means that spooky season is in full swing! And what better way to celebrate than by visiting a few haunted RV destinations? Throughout the country, there are plenty of campsites and forests rumored to be haunted. Whether or not you believe in ghosts, these destinations are perfect for sharing scary stories over a campfire. So if you're up for a fright, here are six haunted RV destinations to visit.
1. Calico Ghost Town, California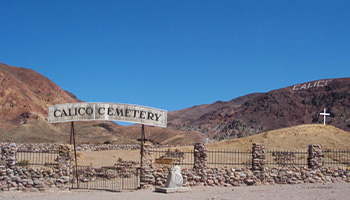 RV rate: starts at $30/night
Full hookups available
Before being considered a haunted destination, Calico was a thriving mining town in San Bernardino County. However, the town was abandoned once mining dried up in the mid-1890s.
Today, Calico is a popular destination amongst tourists hoping to get a glimpse of California's rich mining history. And at night, some believe that the lingering spirits of old residents haunt the town. Calico's campground is located near the town's main graveyard, just in case potential ghost sightings weren't enough for you.
Visitors of Calico have reported interacting with ghosts, seeing flying orbs of light, and hearing strange cries at night.
2. Fort Worden Historical State Park, Washington
RV rate: starts at $30/night
Full hookups available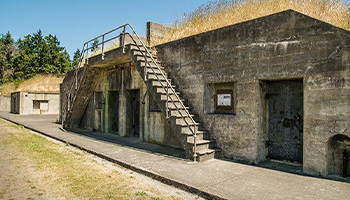 If you're on the West Coast and want to have your own "Blair Witch Project" experience, you'll want to travel to the Pacific Northwest. Fort Worden Historical State Park, located in Port Townsend, Washington, was once an old military base before being converted into a state park. It has also been ranked as one of the state's most haunted campgrounds.
Fort Worden's history has made it a popular destination for ghost hunters searching for the paranormal. As a base, Fort Worden also featured a military jail and cemetery. Before being transformed into a state park, the base was used as a treatment location for "troubled youth." All in all, Fort Worden has the perfect history for a haunted RV destination. If you work up the courage to go, visitors have reported seeing ghost soldiers still patrolling the jailhouse barracks.
3. The Canyon Motel & RV Park, Arizona
RV rate: starting at $50/night
Full hookups available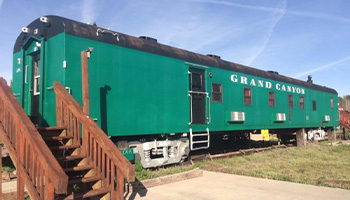 When traveling on America's famous Route 66, you'll come across countless attractions—a haunted RV park is just one of many.
Canyon Motel & RV Park is located in Northern Arizona and is home to not one but two haunted train cars.
Canyon Motel offers visitors a chance to spend their nights onboard converted train cabooses, one from 1929 and another from the 1950s. Throughout the years, guests have reported hearing eerie sounds and strange occurrences when spending the night. Some visitors even claim to have seen an old conductor standing outside their windows!
4. Bannack State Park, Montana
RV rate: start at $20/night
No full hookups available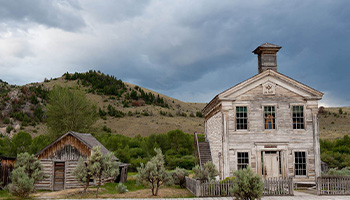 Once the site of Montana's first significant gold discovery, Bannack State Park is filled with old-western charm. As one of the best-preserved ghost towns in Montana, visitors can marvel at the historical structures that were once called home by over 3,000 individuals. And although a ghost town, Bannack State Park comes alive during October for its annual ghost walks.
Bannack's long history and old west stories fuel its haunted classification. In 1864, the town's sheriff, Henry Plummer, was hanged by the local people after he was accused of leading a murderous gang. As a result of vigilante justice, Plummer never received a fair trial. If you want to know the truth, you may be able to ask him yourself. Visitors have claimed to see his spirit still patrolling the town and campsites at night.
5. Hunting Island State Park, South Carolina
RV rate: start at $50/night
Full hookups available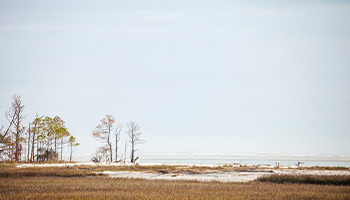 Welcoming over a million visitors each year, Hunting Island State Park is one of South Carolina's most popular state parks, and for good reason.
The park is home to over 5 miles of pristine beaches and offers multiple lodging accommodations for all travelers. Despite its beauty, however, Hunting Island is one of the most haunted RV destinations on our list.
Scary stories relating to Hunting Island include one involving the daughter of a former lighthouse keeper who fell (or jumped) from the top of the lighthouse. Guests have reported hearing her screams when walking up the 167 steps to the top of it. Another terrifying tale is about a former employee who tried, but failed, to save a boy drowning in the nearby water. Some say you can still see the employee searching for the boy he couldn't save.
6. Braley Pond, Virginia
RV rate: no fee
No hookups available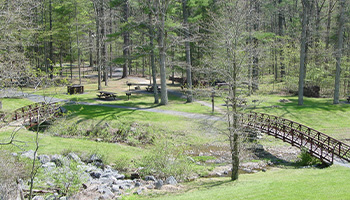 First constructed in 1965 by the U.S. Forest Service as a recreational pond, Braley Pond is a popular fishing and hiking destination in Northwest Virginia. Since its inception, Braley Pond has become known as one of the most haunted destinations in the country. Today, ghost hunters from all over venture here to get a glimpse of paranormal activity.
During one such adventure, paranormal researcher Shea Willis and her colleague reported being awakened during the middle of the night by the sounds of someone flailing in the water. When they investigated, Arnold was pushed into the water by an unknown force. As Willis attempted to save him, she claims to have felt something land on her back.
Braley Pond doesn't allow camping directly on the pond. However, a dispersed camping site near the pond can accommodate smaller campers.
Don't Let RV Insurance Scare You
No matter which haunted rv destinations you visit, having the right RV insurance is important. When visiting somewhere new, having a specialized RV policy can offer additional coverages that will protect you from the unknown. Whether it's full-timers liability or personal effects coverage, our RV insurance specialists can help you find the coverage options that work best for you. To get started today, give us a call at (866) 501-7335.
---
The information in this article is obtained from various sources and is offered for educational purposes. Furthermore, it should not replace manuals or instructions provided by the manufacturer or the advice of a qualified professional. No warranty or appropriateness for a specific purpose is expressed or implied.