DIY RV Storage: 7 Ideas and Organization Tips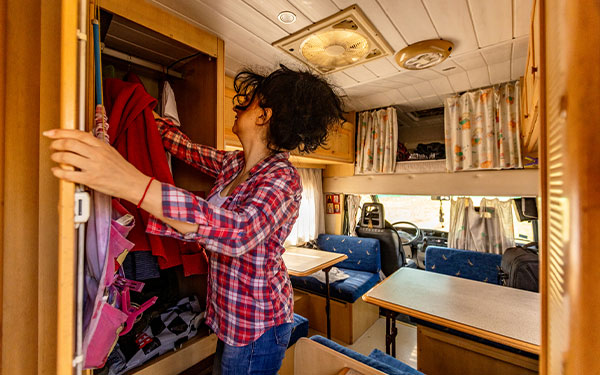 Living in an RV full-time is an exciting alternative to living in a house or apartment. However, if you don't utilize a few tried-and-true RV storage tactics to organize your space, it's easy to feel cramped inside your rig after just a few days. Luckily, there are loads of tips and tricks available to help you combat a cluttered RV living space. The following are just a few of our favorite DIY RV storage ideas and projects that will help you save money and free up space.
1. Create a Daily Essentials Zone
Who doesn't always lose their sunglasses and keys? In an RV, there's no extra room to simply toss your essentials around. With so many nooks and crannies, things can quickly get misplaced. Hanging up a wood board with hooks is a simple DIY RV storage project that will help keep your RV a bit more organized. Be sure to hang and store any essentials you take with you whenever you step out of your RV, such as your glasses, keys, bags, and more.
2. Utilize Hanging Shelves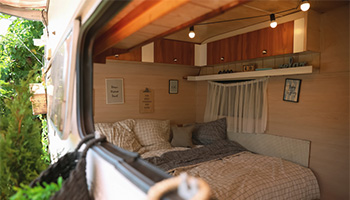 Bedside drawers are great for resting your book at night, but finding one that fits in your RV can be challenging. To solve this problem, we recommended putting up a few hanging shelves. You can likely purchase similar designs at your local furniture store, but it's just as easy to DIY. In addition, using a hanging nightstand will provide you with an area to rest your things at night while freeing up floor space that traditional drawers would take up.
You can even purchase floating shelf organizers to store smaller bedside items. These shelves are typically mounted using an adhesive, so you don't have to worry about damaging your walls.
3. Make DIY Recycled Plastic Hanging Storage Containers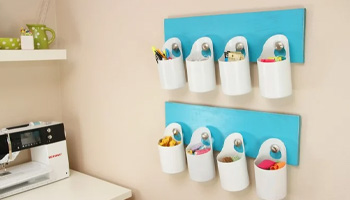 Looking for a fun DIY RV storage project that the whole family will enjoy? These DIY storage containers made from recycled plastic containers are inexpensive and extremely useful. Sure, you can buy a similar board at a store, but where's the fun in that? After spending time on the road, you likely have plenty of containers on hand. In addition, this DIY project gives each person in the family some space for their personal bath essentials.
4. Store Sheets in Matching Pillowcases
We all know that the top sheet is the easiest one to fold. However, take time to carefully fold the fitted sheet, too. If you do, you can store both in their matching pillowcases! This will open more RV storage space, and your sheets won't get as wrinkled. Also, it will be much easier to find your matching bed sets. For better storage capability, you can add your sheets inside collapsible storage bags, which makes stacking easy.
5. Be Creative with Shoe Organizers
Over-the-door hanging shoe organizers are a great way to store shoes when they're not in use. But if you only travel with a few pairs at a time, they may have more storage space than you need. With just a pair of scissors and some Velcro, you can transform one over-the-door shoe hanger into multiple that fit your exact needs. Hang these on walls with open space for easy storage throughout your rig.
6. Use Hanging Jars in Your Kitchen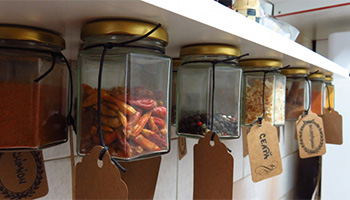 You don't have to leave all your kitchen essentials behind just because you're traveling in an RV. By screwing the lids of mason jars under cabinets, you'll have additional space to store your condiments and anything else that may otherwise get in the way.
Pro tip: be sure only to do this for kitchen staples you use often. That way, you don't take up space for future projects or items.
7. Declutter with Magnets
Your RV is your home on wheels, so making it feel as homey as possible is important. If you tend to cook a lot, you don't have to sacrifice bringing your spices with you on the road. With just a few items and some time, you can create a magnetic spice board to declutter your cabinets. The best part is you can customize the board to include the number of jars that fit your needs.
RV Insurance
Having an organized RV is essential for improving your living situation on the road. Additionally, carrying a specialized RV insurance policy is just as important when it comes to protecting your investment. Unlike traditional auto insurance, an RV insurance policy can include additional coverage types that offer a wider net of covered scenarios. To learn more about RV insurance, give our specialists a call today at (866) 501-7335.
---
The information in this article is obtained from various sources and offered for educational purposes only. Furthermore, it should not replace the advice of a qualified professional. The definitions, terms, and coverage in a given policy may be different than those suggested here. No warranty or appropriateness for a specific purpose is expressed or implied.