10 Best Cleaning Supplies and Tips for Washing Your RV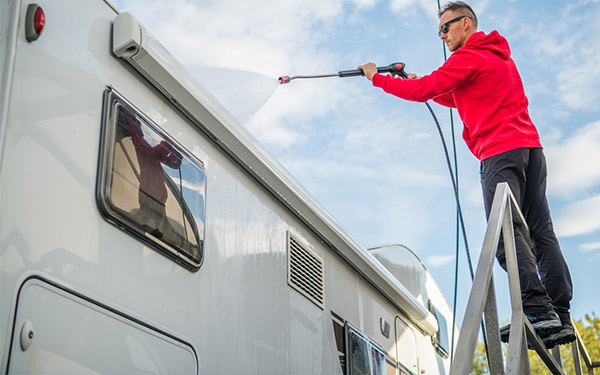 Washing your RV may seem like an intimidating task, especially if you have a large motorhome or fifth wheeler. But with proper planning, the right cleaning supplies, and a little elbow grease, your sparkly clean RV will be out on the road in no time. Here are some of the best essential tools you need to get the job done and ensure your home on wheels is in tip-top shape.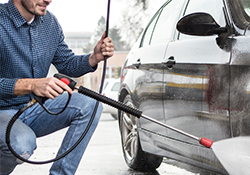 Like washing a car, you must take precautions not to scratch up the paint or decal on your RV. The first step is to hose your RV down to remove loose debris and chunky pieces of dirt. A regular garden hose sprayer works just fine. But for those hard-to-reach places, this hydro jet extendable washer wand enables you to keep your feet safely on the ground while allowing you to extend the hose up to 27 inches.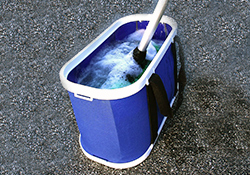 Space in your RV is limited and keeping a big wash bucket around is not always easy. Luckily, there is a clever alternative to the traditional bucket. The Camco collapsible bucket holds up to 5-gallons of water and big enough to fit a large wash brush. It collapses to only 2 ¾'' tall and even comes with its own storage bag.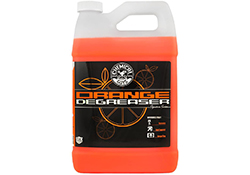 When washing your RV, clean the wheels and tires first. This step prevents any grimy brake dust from splashing onto your already clean panels. Spend some extra time scrubbing the nooks and crannies of your wheel with a tire brush since brake dust is highly corrosive. Chemical Guys Orange Degreaser is a professional-strength citrus degreaser that safely removes heavy dirt, prevents cracking, and restores the original black look to your tires.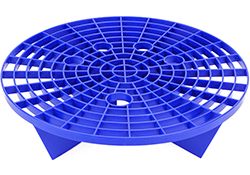 Do you ever notice swirls and scratches after washing your RV? These marks are commonly caused by rubbing the washed-off rocks and abrasive dirt from your wash bucket back onto your rig. To prevent this, the Grit Guard Insert helps extract the heavy dirt and grit from your brush, mitt, or sponge and holds the grime at the bottom of the bucket so it doesn't float back up. This game-changing guard provides a clean, scratch-free wash every time you go back to the bucket for water.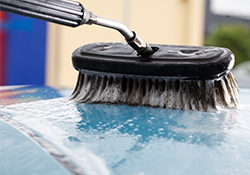 You can use a sponge, wash mitt, or towel to scrub your rig, but RVs are big cleaning jobs. Investing in a soft bristle brush with an extension pole saves you the time and effort in reaching those hard-to-reach spots. Skip the ladder because this lightweight extension brush reaches up to 20 feet when standing.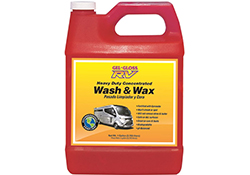 You might have heard that household dish soap is good enough for washing cars or RVs. Sure, it will clean your vehicle, but it will also strip the polymers off your RV's paint and accelerate the oxidation process. You are going to want a high-quality soap designed specifically for washing cars and RVs. A good RV wash soap should provide enough lubrication to prevent scratching, as well as conditioners to maintain a shine. This Gel-Gloss RV soap not only cleans and prevents water spots but also waxes your RV all in one step.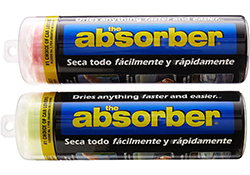 It's best if you do not let your RV sit out in the sun to air dry. Water spots occur when mineral deposits from unwiped water beads become hardened. These harmless-looking spots may cause damage to your RV by etching into the clear coat. Do yourself a favor and dry your RV off with a microfiber towel or chamois. The Absorber is a soft and absorbent sponge-like towel that is also safe for personal use, like cooling down your skin in the summertime or after a workout. Plus, it comes in the perfect storage tube to store away in your backpack.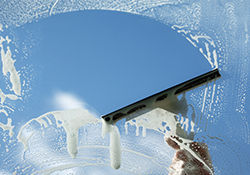 RV cleaning includes washing a lot of windows. Luckily, RV windows are like any other windows. If you know how to keep your house or car windows spotless, you will be able to do the same to your RV. After washing and drying your RV, a coat of Rain-X glass cleaner on the outside helps repels rain, sleet, snow, and bugs from sticking to the glass. For the inside of your RV, a simple glass cleaner like Windex should do the trick in providing a streak-free clean window.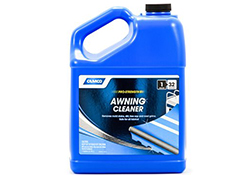 This Camco awning cleaner helps remove dirt, mildew, grime, stains, mold, and tree sap without hassle. It is safe to use on vinyl, nylon, acrylic, and fabric awnings and great for tents or pop-up campers. The first thing you want to do is gently rinse the awning to remove loose debris. In a spray bottle, create your cleaning mixture to spray both sides of the awning. Then lightly scrub the awning and rinse. Be sure to allow the awning to air-dry completely before rolling it back in.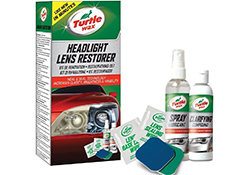 The road less traveled is sometimes rough on your RV. You probably already have a few nicks and scratches on your headlights from little pebbles and sand flying everywhere when traveling. Getting something like a Turtle Wax kit can help you restore your dull and foggy headlights to a crystal-clear look and reseals your headlight to prevent future yellowing. With this kit, there's no need to spend hundreds of dollars on new headlights or power tools.
Final Protection: Getting Specialty RV Insurance
Your RV gets exposed to harsh weather and often gets dirty from frequent travel and camping. Taking care of your recreational vehicle requires a lot of time and effort to keep it in good shape. But the most important preventative measure you can take to protect your RV is by having the proper RV insurance. Speak with an Insurance Specialist at (866) 501-7335 today for more information about coverage options for your RV.
---
The information in this article is obtained from various sources and is offered for educational purposes. It should not replace manuals or instructions provided by the manufacturer or the advice of a qualified professional. No warranty or appropriateness for a specific purpose is expressed or implied.