Checklist of Tools You Need to Keep in Your RV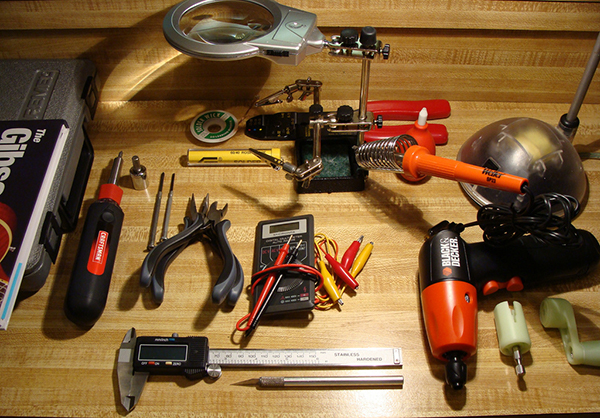 It always seems that things fall apart when you're having the most fun. Mini-disasters are bound to happen when you're RVing, but you can overcome all obstacles as long as you have the right tools in your RV toolkit.
The following is a checklist of tools both newbies and veteran RVers should always carry with them when hitting the road:
Everyday Household Items:
Threadlocker glue: This stuff can be used as filler in preventing screws and bolts from getting loose.
Super glue or Epoxy: You never know when something is going to unravel, but if you have either or both of these adhesives, chances are that an easy fix is very possible.
Silicone sealant: Use this gel to stop leaks and prevent rain from coming into your RV
Duct tape: This seems very basic, but it can really come in handy when an unexpected disaster happens. While it may not be a permanent fix, duct tape can keep things together until you get home – and to the repair shop.
Zip ties: These inexpensive ties can cinch things together when you need to. For instance, if you feel mosquitos coming to get you, you can secure your pant legs at the ankles. If you're nimble enough, they can also unclog drains really easily. Plus, they are great in the kitchen, keeping moisture in and mold out!
Weatherproof safety matches: These do not go out if you try to blow them out. They may just save your trip if you're having problems building a fire.
Work gloves: Bring a couple of sets as they may get pretty dirty. Your hands will also thank you.
Electrical Troubleshooting Tools: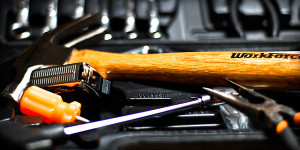 Fuses in different amperage ratings: Whether it's a blown light in the living area or if it's your brake light, blown fuses are all too common when RVing, So, make sure you're fully stocked with all different kinds.
Socket set: This is a must-have item when dealing with RV and tow-vehicle repairs and maintenance.
A head-mounted flashlight: If you end up with a major electrical problem and have to try to figure out a solution in the dark, you won't be a happy camper. Make sure you bring one of these along – always.
Electrical tape: Always bring at least a roll of electrical tape. You never know when you need to prevent sparks from flying when there's an electrical problem!
Lots of bulbs: Bring several brake, turn, and running light bulbs in addition to extra light bulbs for the interior. These extras may prevent you from getting a ticket if a light goes out.
Toolbox Basics:
Pocket knife: Do not underestimate a Swiss Army Knife's ability to get you out of sticky situations. You can use this cut rope, strip wire insulation or open cans/containers very easily.
Tire gauge: Make sure you have a quality one that is right for your tires (check the pounds per square inch (psi).
Wrench set: You may need this for tightening and loosening bolts and nuts. Don't forget the Allan key.
Screwdrivers: You'll want to have a Phillips head in large, medium and small sizes. You never know when screws will need tightening or loosening.
Nails, screws, bolts, nuts, etcetera.
Pliers: You'll want to have a standard and a channel-lock set of pliers on you for installing or removing items from your RV.
Cordless drill and drill bit set: Bring the kind that works with both metal and wood, just in case. Don't forget spare batteries.
Hammer with a claw: You'll need this for driving nails and stakes and pulling them out.
Wire cutter: You'll be sorry you forgot these if you need to cut electrical wire.
Eye goggles: If you start cutting wires or are soldering, you do not want fragments getting into your eyes and cutting your adventure short.
Tire repair kit with a small air compressor.
WD-40: Use this liquid to oil hinges, loosen nuts that won't budge, and clean electrical connections and all your tools with it. This stuff is magic.
Fire extinguisher: You hear about kitchen fires and other issues that set RVs ablaze. It's always a good idea that you have one in your vehicle. Check the expiration date regularly.
Specialty Tools for Your RV Toolkit:
Manometer (water-column type): This will help you set the right propane pressure and test the coach to see if there are any leaks.
Propane test device: Use this with your manometer to set the pressure and test the system.
Oven and refrigerator thermometers: Make sure you have separate ones for the freezer and main compartment in the fridge.
Circuit breaker test leads (with alligator test leads): You can use these to check for electrical shorts. These are perfect for troubleshooting a fuse that constantly blows.
Frequency meter: This can check the frequency output of your generator or the frequency of the incoming power. If your generator's frequency is out of calibration you can damage equipment in your RV.
Remember that you should always have the right specialty insurance for your RV. Your options are plenty. To find out more click here or call866-501-7335.
---
The information in this article was obtained from various sources. This content is offered for educational purposes only and does not represent contractual agreements, nor is it intended to replace manuals or instructions provided by the manufacturer or the advice of a qualified professional. The definitions, terms, and coverage in a given policy may be different than those suggested here and such policy will be governed by the language contained therein. No warranty or appropriateness for a specific purpose is expressed or implied.