How to Travel to Baja California in Your RV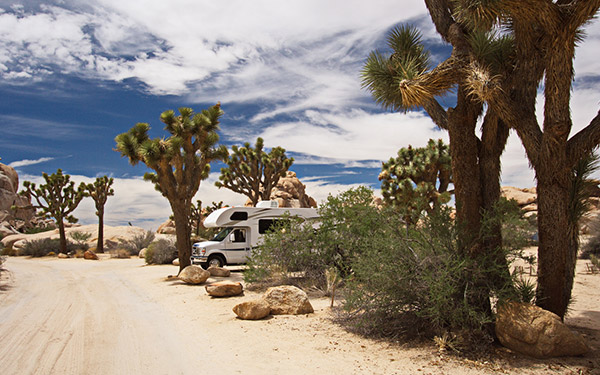 With beautiful beaches and stunning desert landscapes, there's a lot to love about Baja California. And with multiple RV parks located throughout the peninsula, it's no surprise that the area has become popular among RVers. So if you're ready for your own Baja vacation, this RV Baja California travel guide will cover everything you need to know about how to enter Mexico with your rig.
Know Before You Go – Required Documents
Before heading off on your Baja adventure, it's essential to understand what documents are needed to cross the border.
Passport and Vehicle Registration
Each person in your travel group must have a valid US passport to enter Mexico. To avoid mishaps, ensure your passport won't expire during your stay. In addition, be sure to have your RV's vehicle registration. The name on the registration should match what is on your passport. If using someone's RV, or if your RV is still being financed, you may need to obtain a notarized letter of permission.
Vehicle Insurance
Mexico insurance laws require all drivers to have liability insurance from an insurer licensed to provide coverage in Mexico. Because of this, your standard RV policy most likely won't cut it. However, major providers may have partnerships with authorized Mexican insurance companies that could help simplify the process. Your insurance agent should be able to help you find coverage from a reputable provider. If not, you are free to shop around and look for coverage on your own.
As with all insurance policies, shopping around and comparing quotes will help you find the best price point. You can also opt to purchase insurance at various kiosks located on the border. However, you'll likely pay more at these locations than when shopping online.
FMM Tourist Card
Each person in your RV will also need to purchase and fill out a Forma Migratoria Multiple, or FMM, which is a tourist card containing your passport and travel information. An FMM is how you register your visit with Mexico's immigration office. Without one, you are technically in the country illegally.
There are two ways to obtain your FMM—online or in person. In order for your FMM to be officially valid, it must be stamped by an immigration official. Because an in-person visit is required to get the stamp, we recommend purchasing your FMM in-person to avoid delays. If purchasing an FMM online, you'll need to print both your FMM and the payment receipt to show proof of purchase. Failure to do so may require you to pay an additional fee to confirm your purchase.
If your stay is less than seven days, your FMM will be free. If staying longer, expect to pay around $30 for your FMM.
Temporary Import Permit (TIP)
A temporary import permit, or TIP, for your RV will be required if you are venturing into mainland Mexico. However, a TIP is not required if you'll only be staying along the Free Zone (12 to 16 miles from the border), the Baja peninsula, or Sonora. A TIP will cost around $50 per vehicle and is valid for 180 days if needed.
Crossing Into Mexico
Once you have all your required documents, you'll be ready to officially cross the border into Mexico. To enter Baja California from California, you'll have five main border crossings to choose from. They are Calexico, San Ysidro, Otay Mesa, Tecate, and Andrade. Depending on where you will be staying, one crossing may be more beneficial than the others. Regardless of the crossing you choose, be sure to visit the US Customer and Border Protection website a couple of days before your trip for any notices and wait times.
When crossing the border in your RV, you'll likely be asked to pull aside so border officials can inspect your rig. Understand that this is common and shouldn't last more than ten or so minutes. Politely pull aside wherever directed, have documents ready, and follow all instructions.
Do not attempt to bring any weapons, illegal substances, or ammunition into Mexico. If caught, you'll face serious legal consequences.
You may be allowed to bring food items across with you, but only specific items. We recommend clearing out your fridge and freezer before crossing the border to avoid any delays during the inspection. If you choose to bring food items with you, be sure to double-check what is allowed.
RV Parks in Baja California
When looking for camping sites to visit in Baja California, your options are endless. Here are just a few places that are RV-friendly with full hookups available.
1) Club de Pesca RV Park, San Felipe
Known for its fishing and as a popular tourist destination, you'll definitely want to visit San Felipe anytime you find yourself in Baja California. While there are multiple campgrounds to stay at in town, reserving a spot at the Club de Pesca RV Park will allow you to park your RV directly in front of the water. The RV park also has bathrooms, showers, 24-hour security, and a general store.
Rates: $15/night for dry camping and $30/night for hookups.
2. Calm Beach RV Resort and Campground, Ensenada
Located between Rosarito and Ensenada (two wonderful beachside towns) is Calm Beach RV Resort and Campground, one of Baja's newest RV parks. Calm Beach RV Resort features a clubhouse, hot showers, and laundry facilities. When visiting, take advantage of local fishing trips or choose to relax on the park's private beach. Calm Beach is only about an hour away from the U.S-Mexico border, making it an easy destination for a weekend getaway.
Rates: start at $40/night during peak summer months.
3. East Cape RV Resort, Los Barriles
If you're up for the trek, East Cape RV Resort is located on the southern tip of Baja California Sur. While making the journey, you will experience all that Baja has to offer. Once at your location, you'll enter this paradise alongside the beach where "every day is Saturday." With plenty of room for even the biggest of RVs, East Cape comes equipped with everything you'll need for a relaxing getaway.
Rates: start at $35/night during summer months.
Keep Your RV Protected
As a reminder, liability insurance is required for all vehicles in Mexico. While your RV policy may protect your rig in the states, it will likely not provide you any coverage after crossing the border. To prevent any mishaps during your trip, be sure to speak with your insurance provider to discuss your options before hitting the road. To speak to an RV insurance specialist, give us a call at (866) 501-7335.
---
The information in this article is obtained from various sources and offered for educational purposes only. Furthermore, it should not replace the advice of a qualified professional. The definitions, terms, and coverage in a given policy may be different than those suggested here. No warranty or appropriateness for a specific purpose is expressed or implied.