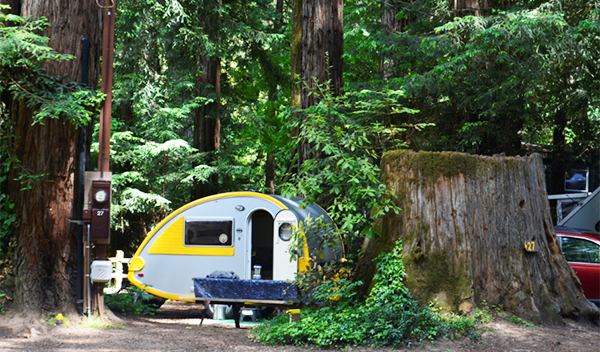 Let's face it: Visiting some RV parks can be downright demoralizing. If you're a young millennial with the requisite beard and a newfound love of RVing, you may be familiar with the unfriendly hellos or even strange looks from the veterans who've been doing it for years. Tired of feeling like an RV newbie already? While we could suggest countless ways to win over the traditional demographic of RVers, we decided to suggest some spots where "your kind" will most likely be welcome. Most importantly, our selection of RV parks is situated near all the cultural and entertainment spots that you are sure to appreciate. In between your rendezvous with nature, make sure to visit these exciting towns peppered with coffee shops, spiritual centers, artists' communities, galleries and more.
California
If you're the kind of RVer who travels with kale salad and a towable electric car, you were meant to RV at the Santa Cruz Redwoods RV Resort. Activities include hiking, horseback riding, boating, surfing and mountain biking. Adventures are set against redwood forests, waterfalls and a beach! You'll find amazing local dining, wine tastings and wineries in the mountains here. Amenities include full-hookups, hot showers and a huge clubhouse where you have WIFI, TV, a pool table and, of course, a piano. The best part of this RV resort is the town of Santa Cruz, where you will see old-school hippies everywhere. If you want a relaxed pace for your adventures, you'll definitely find it in this little town situated between San Jose and Monterey Bay. The downtown strip here is great for walking and full of coffee shops and live music venues.
Arizona
Peaceful and tranquil, Rancho Sedona is surrounded by Cottonwood and Sycamore trees that lead to a mesmerizing creek. The sunset over the mountains here is just remarkable. Mountain biking, trout fishing, hiking and swimming in the creek are popular activities during the day. And your site includes laundry, volleyball, WiFi and cable TV. The great part of staying in this RV park is its proximity to nearby galleries, shops and restaurants, which are walking distance. Sedona is known to

many millennials as a powerful vortex, where the earth is alive with healing and grounding energies. Sedona is considered the center of cosmic forces which are believed to emanate from the red rocks. If this sort of spiritual journey is your thing, make sure to explore the four centers here, each of which resonates its own distinct energy: Airport Mesa, Cathedral Rock, Bell Rock and Boynton Canyon. It's likely that you won't be alone at these locations, which are usually rich with yoga practitioners and meditation groups.
Florida
Different parts of Florida are as different as if they were different countries. So, let's consider Key West a very fun, laid back island city just south of Miami. Hipsters from all over the world come here for the friendly vibes and endless fun. Some come to see where Ernest Hemingway used to live (he also used to frequent Sloppy Joes, which is always packed). If you've got a boat, the waterfront here is spectacular and so is the private campsite right at the edge of the water! You can enjoy all the seclusion of a resort yet you're only 10 miles away from downtown. And downtown is a whole story onto itself. You've got live music here and some of the finest seafood restaurants in the country. At night, you'll want to park near Duval and Front streets and go from bar to bar until you've experienced all this magnificent town has to offer.
Nevada
This resort is like a dog-friendly paradise in Sin City's backyard. And if you were thinking you were going to be on a parched plot of land, you were wrong: You're only steps from the boundless Truckee River. This campsite has been around since 1927 so there's a lot of rich history here (and amazing black and white photographs of it on the website). A popular attraction here for hipsters is the Generator, an art space, maker space and community in Reno/Sparks. Most notably, the Generator is active each year at the Burning Man festival. Reno is quickly becoming a hub of artists looking for a community and affordable rent, so this may be a great place for you to visit and possibly relocate.
New Mexico
If you want to see a real artist community in action, you'll want to visit Madrid, New Mexico. Santa Fe Skies RV Park, which is about a half hour away, is probably the closest RV park. This campground is located on the eastern slopes of the Sangre de Cristo Mountains, which overlooks a scenic valley below. Take a long hike along the Turquoise Trail from the park into the artist center of Madrid where you'll find over 40 shops and galleries. Or, head north to the village of Cerrillos and go horseback riding! Sunrises and sunsets here are rumored to be breathtaking, and the owners are said to be very pet friendly. Full amenities are available, including water, cable TV, and Wi-Fi. The best part of staying here is if you stay six nights, you get the seventh one for free!
New York
If you're an eco-conscious vegan hipster, or are at least more vegetarian than carnivore, you'll want to experience Ithaca, New York. The commonly held belief is that Woodstock, NY is the place to go if you're an earthy type, but Ithaca is far more artsy than tourist-ridden Woodstock, which exudes opulence more than it does the hippy life that it's famous for. What's great about Spruce Row Campground & RV Park is that it's in the heart of Ithaca, its colleges and galleries. For those of you who haven't bought an RV yet, Spruce Row has on-site rental units. You can stay in large trailers and only have to bring your own linens and bedding. There are also plenty of traditional campsites too, both with and without utilities.
Insurance
You never know when an accident may occur. That's why it's always important to have the right coverage on your motorhome or trailer. Auto Insurance doesn't cover everything Specialty RV Insurance does. You may also want to consider buying Specialty Seasonal RV Insurance if you only use your RV a few months out of the year. To get the best deal, it's important to shop multiple rates at the same time. Let an Insurance Specialist search for you for free. Call (866) 501-7335.
---
The information in this article was obtained from various sources. This content is offered for educational purposes only and does not represent contractual agreements, nor is it intended to replace manuals or instructions provided by the manufacturer or the advice of a qualified professional. The definitions, terms and coverage in a given policy may be different than those suggested here and such policy will be governed by the language contained therein. No warranty or appropriateness for a specific purpose is expressed or implied.