10 Ways to Declutter & Organize Your RV Before the New Year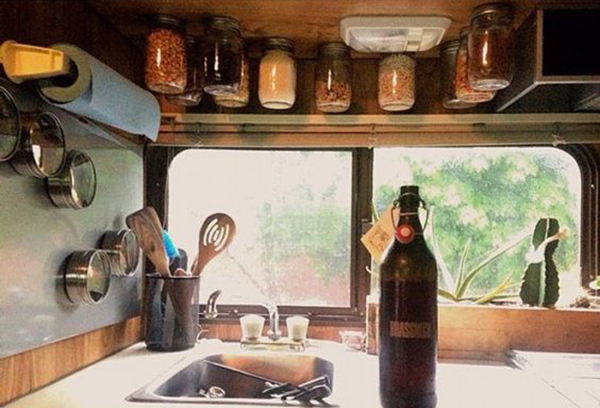 Even the largest house begins to feel cluttered with all the day-to-day things we use and need. As the season carries on, you'll accumulate more and more stuff in your RV. It's best to organize your RV now before everything gets hectic once the new year begins. It's easier to declutter and organize your RV than you might think. And with a little motivation, you can even make it a point to put everything back where it belongs so your small space can feel more manageable.
Decluttering an RV may take some innovation and creativity but it doesn't have to be costly. Just a few reasonable purchases and a little work can clear up so much surface area in your RV and make it feel more spacious. Also, organizing helps keep items from shifting and falling as you set out on the road.
1. Hang Jars and Bottles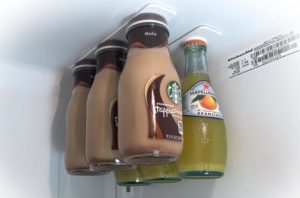 You can buy very strong magnets that will keep all your bottles with aluminum lids in place. This is a genius way of creating extra space in a small or overcrowded refrigerator. And you'll need that extra space to make room for eggnog, wine and all sorts of extra food required for any planned festivities.
2. Hang Mason Jars in the Kitchen
It's also possible to hang mason jars from the ceiling by screwing the lids in place. You can always change up whatever it is you are storing in the mason jars. These containers are perfect for storing food items so you don't have as much stuff on counters and in cabinets.
3. Make Use of Cabinet Doors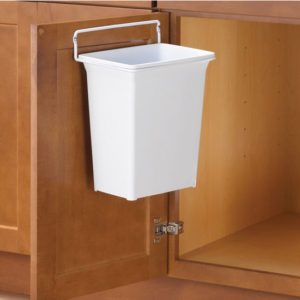 Cabinet doors are great for hanging all sorts of things to help you declutter and organize your RV. A self-standing garbage bin can be troublesome in such a small space, especially once your RV starts moving. Not only is tipping over the trash an issue, but you want to free up as much shelf and floor space as possible. Hanging your garbage from the cabinet is a great way to create more storage space in your RV.
You have several cabinets so make the most of them all. You can always buy mesh organizers and attach them to cabinet doors to store other little things that would otherwise make your motorhome look messy and overcrowded.
4. Organize Your Bathroom
Tackling each room in its own unique way can be the smartest thing to do when attempting to organize your RV. Mesh organizers are perfect for any area where you can hang stuff, but they are especially perfect for the bathroom. You can hang up all of your toiletries and appliances in convenient compartments. Doing this is a great way to prevent all your brushes, blow dryer and bottles from ending up on the floor once you hit the road.
If you tend to have lots of bathroom items, you can also invest in a hanging shoe organizer for even more compartment capabilities. This trick will secure all of your bathroom necessities and clear up room in your bathroom cabinets so you can store less-used items more easily.
5. Velcro Remote Controllers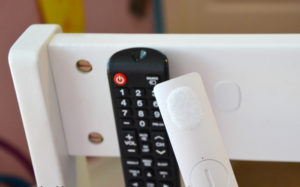 Velcro may be your best tool when attempting to organize your RV. Velcroing your remote controller is a great trick in any home, especially one on wheels. Just place some Velcro on your remote controllers and stick them somewhere convenient but out of the way. Then you'll always know where they are and you'll keep them from taking up any surface area or shifting around while you drive. For those of you who tend to misplace any type of small electronic device, you may be tempted to use this trick on other items. You really can apply this with anything you want to keep in place.
6. Get Your Toys Off the Floor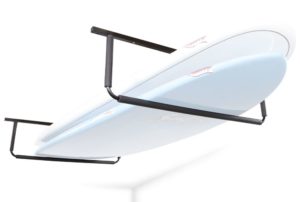 Your main goal is probably to get as much of your stuff off the floor as possible. That includes miscellaneous items in your RV storage area like sleds, surf boards and other recreational toys. You can better utilize this space by installing brackets in your RV ceiling. That way you can hang up all of the seasonal items that you don't use all the time and keep them out of the way.
7. Use the Seats to Store Extras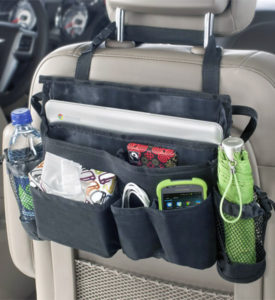 There actually is a perfect place for everything. This includes your tablets, laptops, cellphones and umbrellas. All you have to do is buy a few nifty organizers that can hang from the back of seats. These various compartments are the perfect place to keep all the things you reach for regularly. After all, you don't want to leave leave tablets or cell phones on a table where they can slide around and get lost or damaged. Utilizing these types of organizers will also prevent your RV's surfaces, like tables and counter tops, from looking busy and cluttered.
8. Utilize a Food Hammock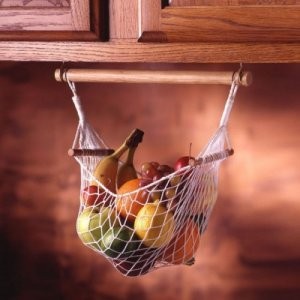 Fruit and vegetable hammocks preserve food by allowing it to breathe and ripen. They also look super cute and will add charm to your RV's kitchen. The best part is that your fruit won't bruise as easily either. Instead, they will stay securely swinging in the hammock instead of bumping against each other while you're driving. A food hammock is a great way to create more room in your kitchen, in addition to reminding you to eat that fresh produce you bought before it goes bad.
9. Doors Are Great for Organizing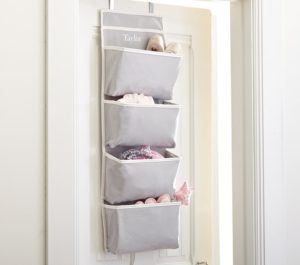 Your RV's doors can serve a second function as a storage space if you buy the right organizers. Contrary to transparent or mesh organizers, this type of soft shelving is perfect for creating a clean look. Because you can't really see what's stored in each compartment, these won't be an eyesore. Some organizers don't just have to be hung on doors either. You can hang them on any wall in the interior.
10. Hang It Up Above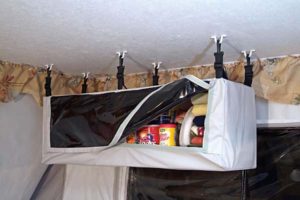 This transportable version of an airplane's overhead bin is amazing for storing extra food, t-shirts and anything else that ceiling hooks can hold the weight of. You don't have to throw everything in your RV away to tidy up. Just give everything its proper place and keep it out of plain sight. Too many little nick knacks all over the place give an interior an unkempt appearance.
Insurance
Besides working to organize your RV, another great way to get ready for the new year is to make sure your RV is properly insured. You should always carry at least the minimum in RV Insurance. To speak with an Insurance Specialist about which type of coverage is best for you and your lifestyle, call (866) 501-7335 or click here for an online quote.
---
The information in this article was obtained from various sources. This content is offered for educational purposes only and does not represent contractual agreements, nor is it intended to replace manuals or instructions provided by the manufacturer or the advice of a qualified professional. The definitions, terms and coverage in a given policy may be different than those suggested here and such policy will be governed by the language contained therein. No warranty or appropriateness for a specific purpose is expressed or implied.