10 Tips for Planning Family RV Trips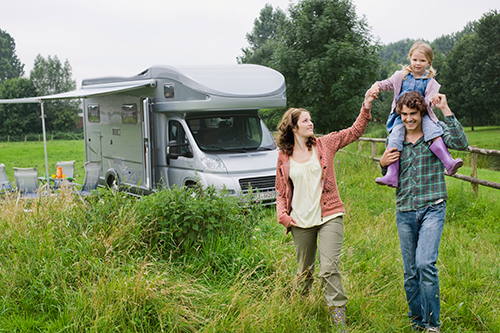 Many Americans agree that RV camping with the family is one of the greatest ways of spending together-time. Not only that, but RV outings are far cheaper than staying at expensive lodgings. Campgrounds are always less expensive than hotel rooms, plus kids love sleeping in a cozy space that's so different from home (as long as there's a night light)!
Even though most of us know how amazing traveling can be, the following tips for planning family RV trips are some things to remember before heading out onto the open road.
1 Know Your Destination & How You're Getting There
Plan ahead. It's one thing to be spontaneous when it's just you and your partner (or if you're alone), but RVing with kids is a whole other animal. You don't want to be wandering around from campsite to campsite at nightfall because there aren't any open spots. Reserving is best, unless you're equipped for boondocking.
Know which roads you're taking too, to determine stopping points along the way. Try to plan as many of these as you can too.
2 Create an Itinerary of Events 
If you just have a vague idea of a list of things you want to do, be prepared to do half of what you planned. Budgeting time is important during road trips. Because you're travelling in a group (and with children) give yourself some cushion room between stops, but do plan your days as much as you can. You can even color code the different stops according to you and your family's excitement level. This way, you can stay longer at one stop if you're having an exceptional time and maybe skip the next and drive onto the following location the following day. Whatever you do, don't go home feeling like you missed out on the highlights you were sure you'd get a chance to see.
3 Have a Budget in Mind
There's nothing worse than coming back from vacation broke. If you have a budget in mind, it'll facilitate what you need to buy at the grocery store and where the family can stop and dine (and how often). There's nothing worse than over shopping or under shopping for food, so be prepared, especially if you plan to pre-cook some meals and heat them up on the campfire. If you leave everything up to chance, you may end up eating out very often and going beyond your means. At the same time, you want to make sure you bring extra cash, in case some expensive emergency comes up along the way. You can also download coupons for restaurants that you'll stop at along the way (remember: planning, planning, planning!).
4 Make Sure You're Insured
We hope you're not relying on your regular auto insurance to cover your rig. Specialty RV insurance is so important to have in case of an accident or complete breakdown during which you may need assistance. Not all insurance companies cover motorhomes, however. If you haven't purchased specialty RV insurance yet, click here or call 866-501-7335.
5 Check Your System
Hopefully you have a sense of how much electricity you'll be needing before you head out with the kids. Try to figure out your collective expenditure before you go, and keep in mind how many amps each appliance you have in your RV draws. Air conditioners are often the reason behind blown fuses, so try to avoid running it with another appliance at the same time. If you have one, a generator is always good to have on board, especially if you know you'll be funning the AC often.
6 Pack Smartly and Over a Course of Time
Whatever you do, do not wait to pack the night before. In fact, try to pack in stages over a couple of weeks, with a checklist in hand. You can begin working on the checklist well in advance. It'll come in handy as you pack and add items to your list of necessities. These lists prevent you from forgetting the obvious, which is often what we leave behind. On your checklist, include all the tools you'll need in the case of emergencies like blown fuses or flat tires (or worse). With that said, it's not a bad idea to weigh your rig at a truck weigh station to make sure you haven't gone over the limit. If you need to lighten your load, start to unpack what you don't really need. When you're sure you are at the right weight, secure all your things so they don't shift around (or break)!
7 Make Sure to Stay on Top of the Weather
Check weather conditions on the day you leave. You may need to reroute or change your timeline to adjust to inclement weather. Check daily after you reach your destination. There are some apps available for your cellphone that can keep you abreast of coming storms. One reliable app is available from the Red Cross. The last thing you want to do is head out for a long hike only to experience a sudden downpour. You also don't want to get on the road for a long drive if the weather is dangerous. Stay on top of all changes in weather with your devices.
8 Have a First-Aid Kit Ready
You will be having lots of adventures in the great outdoors, whether you're going on long hikes, riding ATVs or going fishing. You never know what may happen that will necessitate a little medical help. Have a fully stocked RV first-aid kit always and check it before you head out on the road.
In your kit, include bandages, painkillers and ointments, insect repellant, Band-Aids and all the medications you need to take regularly.
9 Keep the Glass at Home
Bring plastic drinking glasses. You never know when things will topple out of cabinets or fall off the table while you're driving. If you're really not all that picky when it comes to what you eat off, bring paper plates so you have less clean-up time and no worries about broken glass all over the tiny kitchen. Remember, kids somehow have slippery fingers and they're the first ones you'll worry about if something shatters.
10 Bring Entertainment, Especially for the Kids 
No matter how much you plan to have tons of outdoor fun, you never know what may go wrong. You never know if it'll rain or if someone will come down with the bug. All you can do is get yourselves prepared for any kind of downtime. You don't want to be stuck in a cramped rig with nothing to do. All you can do is come prepared with some movies, tablets or laptops and hope that the kids won't start whining that they're bored. Make sure to pack a couple of great books for yourselves too. Hopefully, when the sun comes up (given that it does), you can set out exploring again.
---
The information in this article was obtained from various sources. This content is offered for educational purposes only and does not represent contractual agreements, nor is it intended to replace manuals or instructions provided by the manufacturer or the advice of a qualified professional. The definitions, terms and coverage in a given policy may be different than those suggested here and such policy will be governed by the language contained therein. No warranty or appropriateness for a specific purpose is expressed or implied.