10 Quick & Easy Campfire Recipes To Try This Summer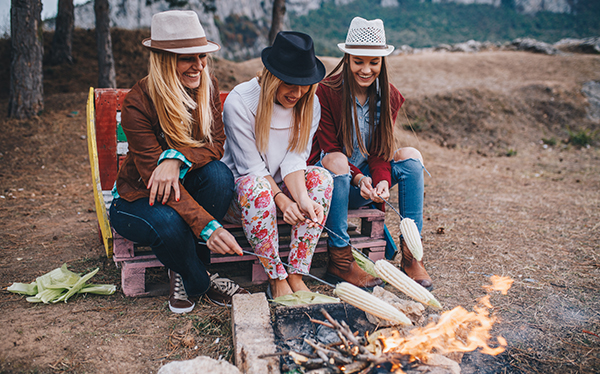 Nothing beats a hearty, delicious meal by the campfire after a long summer day of exploring the great outdoors. However, no one wants to wait too long for their meal to be ready. No one wants to deal with a complicated recipe with lots of ingredients, either. That's why we've scoured the Internet for some of the most delicious and least complicated campfire recipes that are perfect for your summer adventures.
Most of these campfire recipes only require a few simple ingredients (less than 10!) that you can prepare in minutes. They also don't take too long to cook and they're so tasty you'll be making them on all your camping trips this summer!
Breakfast Campfire Recipes
1. Campfire Sausage Hash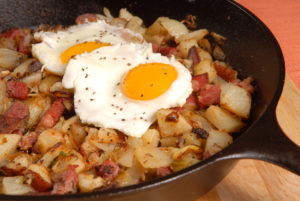 Ingredients
1 large onion, chopped
2 tablespoons canola oil
2 garlic cloves, minced
4 large potatoes, peeled and cubed
1 pound Polish sausage, halved and sliced
4 oz. chopped green chiles
1 can whole kernel corn, drained
This recipe has a few main ingredients, but it packs a lot of flavor. It only takes about 30 minutes to make and it has 17 grams of protein! That makes it a great meal to start your day with. Plus, all you need is a skillet and a campfire to make this breakfast a success. For extra protein, top the hash with a couple over-easy eggs. Also, don't forget to bring some oil or butter to cook everything with, too.
Find the full recipe here.
2. Blueberry Cinnamon Campfire Bread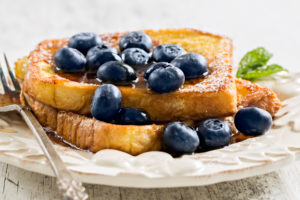 Ingredients
1 pound cinnamon-raisin bread
6 large eggs
1 cup 2% milk or half and half cream
½ cup pecans, chopped and toasted
2 cups fresh blueberries, divided
1 teaspoon vanilla extract
2 tablespoons maple syrup
If you want something on the sweeter side for breakfast, then this recipe is perfect for you. It does take a little longer, about 30-40 minutes, but it's so worth it! Plus, it's filling and has 12 grams of protein. All you need is a skillet, foil and a campfire to complete this breakfast meal. It'll be like taking grandma's homemade recipe with you on the road.
Find the full recipe here.
Snack Campfire Recipes
3. Hawaiian BBQ Pork Walking Taco Bag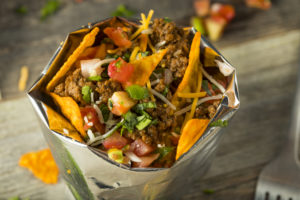 Ingredients
4 pounds BBQ pork
24 small bags of chips (Fritos or Doritos), crushed
2 bags shredded cheese
1 bag shredded lettuce
3 tablespoons cilantro, chopped
1 cup sour cream
2 ½ cups pineapple salsa
Do you need a delicious meal to take with you on your morning trek? Try these easy-peasy walking taco bags. The Hawaiian BBQ flavor will definitely brighten up your summer day, too. This recipe is especially great for a large group of friends or campers. It makes 24 bags! They're also pretty customizable and you may even want to take two to go.
Find the full recipe here.
4. Cheesy Garlic Fries Foil Packets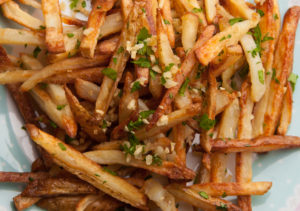 Ingredients
16 oz. bag frozen French fries
1 cup shredded cheddar and Monterey jack cheese, mixed
2 green onions, sliced
2 tablespoons extra virgin olive oil
3 cloves garlic, minced
Kosher salt and ground black pepper to taste
Foil packets are just about the easiest way to make anything over a campfire. These cheesy garlic fries are even easier to make because they require such few ingredients and prep time. They take about 20 minutes to cook over the campfire, meaning they'll be done in no time. Also, you can cut your own potato wedges or add red pepper flakes to really make the recipe your own. Lastly, don't forget to have your dipping sauces ready!
Find the full recipe here.
Lunch or Dinner Campfire Recipes
5. Chicken and Black Bean Nachos Foil Packets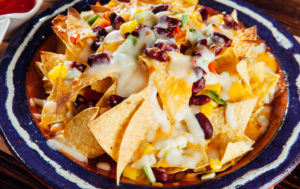 Ingredients
3 ½ cups rotisserie chicken, shredded
1 cup red enchilada sauce
½ onion, chopped
1 cup fresh corn kernels (2 ears of corn)
15 oz. canned black beans, rinsed
12 oz. pepper Jack cheese, divided
8 oz. tortilla chips
Kosher salt and ground black pepper to taste
Fresh cilantro and lime wedges for serving
This recipe is great as a hearty snack or an easy-to-eat lunch in between outdoor activities. You may have to prep a few ingredients, but the recipe makes up for it with a short cook time. In fact, it only takes a little over 6 minutes before you have mouthwatering nachos at your fingertips. Skip the chicken for a lighter snack, and add olives or jalapenos for even more flavor.
Find the full recipe here.
6. Pineapple BBQ Chicken Kebabs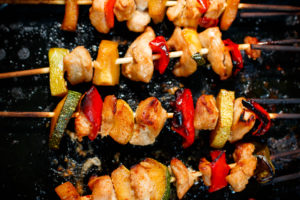 Ingredients
1 packet BBQ sauce of your choice
1 packet dry rub mix in flavor of your choice
¾ cup pineapple juice
4 boneless skinless chicken breasts, cubed
1 pineapple, cubed
1 tablespoon fresh cilantro, chopped
8 skewer sticks
Nothing says summer like a tropical-inspired kebab for dinner. This recipe is colorful and totally customizable, making it fun for the whole family to enjoy. You will need a grill grate to put over your campfire to create this tasty meal, but the prep and cooking is simple. Each kebab only takes about 5 minutes to cook!
Find the full recipe here.
7. Campfire Corn on the Cob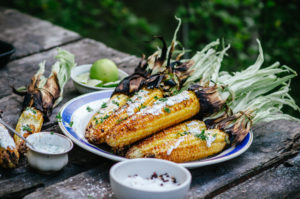 Ingredients
6 ears of corn
¾ cup mayonnaise
2 cups sour cream
½ cup fresh cilantro, chopped
1 cup Parmesan cheese
2 fresh limes, juiced
Chili powder to taste
If you're looking for a simple and delicious side to any meal, look no further than this corn on the cob recipe. The ingredients require minimal preparation but produce maximum flavor. Who doesn't love a good corn on the cob grilled to perfection over the campfire?
Find the full recipe here.
8. Shrimp Scampi Foil Packets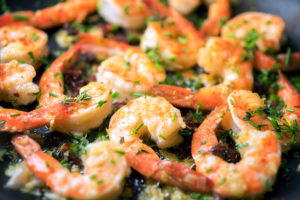 Ingredients
2 pounds frozen peeled and deveined large shrimp, thawed
4 cloves garlic, chopped
6 tablespoons unsalted butter, cubed
2 tablespoons dry white wine
½ lemon zest and juice
½ teaspoon red pepper flakes
½ cup fresh parsley, chopped
Kosher salt and ground black pepper
For a more sophisticated campfire meal, or if you just love seafood, try out this shrimp scampi recipe. It's easy because you just throw everything into foil packets and place them on a grill grate over the fire. They take a little under 10 minutes to cook. Then, you can eat them alone or over pasta, rice or even salad. Out in the wilderness, the possibilities are endless!
Find the full recipe here.
Dessert Campfire Recipes
9. Cherry Chocolate Pudgy Pie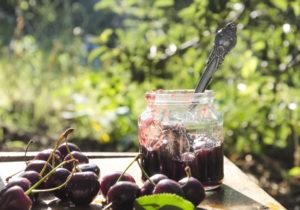 Ingredients
2 slices white bread
3 tablespoons cherry pie filling
1 tablespoon almonds, chopped
1 tablespoon semisweet chocolate chips
Just like dessert should be, this recipe is sweet, simple and absolutely delicious. It only calls for 4 basic ingredients and essentially no preparations. Keep in mind that you will need an iron skillet to place over your campfire. Trust us, everyone will love this summery dessert that's a much-needed change from traditional s'mores.
Find the full recipe here.
10. Chocolate Chip Bacon Cookie S'mores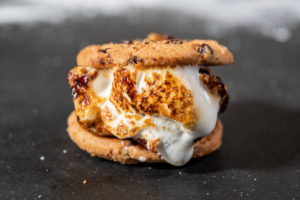 Ingredients
12 large marshmallows
12 slices thick-cut bacon (hickory-smoked or maple)
2 large scored chocolate bars, cut into 2-inch squares
24 chocolate chip cookies (homemade or store-bought)
12 skewers
If you want a mouthful of gooey goodness, or if you're a bacon lover, try out this unique twist on a s'more. It has all of the chocolatey goodness combined with some smokiness from the bacon. The recipe includes how to make homemade chocolate chip cookies, but you can buy your favorite brand from the store to make things less complicated.
Find the full recipe here.
Other Camping Recipes
If you're camping with your RV, then you probably have a fridge, so keeping these ingredients fresh shouldn't be an issue. And because they're so simple, you shouldn't have a problem customizing them to your own tastes. Experimenting is half the fun, right? If you want more easy and delicious campfire recipes, check out our No-Cook Summer Recipes, 10 Dutch Oven Recipes and Power Hiking Breakfast Recipes. Also, if you try one of our recipes, tag us on Instagram! We'd love to see your campfire masterpiece.
---
The information in this article is obtained from various sources. This content is offered for educational purposes only. It should not replace instructions or the advice of a qualified professional. No warranty or appropriateness for a specific purpose is expressed or implied.