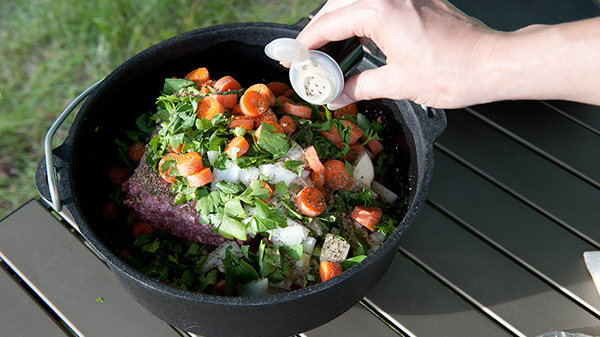 If you're planning on eating out every time you go RVing, you're missing half the fun and spending more than twice what you need to for great meals. The secret for many veteran campers is the sturdy Dutch oven, which can be placed directly on any campfire. There are so many Dutch oven recipes to choose from, too!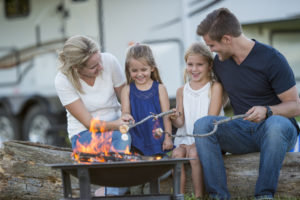 Before you get cooking, you'll want to make sure that your oven is heating evenly (rotating helps). You also do not want to entirely engulf the Dutch oven in flames, even though it can take the heat. Once you learn how to gauge different temperatures based on the size of your fire, this amazing pot can turn out great meals, desserts and snacks.
For great cooking over a campfire, you need a great campfire first. To see what kind of firewood you need, visit here. Build a perfect fire by following these easy steps. After your feast, make sure to put out your fire properly and leave the campsite just as you found it. Now, let's take a look at some of our favorite Dutch oven recipes.
Eggs Baked in Avocado
Ingredients: 4 ripe avocados, 8 eggs, salt, pepper.
Directions: Scoop out most of the avocado flesh to fit a whole egg in its place. Crack one egg at a time into a bowl or dish and then guide it, yoke first, into an empty avocado pocket. Top with salt, pepper or any other seasoning you like with your eggs. Repeat these steps with each egg. Place all of the avocado-eggs in the Dutch oven and transfer it carefully over to the fire. Make sure the eggs don't spill out! Rotate the oven every few minutes to make sure the eggs are cooking evenly. When the whites are white and more solid, you're ready to serve!
Campers' White Chili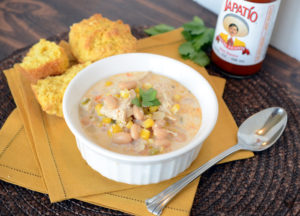 Ingredients: Olive oil, 1 onion, 3 cloves of garlic (minced), ground turkey or ground chicken (1 lb.), green chili peppers, cumin (1 tbsp.), chili powder (2 tsp), cayenne pepper (2 tsp), salt and pepper, 32 ounces of chicken broth, white beans (3 large cans), Monterey jack cheese (2 cups)
Directions: Brown the meat with olive oil and garlic. Add the vegetables and seasoning. Cook for 5 minutes. Add in the broth and beans. Bring to a boil and allow it to simmer for 30 minutes. Add cheese and any other toppings you like before serving.
This is one of our most unique Dutch oven recipes, so make sure to try it at least once!
Dutch Oven Spaghetti and Meatballs
Ingredients for meatballs: ½ lb. ground beef or ground turkey, breadcrumbs (1 cup), parsley (1 tsp), minced garlic cloves (4), onion powder (1/2 tsp), 1 egg, dash of salt, dash of black pepper, olive oil (to cook them with).
Directions: Mix all the above ingredients together and mash them up into whatever size meatballs you like, but try to make them all uniform in size. Add oil to the bottom of the Dutch oven and add in the meatballs and brown all sides.
Ingredients for sauce: One onion, crushed tomatoes (1 28 or 32 oz. can), tomato paste (1 can, 6 oz.), garlic (4 to 7 cloves, depending on taste), salt (2 tsp), sugar (1 tbs.), pepper (1 tsp), basil (fresh or dried).
Directions: Add these ingredients to the meatballs that have been browned. Stir and simmer covered for an hour, taking care to stir occasionally.
Don't forget to cook the spaghetti and add Parmesan cheese to taste!
Dutch Oven Cinnamon Coffee Cake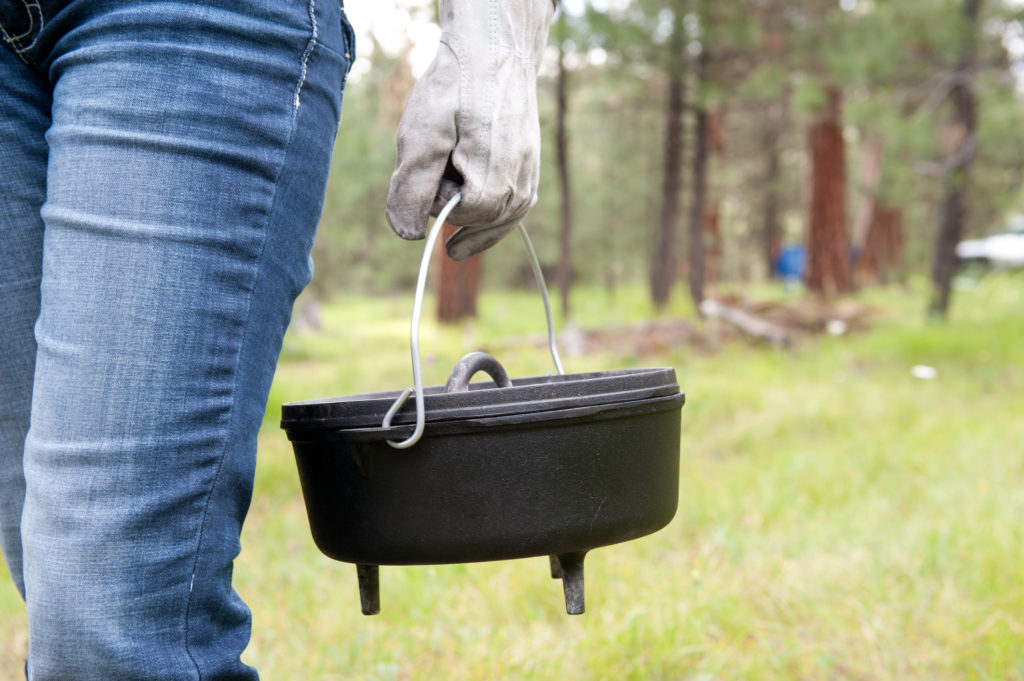 Ingredients: Yellow cake mix (1 box), cinnamon (2 tbs.), chopped pecans, vegetable oil (1 cup), 4 eggs, sour cream (8 oz.), vanilla (1 tsp).
Directions: Grease the inside of the Dutch oven with vegetable spray or butter. Add the mixture and sprinkle brown sugar over the top. Cover the top and bake 20 to 35 minutes or until the center of the cake cuts cleanly. Make sure to rotate the oven every 5 minutes or so to bake evenly. Allow to cool and serve with or without coffee.
If you're looking for a sweet dessert with a little bit of spice, you're looking at the right recipe.
Dutch Oven Nacho Dinner
Ingredients: Tortilla chips, ground beef or turkey, tomatoes (diced), green peppers (diced), black beans, red onions (chopped), jalapenos (chopped), shredded Monterey Jack cheese, salsa (your own or store bought).
Directions: Preheat the oven while preparing nachos. Using a pizza pan, add the meat, beans, a little sprinkling of cheese and veggies. Add another layer of the same and keep going until you are done. Add a nice layer of cheese on top, place the pan in the oven and close the lid. Cook for about 12 to 17 minutes or until the cheese is all melted. Enjoy!
Extra Cheesy Meat-and-Potatoes Casserole
Ingredients: Butter (2 tbs.), potatoes (10 medium ones, sliced medium to thin, with or without skin), ground beef or turkey (1 lb.) half cooked, 1 onion (sliced thin), grated cheese (2 cups, we suggest parmesan), small can of mushroom soup, salt and pepper.
Directions: Layer potatoes, onions, meat, cheese and spices and thin slices of butter. Keep layering until finished. Add the mushroom soup, cover and cook on medium to low heat for 40 to 50 minutes or until potatoes are soft. Sprinkle more cheese on top and enjoy!
The Adventurer's Breakfast
Ingredients: Pork or turkey sausage, diced (1 lb.), 1 onion (chopped), 1 bell pepper (chopped), frozen hash brown potatoes (shredded, 2 lbs.), 12 eggs, cheddar cheese (16 oz.).
Directions: Cook the sausage and onion. When the sausage is no longer pink, add the bell pepper and hash browns and mix evenly. Cook for 15 to 20 minutes while stirring occasionally. Pour the beaten eggs over the top of this mixture. Cover the lid and turn up the heat by adding a few more coals. Bake until firm (35 minutes). Sprinkle with cheddar cheese and cook for an additional 3 to 5 minutes and serve!
Quick Dutch Oven Chicken with Cashews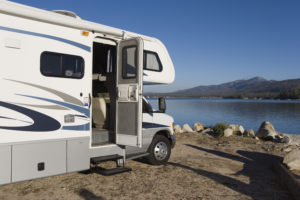 Ingredients: Olive or sesame oil (3 tbs.), onion (1, chopped), garlic, (3 cloves) bell pepper (1 chopped small), chicken breasts cut into small chunks (2 lbs.), carrots, sliced (4 small ones), 2 cups of cashew halves, 1/2 cup water, ½ cup soy sauce.
Directions: Cook the onion, garlic and bell pepper with oil for a couple of minutes. Add in chicken chunks, carrots and cashews. Cook on medium flame for 15 minutes, stirring frequently. Add water and soy sauce, cover and cook for another 15 to 20 minutes or until the chicken is no longer pink inside. Serve over any rice of your choosing.
Dutch Oven Pumpkin Delight
Ingredients: Canned pumpkin (29 oz.), Pumpkin Spice (4 tsp), 3 eggs, 1 cup sugar, salt (1/2 tsp), 1 tsp vanilla, 1 cup evaporated or condensed milk.
Directions: Mix all ingredients and pour into a greased Dutch oven. Bake for an hour. Serve like pie, with whipped cream and a sprinkle of cinnamon.
Easy, Cheesy Pizza Snacks
Ingredients: Crescent-roll dough (Pillsbury or any similar product), pizza sauce, mozzarella cheese, any topics you enjoy eating: pepperoni, mushrooms, garlic, spinach, etc.
Directions: Unroll the dough, dress your pizza however you want it, bake without covering for about 15-20 minutes or until the dough turns golden brown. Allow to cool and enjoy.
Did someone say best snacks ever? Oh wait, that was us.
Insurance for Your RV
Whether you're camping close to home or driving to another state in your RV, you want to make sure you're covered in the case of an accident. Even though you may drive your motorhome or trailer less often than you do a regular vehicle, chances are that repairs on it will cost more than they would on your car. It's always best to be in trustworthy hands. Our Insurance Specialists are here to match you up with the best insurance companies at rates you can afford. Get multiple quotes in one quick phone by calling or visiting here.
---
The information in this article was obtained from various sources. This content is offered for educational purposes only and does not represent contractual agreements, nor is it intended to replace manuals or instructions provided by the manufacturer or the advice of a qualified professional. The definitions, terms, and coverage in a given policy may be different than those suggested here and such policy will be governed by the language contained therein. No warranty or appropriateness for a specific purpose is expressed or implied.