Your RV Insurance: Save Money When Storing Your RV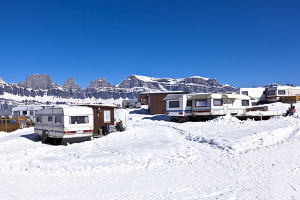 Your RV was a big purchase and you've spent your hard-earned money on this investment. Whether it's on the road or in storage, you can save money and still be protected should something unfortunate happen.
Your RVs insurance, if purchased from a specialized agency, can be used to save money and protect your investment while it's being stored. If you plan on being a part-time RV-er, then you know you will have long stretches of time in which your motorhome is not being used. Even though it's parked in your driveway, things can still happen that require repair or replacement.
Use your policy to your best advantage with these options:
Suspend RVs Insurance coverage during storage
If you plan on storing your vehicle for a long period of time, such as during the winter months, then you can suspend coverage while it's in storage. This means that the coverage you use for driving will be postponed, an option that can save you hundreds when you aren't using the vehicle anyway.
Make sure you have "critter coverage"
No matter where you store your vehicle, when it's not being used it becomes a target for mice, squirrels, and other animals. A typical car insurance company will not provide coverage for this common problem. But a specialized agent knows that these creatures can do a lot of damage, especially by chewing on wires and lines.
That's why a specialized policy works for you to secure your best interest–agents who understand all of the details of RV ownership know how frustrating these problems can be. Most importantly, they provide a policy that covers the damage.
Full Replacement Cost Coverage
If your newly purchased RV is damaged or stolen during the first 5 years of ownership, even if you only drive it part time, a specialized policy can provide a full cost replacement. Most automobile insurance companies either do not provide this option, or they limit it to a mere year after purchase.
Buying a specialized motorhome insurance policy is the best way you can protect your investment, especially if you only plan to drive your RV part-time. Get the right coverage through a specialized RVs insurance company so that you can be on the road, peacefully.
The information in this article was obtained from various sources. This content is offered for educational purposes only and does not represent contractual agreements, nor is it intended to replace manuals or instructions provided by the manufacturer or the advice of a qualified professional. The definitions, terms and coverage in a given policy may be different than those suggested here and such policy will be governed by the language contained therein. No warranty or appropriateness for a specific purpose is expressed or implied.