Traveling on a Budget: Ways to Save Money RVing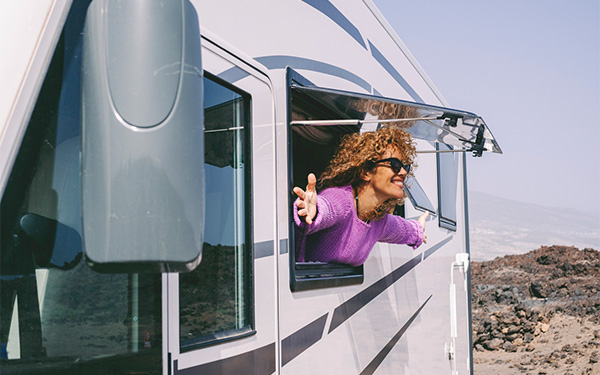 When you're out on the road, any money saved can go towards additional activities and adventures. Sure, eating out daily and staying at amenity-filled resorts can be fun, but sometimes that's just not in the budget. And depending on your travel style, that may not be what you're hoping to experience. Still, there are plenty of ways to save money when RVing. Here are seven travel budget tips that'll help you save in big and small ways. 
RV Travel Budget Tips
1. Take Advantage of the Off Season
If you're open to traveling throughout the year, taking advantage of off seasons can help you save money RVing and avoid large crowds. An area's off season is the time of year that sees the fewest number of visitors. During these times, prices are typically lower than usual, allowing you to score some deals at popular resorts or RV parks.
Depending on where you're heading, you may experience some unfavorable weather—after all, it's the off season for a reason. However, if you aren't afraid of a little rain, extra heat, or snow, traveling during the off season allows you to experience a different side of many of the country's parks and destinations.
2. Prepare Your Own Meals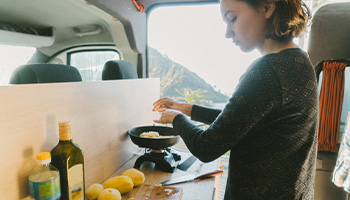 Just like at home, you'll save significantly on the road by cooking your own meals instead of dining out.
Of course, it's easy to hit convenience stores or fast-food shops for dinner when stopping for fuel, but doing so repeatedly can really add up. For example, the average cost of a fast-food meal is anywhere between $5 to $10 per person. On the flip side, a home-cooked meal can average between $2 to $5 depending on the ingredients—and you'll usually have leftovers.
To save money while RVing, we recommend investing in an Instant Pot, which can add to the number of recipes you can do in an RV kitchen. If you're going on a short trip, consider portioning out ingredients ahead of time to keep you from impulse buying at the gas station.
3. Join RV Clubs
If you RV more than a few times a year, joining an RV club can open the door to discounted rates at RV parks all around the country. In fact, once you're an RVer, there are way more options beyond just AAA.
For example, Harvest Hosts is an RV club that allows members to stay in unique locations, including farms, wineries, museums, and more. Additional RV memberships that can also help you save include Passport America, Thousand Trails, and KOA.
4. Shop Around for Fuel When Possible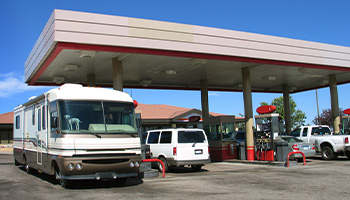 As you already know, fuel can be expensive. Moreso, the cost can vary widely depending on where you are traveling. In California, for example, the price at the pump can be about 50% higher than the national average.
When driving a regular sedan, you may not see a significant difference in saving a few cents per gallon. But in a Class A motorhome with a 100+ gallon tank, those few cents really add up over time. Consider utilizing apps such as GasBuddy to find an area's most affordable fuel options in order to save money RVing. 
Pro tip: skip gas stations right off the highway if possible. Instead, head into town, where prices are typically lower.
5. Consider Adding Solar Power to Your RV
If you're a serious RVer and travel frequently, a solar power system for your RV may be a good option. Although there is an initial investment upfront, you'll save money on electricity costs RVing in the long run. Furthermore, RV solar panels have little to no moving parts, so they don't require much maintenance besides regular cleaning.
Read more: A Beginner's Guide to RV Solar Panels.
6. Keep Up with Regular Maintenance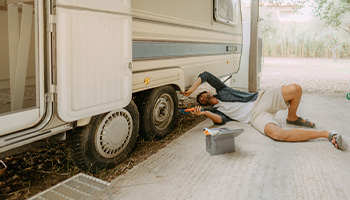 Although RVs can take a lot, they aren't indestructible. Over time, it's normal for your RV to need some TLC. Regular RV maintenance will help you catch any issues early before they develop into serious problems. This also helps you prevent a sudden significant expense, as RV repairs can be costly.
Taking the time to understand your rig and how it operates will prove valuable over time. We recommend doing smaller tasks yourself when possible to save even more by avoiding unnecessary mechanic bills. Routine maintenance, such as performing oil changes, checking for water damage, and winterizing your RV during cold weather, are all ways to prolong the life of your rig.
7. Protect Your Investment with RV Insurance
Your RV is your home on wheels, so it's important to keep it protected with an RV insurance policy. Unlike traditional auto insurance, RV insurance covers a broader range of scenarios and situations you may find yourself in during one of your many adventures. Available coverage types include personal belongings coverage, campsite and vacation liability, and specialized RV roadside assistance.
To learn more about RV insurance and how to get the most for your insurance dollar, give our RV insurance specialists a call today at (866) 501-7335, or start a free quote online.
---
The information in this article is obtained from various sources and is offered for educational purposes. Furthermore, it should not replace manuals or instructions provided by the manufacturer or the advice of a qualified professional. No warranty or appropriateness for a specific purpose is expressed or implied.