Travel Trailer Insurance and Finding a Policy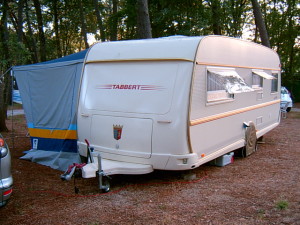 Travel trailer insurance should be purchased in order to protect your investment. Many questions will arise as you first make your RV purchase regarding travel trailer insurance policy options. Don't let it stress you. Buying travel trailer insurance for your RV is the most effective way to protect you over the long haul – giving you peace of mind and financial security. You will enjoy knowing that your travel trailer insurance has you covered.
Purchasing RV Insurance
Insurance of any kind is not fun to purchase. It even may feel like an unnecessary expense, but when that surprise accident occurs, you will find yourself more than happy that you purchased travel trailer insurance. Find a few good reasons to purchase insurance for your RV below.
Travel trailer insurance can be and should be purchased through an insurance agency that specifically specializes in such RVs and their needs. These agencies are knowledgeable about RVing needs, so they are able to target your travel trailer insurance to fit your budget and specifics to your lifestyle. It is important to note that auto policies cover automobiles and auto needs, while travel trailer insurance and RV insurance policies cover motorhome and travel trailer needs. Travel trailer insurance agencies are aware that these units are often a second home or part of a second home, so policies are adjusted as such.
It doesn't matter the type of RV you own or purchase, there is a policy coverage option to suit your needs. Fifth wheels, travel trailers, Class A, B, C, or luxury diesel pushers are all covered by specialty RV insurance.
Another good reason for RV insurance is that you will have access to replacement coverage in full for your unit. This means that in the event of a mishap, travel trailer insurance will reimburse you for the total loss of your RV. Of course, certain restrictions will apply. If you are the owner of a new RV for less than 5 years, then you will get full coverage (make/model). After 5 years, you may get a lesser value, such as the purchase price only. Used RVs will have their own unique coverage options.
Protect your Investment
Buying a recreational vehicle is a big decision, as well as a big investment. It is up to you to protect it.
If you are interested in additional protection, look into what your extended warranty options are. These options will go beyond the time frame of what a typical manufacturer's warranty will cover. This will add even more peace of mind to you and your family when you are living your life on the road.
Buy an RV insurance policy, along with an extended warranty, and feel at ease when traveling on vacation or fulltime.
The information in this article was obtained from various sources. This content is offered for educational purposes only and does not represent contractual agreements, nor is it intended to replace manuals or instructions provided by the manufacturer or the advice of a qualified professional. The definitions, terms and coverage in a given policy may be different than those suggested here and such policy will be governed by the language contained therein. No warranty or appropriateness for a specific purpose is expressed or implied.