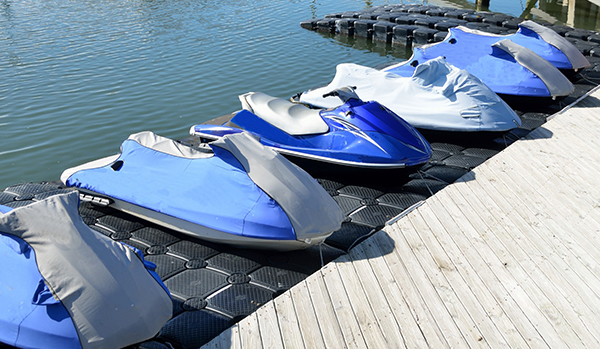 All recreational vehicles need to be winterized so they're protected against rust and damage during winter. Properly winterizing your jet ski will ensure that they have a longer and better life. Many people choose to take their watercraft to a maintenance shop to winterize their jet skis. Others prefer to save money by doing the work themselves. A jet ski is not difficult to winterize, but it is important to begin the process as soon as possible, ideally after your last ride of the year. This could be either the end of summer or fall, depending on where you live.
If you own a boat, winterizing a jet ski is a very similar process. In fact, you may want to work on both vehicles at the same time. To see instructions on how to winterize your boat, click here.
How To Winterize Your Jet Ski
Below are some steps to take to make sure your jet ski is ready for fun once spring rolls back around. However, always make sure to read your owner's manual first. There may be steps you need to take for your particular make and model.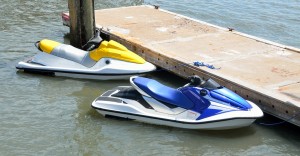 Drain the water from the watercraft by taking it out of the water and tilting it so the stern is higher than the bow. You can do this right at the loading dock after taking it out of the water for the season.
While the jet ski is out of the water, start the engine and occasionally turn the handle bars from left to right. Go for 30 seconds and stop for 30 seconds. Continue for two more starts or until there's no more water. You never want to run your boat for more than 30 seconds when it's out of the water because it can overheat.
Once in storage, place the jet ski on an above-ground stand and make sure it's level.
Your watercraft will have gas in it, so make sure there are no flammable materials nearby.
Wash the jet ski after the last ride to remove all algae and grime. Car washing detergent is fine to use.
Dry the jet ski completely. Make sure to check the hull for moisture.
Wax your jet ski using car wax or others you may find in specialty RV or boat stores.
Fill your gas tank. A gas tank that is not full is at risk of forming condensation in the engine, which can be very destructive.
Add gas stabilizer to your tank. This will help your carburetor from clogging with gummy gas.
Run the engine for 30 seconds to allow the stabilizer to circulate through the engine and remove excess water.
Remove the air cleaners and spark plugs. Ensure the wires to the spark plugs are grounded.
Spray fogging oil through the carburetors and spark plug cylinders and cover with a piece of cloth. Push the start button on the jet ski, even though it will not start, so the oil disperses. Replace the spark plugs and air cleaners.
Unlatch the jet ski and allow water to evaporate.
Check your battery and chargers for specific safety instructions first. Disconnect the battery, making sure to disconnect to the negative terminal first.
Store the battery in a warm place, on a rubber surface instead of cold concrete. Since it can give off dangerous fumes, it's recommended that you store the battery inside your garage instead of your home.
Attach the battery to a trickle charger and check the battery's water level during the storage period.
Place a wool rag inside your exhaust to prevent bugs from nesting inside.
Cover your jet ski with a tarp.
Jet Ski Insurance
You may have winterized your jet ski properly, but there are many accidents that can happen while it's in storage. Theft, vandalism, fire and floods are all possible when it's not in use. That's why it's important to have Jet Ski Insurance. You don't want to pay for damage or repairs out of your own pocket. Call an Insurance Specialist today at (866) 501-7335 to discuss your affordable coverage options.
---
The information in this article is obtained from various sources. This content is offered for educational purposes only and does not represent contractual agreements, nor is it intended to replace manuals or instructions provided by the manufacturer or the advice of a qualified professional. The definitions, terms and coverage in a given policy may be different than those suggested here. Such policy will be governed by the language contained therein, and no warranty or appropriateness for a specific purpose is expressed or implied.