Top 10 State Parks in Texas That'll Make You Say Howdy!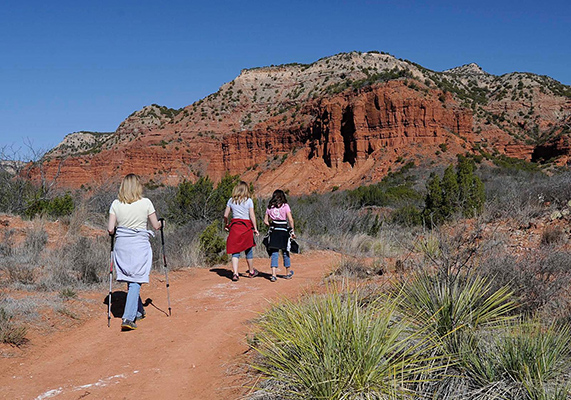 Are you still planning your summer and fall RV road trips for 2018? Then add Texas to your list! Full of fun adventure, unique history and one-of-a-kind sightseeing, Texas' state parks offer experiences you'll never forget. We've compiled our top-10 list of state parks in Texas, which boast spectacular views ranging from canyons and caverns to mountains and valleys. Just choose what you're looking for in your next RV road trip adventure!
Images courtesy of the Texas Parks and Wildlife Department
1. Palo Duro Canyon State Park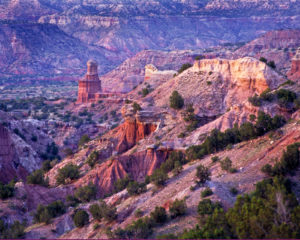 This giant state park is near and dear to Texans. Nicknamed the "Grand Canyon of Texas," the Palo Duro Canyon runs about 60 miles long, up to 20 miles wide and about 800 feet deep. As the second largest canyon in the United States, Palo Duro holds some resemblance to the Grand Canyon in Arizona with its intricate geological layers and colorful walls. Here, you'll find over 30 miles of hiking and biking trails and more than two miles of equestrian-only trails. You'll also get the chance to see wildlife like the Longhorn steer. The state park is home to the Pioneer Amphitheater, which hosts the outdoor musical drama "Texas," showing the history of the Panhandle settlers. There's so much to do at Palo Duro Canyon that you won't want to miss. You have a choice of two RV sites, either at the Palo Duro RV Park or the Palo Rim RV Campground.
 2. Big Bend Ranch State Park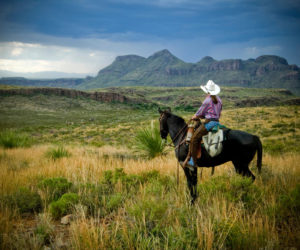 Located in west Texas, Big Bend Ranch State Park is home to an incredible 238 miles of trails and sight-seeing. There's a wide range of wildlife and adventures to experience here. Hike along its rocky canyons, scenic mountains and vast desert. Park your RV and do anything from swimming to rafting on the Rio Grande River. The Rio Grande Village Campground and the Chisos Basin Campground offer more than 60 sites, running water and grill stations. If you go in the springtime, you'll be surrounded by beautiful wildflowers and a wonderful breeze that will make your Texas trip absolutely unforgettable.
3. Caprock Canyons State Park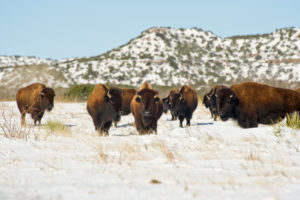 If you want to get away from the world, Caprock Canyons State Park is the place to go. It's less developed than other parks and has more remote areas, which can be appealing. The area provides marvelous views and miles of ruby-red canyons and sandstone cliffs for exploring. The park has a fascinating wildlife history, as it once supported mammoths, North American camels and giant bison. Caprock Canyons is also home to the Texas state bison. These great creatures are among the few genetically pure plains bison in the country. Park your RV at the Caprock Canyons State Park campground and enjoy boating, fishing and swimming in Lake Theo. Then head onto the 64-mile trailway to hike, bike or horseback ride through three counties, over 46 bridges and even through a tunnel!
4. Padre Island National Seashore
At the Padre Island National Seashore, you'll find a wide stretch of undeveloped barrier seashore that runs along the Gulf of Mexico. This seashore is 70 miles of gorgeous sand dunes and tidal flats full of marine life. Padre Island is most famous for its ridley sea turtles, some of the rarest sea turtles in the world. These creatures journey to the island each summer between April and July to lay their eggs, where people flock to see it happen. Another popular activity on Padre Island is birdwatching. This is because the seashore is located along the Central Flyway, a major bird migratory route. Over 370 bird species have been documented on the island. That's nearly half the total number of species living in the United States! Stay in one of the five campgrounds located on the seashore and make sure to wake up in time to see the stunning sunrise over the Gulf of Mexico.
5. Colorado Bend State Park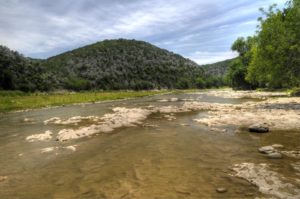 If you want to go chasing waterfalls, head to Colorado Bend State Park for your next adventure. With its lush greenery and majestic waterfalls, the state park is a lovely addition to the Texas Hill Country. It's also only a two-hour drive from Austin. There are over 32 miles of beautiful hiking trails to explore, but the most famous is the one to Gorman Falls. You won't want to miss the cascading 65-foot waterfall surrounded by vibrant greenery. Make sure to take a Wild Cave Tour and discover what's beneath the park. You'll learn about Colorado Bend's geology and history on the way. Park your RV at one of many beautiful nearby campgrounds, including Barefoot Camp and RV Park or the Sulfur Springs Camp and enjoy views of the Colorado River.
6. Dinosaur Valley State Park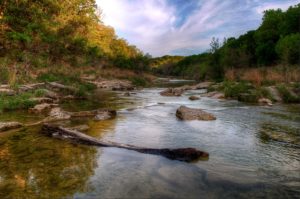 This is a state park that will be fun to explore for the whole family. Grab some maps of Dinosaur Valley State Park and discover the five main areas, each with different species to learn about. Head toward the Paluxy River to see imprints of dinosaur tracks when the water is low enough. You can also take advantage of hiking, mountain biking, horse riding and bird watching along 20+ miles of trails. You can park your RV at the Dinosaur Valley State Park campground before heading over to the perfectly fun swimming hole right there in the campsite!
7. Longhorn Cavern State Park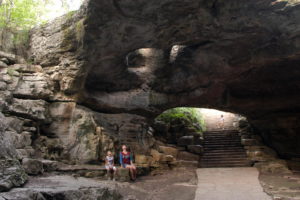 The Longhorn Cavern State Park has a long and wild history and some of the most unique and colorful caves in the world. During the Ice Age, the caverns were a refuge for animals and later for Native Americans, pioneer settlers, Confederate soldiers, bootleggers and outlaws. You can take a Wild Cave Tour to see the caverns. You'll need protective equipment like helmets, elbow pads and knee pads for this two-hour journey. Plan to climb, crawl and squeeze your way through this epic cave adventure! The tours take place on most Saturdays throughout the year. The park also hosts an overnight paranormal tour once a month. There's no camping available at Longhorn Cavern State Park, but Inks Lake State Park is just up the road and offers RV camping or cabin rentals. The park maintains a steady temperature of 68 degrees Fahrenheit, so it's the perfect summer destination for a break from the heat.
8. Guadalupe Mountains National Park
Around 265 million years ago, the Guadalupe Mountains National Park was covered by a tropical sea home to a massive 400-mile long coral reef. Over time, parts of the coral reef were preserved in the Guadalupe Mountains. This formed one of the most magnificent fossilized reefs found anywhere in the world. For the best views in the park, hike 8,751 feet up to Guadalupe Peak, the highest point in Texas. There's also the Guadalupe River, offering up four miles of swimming, kayaking, fishing, and tubing. The Guadalupe Mountains National Park has two developed campgrounds, the Pine Springs campground and Dog Canyon campground. Both are located at 5,000+ feet altitude. Be aware that this national park is far from civilization, with the closest town over an hour away. If you're looking for an adventurous RV camping trip away from the city, you'll definitely find it here!
9. Lost Maples State Natural Area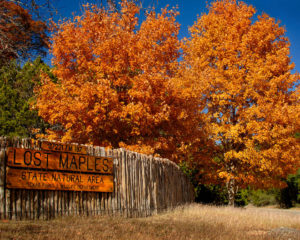 If you want to see colorful leaves like you've never seen before, visit Lost Maples State Natural Area around October or November. The area is known for its unique bigtooth maples that are ancient relics leftover from the Ice Age. The park website also posts "fall foliage" reports. That way you can see when peak leaf season is to ensure you're visiting at the right time. The view of the beautiful maples, sycamores, chinquapin and Texas red oaks attracts hundreds of visitors a day. It's best to plan ahead and aim to visit on a weekday to avoid the weekend crowds. You can park your RV at the Lost Maples State Campground or at the nearby Lost Maples RV Park. The Lost Maples State Natural Area is a quiet wooden haven that offers hiking, bird watching and fishing, in addition to colorful scenery. The area is also famous for preserving an archaeological artifact called the atlatl, a spear-throwing tool wielded by Native Americans between 6,000 to 8,000 years ago.
10. Pedernales Falls State Park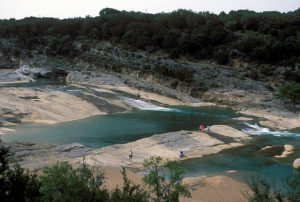 Spanish explorers named the river here "Pedernales" after the rock found in the riverbed. Native Americans used this rock to make arrow and dart points. At Pedernales State Park you can go hiking, mountain biking, bird watching and horseback riding. You can also cross over limestone rocks to swim, fish, tube, canoe and kayak in the Pedernales River. Beware: the river is prone to flash floods, so always be careful on the trails around the Pedernales Falls area and don't forget that swimming isn't allowed in this area either. Explore over 10 miles of trails in the scenic Hill Country, where you can venture up Wolf Mountain and past Arrowhead Pool. Camping is available at the Pedernales Falls State Park campground, which offers over 60 sites with water and electricity.
RV Insurance
Whichever destination you choose, make sure you have Specialty RV Insurance. It's important to be covered in case of an accident or mishap while you're road tripping in another state. Speak with an RV Insurance Specialist today at (866) 501-7335 to make sure you have the best RV coverage for the best price.
---
The information in this article was obtained from various sources. This content is offered for educational purposes only and does not represent contractual agreements. Nor is it intended to replace manuals or instructions or the advice of a qualified professional. The definitions, terms and coverage in a given policy may be different than those suggested here.