Top 10 Family-Fun State Park Events in California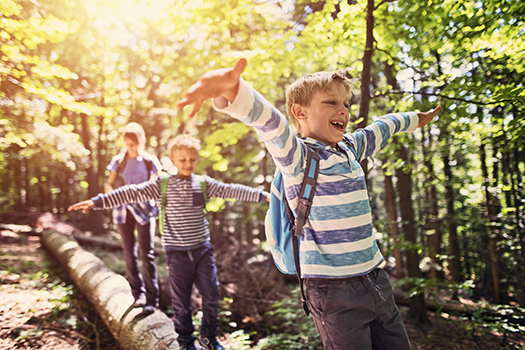 Looking for a unique RV camping experience that everyone in the family can enjoy? Check out the awesome events happening in 2018 at your favorite California State Parks. You and your loved ones can experience anything from churning butter to watching monarch butterflies migrate. All you have to do is choose your destination before the year ends. Make sure to reserve your RV campsites in advance because RVers flock to these family-fun events in droves.
Henry Cowell Redwoods State Park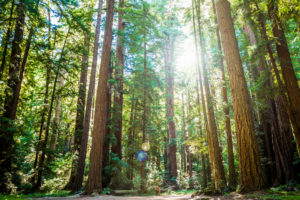 On August 24, you can experience Henry Cowell Redwoods State Park in a totally new and unique way. Starting at 6 P.M., the park hosts their astronomy-based Full Moon Madness event with exciting activities for the entire family. There will be kids' crafts, guided night hikes and a special astronomer as guest speaker. The Santa Cruz Astronomy Club will also be joining Full Moon Madness with their telescopes for prime stargazing. The event is free, and you can park your RV at one of the state park's family campsites to enjoy the redwoods during the day and the astronomy event at night. Henry Cowell Redwoods State Park  also has hiking and biking trails, fishing, and the Garden of Eden swimming hole.
Wilder Ranch State Park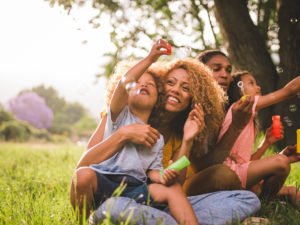 Have you ever wanted to churn your own butter or go on a wagon ride? Then, Wilder Ranch State Park's Life on the Ranch event is perfect for you and the family! On September 8 at 11 A.M., you can experience pioneer activities from the park's rancho, dairy farm and cowboy rodeo days. Experience branding, cooking, roping, and other demonstrations that will make you feel like you're in the wild west. There will be a family picnic on the lawn, as well as games like tug-of-war, sack races, hoops, and Wilder Ranch's famous old-fashioned bubbles for everyone to e The state park doesn't offer RV camping, but you can park your camper nearby at the Cotillion Gardens RV Park only a few miles away.
Doheny State Beach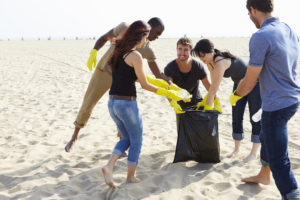 Join the worldwide volunteer project on September 15 for the annual beach cleanup. Volunteers will gather at shores all over the world to remove waste from oceans, beaches, watersheds, and beyond. On this day, Doheny State Beach will provide snacks, water, and trash bags for all participating volunteers. However, bringing your own work gloves and refillable water bottles is recommended. After the cleanup, you can enjoy one of California's most popular state beaches, known for its surfing and beach volleyball. There are also colorful tide pools and a visitor's center with several aquariums. You can park an RV of up to 35 feet at the campgrounds located at the southern end of the beach, where you can watch the sunset and have the waves lull you to sleep at night.
Castle Rock State Park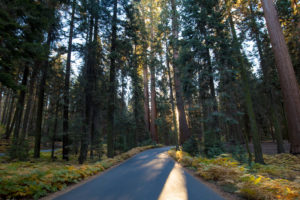 Castle Rock State Park is celebrating its 50th anniversary on September 29 from 10 A.M. to 4 P.M. There will be guest speakers, rock climbing demonstrations, live music, food, guided tours, and more! The event will also feature the grand opening of the new Robert C. Kirkwood Entrance, which adds a parking lot, restrooms, drinking water station, amphitheater, and picnic areas to the state park. You'll also be able to admire the surrounding sandstone, lush forests, and sweeping vistas located in Castle Rock. Popular activities include hiking, horseback riding, and rock climbing. You can park your RV less than 3 miles away at Sanborn County Park.
Huntington State Beach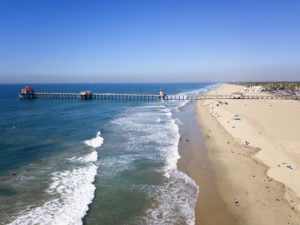 Starting in May and continuing through October, Huntington State Beach hosts Beach Front Cinema events right on the sand. Grab your beach chairs, blankets and snacks to watch some of the most popular movies on a large, inflatable movie screen. This summer, some of the movies Huntington State Beach will be showing include Wonder Woman, Coco, and JAWS. If you're in the area, watching one of your favorite movies is the perfect and most affordable way to spend time with friends or family. You can park your RV at Huntington State Beach, but you can't camp overnight. There are RV parks like Huntington by The Sea RV Resort, less than 2 miles away, where you can spend the night and take in all that Huntington Beach and the surrounding area have to offer.
Natural Bridges State Park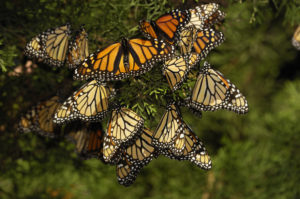 Located on the northern tip of Monterey Bay is Natural Bridges State Park. Here, thousands of monarch butterflies migrate back to their winter habitat. You and your family can witness this beautiful moment on October 14 from 11 A.M. to 4 P.M. The state park will be hosting many activities in celebration of the monarch butterflies, including arts and crafts, kids' games, live music by the Mostly Mediocre Musical Monarch Mariposas and a lesson on how to create your own butterfly garden. They will also be serving pumpkin-flavored "monarch" ice cream. Yum! While there is no camping at California's only State Monarch Preserve, there are several nearby RV parks. Try out the family friendly Santa Cruz Redwoods RV Resort.
Bale Grist Mill State Historic Park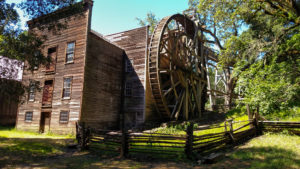 Bale Grist Mill is home to a water-powered grist mill, the site of the first church in Napa Valley and the Pioneer Cemetery. Come to the park's Old Mill Days event on October 20 and 21 to experience what it was like to work on the mill in the 1850s. The event costs $5 and includes crafts, music and milling demonstrations. Participate in wood working, corn husk doll making, stitching, apple pressing, clothes washing and flour sifting. Dr. Bale will also be there to tell stories of old medical techniques and show the tools that doctors would have had in their satchels. Listen to the music of fiddlers, banjos and guitars as you immerse yourself in all the history this California state park has to offer. Not too far is the Calistoga RV Park where you can hook up your RV for the night.
Old Town San Diego State Historic Park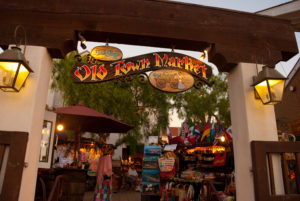 Celebrate Dia de los Muertos in Old Town San Diego State Historic Park! Enjoy traditional and contemporary altars set up throughout the park and Old Town community. Various museums in the park will also have altars set up to commemorate the settlers who lived and worked in Old Town San Diego during the 1800s. On November 1 and 2, there will be activities available for all ages, including face painting, arts and crafts, piñatas, Aztec dancing and live music. Revel in the state park's Mexican-American history and park your RV nearby at the highly rated Campland on the Bay.
Empire Mine State Historic Park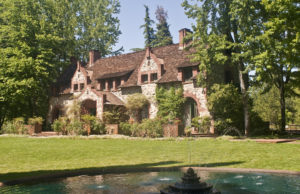 In existence for more than 100 years, the Empire Mine State Historic Park is home to one of the oldest, largest, deepest, longest, and richest gold mines in California. In addition to the 367 miles of abandoned and flooded mine shafts, the park offers beautiful, forested back country and eight miles of easy hiking, biking and horseback riding trails. On November 23 and 24, the Empire Mine Clubhouse is hosting a holiday event that allows visitors of all ages to get a glimpse of Christmas past. Enjoy holiday treats and live entertainment, explore the beautifully decorated Public Cottage, and visit Santa and Mrs. Claus in the Clubhouse. Open year round is the Inn Town Campground offering a variety of campsites and amenities for your RV.
Torrey Pines State Natural Reserve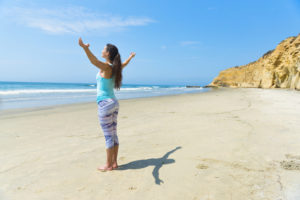 Surround yourself with the nation's rarest pine trees, the sound of the ocean waves, and the peaceful California quail at Torrey Pines State Natural Reserve. On December 2 at 8 A.M., the reserve will be hosting its last Mindfulness in Nature guided walk of the year. On the walk, you'll be coached to clear your mind, refresh your body and absorb all the nature that Torrey Pines has to offer. The event blends nature, history and science with a sensory experience that will deepen your personal connection to the land. It's a great way to start your morning before hiking on the several available trails or heading to the beach for a simple brunch picnic. Because it is a reserve, there is no camping allowed. However, you can find some close by RV parks in San Diego like Sante Fe Park RV Resort that's only minutes from the beach!
RV Insurance
Out of all the California state parks and their unique events, which one is calling to you? Whether you go to one event for a weekend or several events on a road trip, make sure you have Specialty RV Insurance. It's important to have the right coverage in case of an accident while you're RVing up and down the coast. Speak with an RV Insurance Specialist today at (866) 501-7335 to make sure all your family RV trips are covered.
---
The information in this article was obtained from various sources. This content is offered for educational purposes only. It does not represent contractual agreements, nor is it intended to replace manuals or instructions provided by the manufacturer or the advice of a qualified professional. The definitions, terms and coverage in a given policy may be different than those suggested here and such policy will be governed by the language contained therein. No warranty or appropriateness for a specific purpose is expressed or implied.