RV Spring Cleaning Part 2: How to Clean Your RV Bathroom, Kitchen & More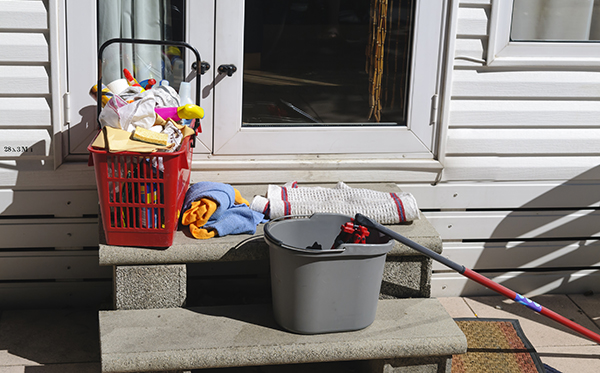 When it comes to spring cleaning your RV, you may not know where to start. If you read part one of our RV spring cleaning series, then you may have started with the exterior of your RV. And if you did, that means it's time to move inside your home on wheels.
You don't need to be scared of your RV bathroom and kitchen. These rooms are generally much smaller than those in a house, which means there's less space you need to clean. That doesn't mean you don't need to do a thorough job, though. Don't worry, we have some pointers below that will help you get started on your RV spring cleaning.
RV Spring Cleaning: The Bathroom
Your RV bathroom should be cleaned regularly to avoid any build-up grime or mildew. However, an RV bathroom is a small, confined space and the plumbing is different than that of a house. That's why it's important to use mild, eco-friendly products that clean effectively without damaging the plumbing. It's best to avoid any products with bleach in them, as this chemical can destroy the seals around your tanks over time.
Shower
Let's start in the shower. HomeSteady recommends using this homemade cleaning mixture:
Pour 1 tbsp. dish soap, 1 cup white vinegar and 2 cups water into a spray bottle.
Shake the bottle to mix the ingredients.
Spray a thin coat of the cleaner over the RV shower walls and door.
Wipe off the cleaner with a wet sponge.
Turn on your shower to rinse the cleaning solution off.
Open the shower door all the way to let everything air dry. If you have a glass shower door, use a squeegee to prevent leaving water spots behind.
It's a good idea to wipe down your shower's surfaces after every time you use it to avoid any build-up of dirt or mildew. This also makes a deep cleaning easier.
Toilet
Most people reach for their bleach products when they go to clean a toilet bowl. But we have a better all-natural alternative for your RV bathroom: lemon juice.
Pour lemon juice into the toilet bowl with baking soda.
Let it sit for 15 minutes.
Scrub the toilet with a toilet brush.
Use disinfecting wipes to wipe down the exterior of the toilet.
If you don't want to use lemon juice, you can easily find an eco-friendly toilet bowl detergent.
It's also important to note that RV toilets require a particular type of toilet paper. Using standard household toilet paper can lead to clogs, which can then lead to nasty odors. Research extra-dissolvable toilet paper options and choose to supply your RV bathroom with that instead.
Sink and Counters
Lemon juice also removes water stains from faucets very well. Cut one lemon in half and use it like a sponge. Then, wipe the surfaces down with a damp paper towel or cloth. Use an eco-friendly cleaner to spray down the counters and sink. Use a cloth to wipe everything down.
Mirrors
Cleaning the bathroom mirrors is simple. Put some vinegar into a spray bottle and spray your mirrors with it. Wipe them down with a soft cloth for a stunning shine.
RV Spring Cleaning: The Kitchen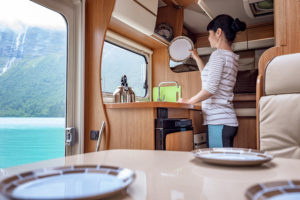 How long it will take you to clean your RV kitchen all depends on its size and the amenities you have in it. Luckily, there are simple homemade cleaning solutions you can use to clean everything in your RV kitchen, too.
Oven and Range
Start by mixing water and baking soda into a paste. Coat the surfaces of the oven with the paste and let it sit overnight. Scrub it clean with water in the morning.
You can clean the top of the range with the same baking soda paste. Wipe clean with a warm, wet washcloth. Remove the knobs on the range to clean underneath them.
Refrigerator
Remove all the items from your fridge. Mix dish detergent and a little baking soda together. Use a sponge to wipe down the surfaces of your fridge, including the shelves. Then, use a cloth to wipe the fridge interior dry. If possible, leave the fridge doors open and let the inside air dry completely before filling it with food.
Cabinets
You can use a gentle dish soap and water to wipe down your cabinets on the inside and outside. While you do this, it's a good idea to go through your snacks and spices. Throw out any food that's old or expired.
RV Spring Cleaning: The Floors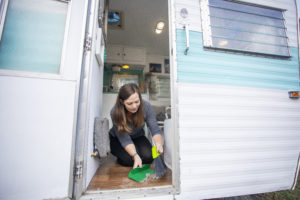 Regardless of the types of floors you have in your RV, start by vacuuming. Then, use a wet/dry mop to clean tile, wood or laminate flooring. If you have tiles with grout, make those seams white again by scrubbing with a mixture of water, baking soda, ammonia and vinegar.
Don't forget to shake out and vacuum any rugs or doormats, as well. To keep rugs clean longer, take your shoes off and leave them at the door instead of wearing them inside.
RV Spring Cleaning: The Windows
If your RV windows are not covered with solar film, you can use Windex to clean them. You can also use vinegar to wipe down windows and windowsills the same way you would the bathroom mirror. Use a Q-tip to access any hard-to-reach crevices.
To clean curtains, remove them from the windows and shake them off outside. Dust blinds or shades and wipe them down with a gentle cloth.
Other RV Spring Cleaning Tips
Use gentle products, like dish soap and a microfiber piece of cloth to wipe down all other surfaces inside your RV.
Remember to clean your vents, especially the fan-powered one on the roof.
Clean your air conditioner filter before the warmer months hit.
Protecting Your Investment with RV Insurance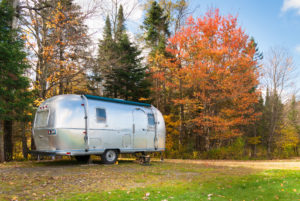 After spending all that time and effort deep cleaning your RV, you probably want to protect it. The best way to do that is with the right Specialty RV Insurance. Have peace of mind that your RV is covered in the event of any unfortunate mishaps. Speak with an RV Insurance Specialist today at (866) 501-7335 for a free quote.
---
The information in this article is obtained from various sources. This content is offered for educational purposes. It should not replace manuals or instructions provided by the manufacturer or the advice of a qualified professional. The definitions, terms and coverage in a given policy may be different than those suggested here. No warranty or appropriateness for a specific purpose is expressed or implied.