Motorhome Insurance and 2 Main Reasons to Buy It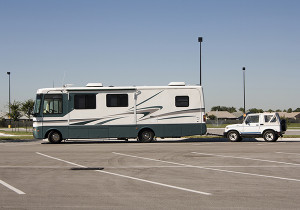 Motorhome insurance is uniquely designed for recreational vehicles, so it is not the same as what your regular car or truck insurance may offer. A specialized motorhome insurance company will offer policies for problems and issues that are specific for RVs. The typical auto insurance company does not pay attention to such matters, so their coverage options are not satisfying for RVing needs.
Why Should You Purchase Motorhome Insurance?
Two reasons are listed below that will help ensure that you purchase the right insurance for your RVing lifestyle.
Your motorhome insurance will cover the belongings you have in your RV.
No matter how often you drive you drive your RV, motorhome insurance will cover your household items. Your home away from home will have many personal items that have sentimental value to you that you will want to have protected while you are traveling and while you are not using your RV.
Typical auto insurance does not cover such items that are personal, but only covers liability and the vehicle itself. When doing your research on motorhome insurance, ask around and see what types of coverage options are available for such household items.
You can get full replacement coverage with your motorhome insurance.
You will find that most auto insurance companies only offer carrier reimbursement that is valued at a depreciated amount for the RV owner if the RV is damaged or wrecked. Motorhome insurance, depending on the age of your RV, may offer full replacement coverage. This is often directed towards new RVs under 5 years of age, but there may be exceptions. Used motorhomes will have different policies and restrictions, but it is still important to have specialized RV insurance to cover it.
Work with a Specialized RV Insurance Agent to Choose the Right One
Agents that are taught to understand RVs and the RVing lifestyle will be able to guide you in your purchase decision. They understand that a motor home is a pricey purchase and you want it to be insured at a high level. Shop around on line or through other venues, and you will be able to make the best RV insurance decision.
These two reasons support why you should purchase RV insurance to cover your RVing needs. You will be able to make a wise decision, if you know all of the necessary facts. Using a specialized agent will save you money and long-term aggravation over the long road ahead.
The information in this article was obtained from various sources. This content is offered for educational purposes only and does not represent contractual agreements, nor is it intended to replace manuals or instructions provided by the manufacturer or the advice of a qualified professional. The definitions, terms and coverage in a given policy may be different than those suggested here and such policy will be governed by the language contained therein. No warranty or appropriateness for a specific purpose is expressed or implied.