Traveling Green: Eco-Friendly RVs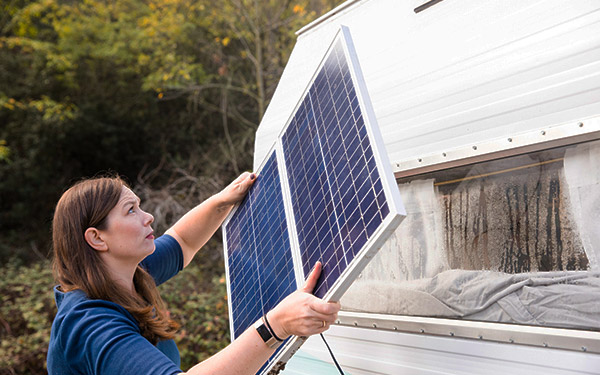 With their massive fuel requirements and size, RVs haven't always been the most eco-friendly. However, accessible technology and innovative construction have led us towards a new generation of motorhomes that are much more fuel-efficient than their predecessors. In addition, leading RV manufacturers have begun announcing their plans to produce fully electric RVs. So, all in all, the future is looking green.
If you're looking to reduce your overall environmental impact, we compiled a list of the best eco-friendly RVs that are on the market today. We'll also explore what the future of RVs will look like and what you can expect.
Fuel-Efficient RVs Available Today
Efforts by RV manufacturers to produce eco-friendly RVs haven't gone unnoticed.
TRA Certification has developed a system that now ranks RVs for being environmentally friendly. The "Green Performance" scale awards RVs either a bronze, silver, gold, or emerald rating. The ranks indicate how well specific models meet TRA's standard, with emerald being the highest rating. Rating is based on four categories: resource efficiency, energy efficiency, water efficiency, and indoor air quality.
All RVs mentioned below received either a gold or emerald rating.
1. Coachmen Apex Ultra-Lite
Featuring pre-installed solar panels, energy-efficient lighting systems, and recycled materials, the Coachmen Apex Ultra-Lite travel trailer holds an emerald rating from TRA. In addition, all models feature a rain drainage system.
Available in over a dozen floor plans, the trailer comes furnished with all living essentials and is spacious enough for six people.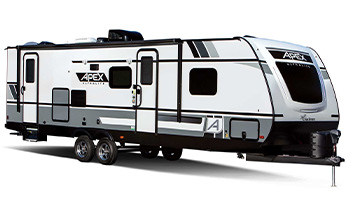 MSRP: starting at $40,300
2. Lance 850 Truck Camper
When it comes to eco-friendly RVs, few manufacturers offer as many options as Lance. All truck campers and travel trailers on the Lance line-up hold emerald ratings. Made from recycled materials, the Lance 850 signifies all that the company has done towards building efficient products.
Pre-wired solar panel connections, built-in awnings, and a lightweight design all enhance the camper's eco-friendly profile. Additionally, models also come with low-flow water components in the kitchen and bath. Lance provides options for both long- and short-bed trucks.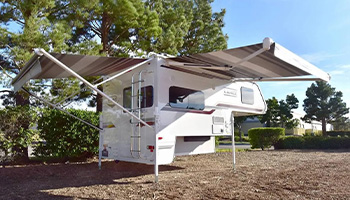 MSRP: $55,000
3. Airstream Flying Cloud Travel Trailer
Widely known for its iconic color and shape, the Airstream Flying Cloud has long been a standout option for travel trailers. Attesting to their efforts in efficiency, nearly all products in Airstream's line-up have also earned an emerald rating from TRA.
The Flying Cloud Travel Trailer receives its certified green rating thanks to its LED lighting, excellent insulation, and pre-wired solar panel hookups. Its distinctive aerodynamic shape also helps it receive a few extra points. Buyers can choose from up to 13 floorplans that can sleep four to eight, depending on the configuration.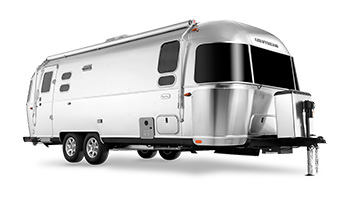 MSRP: starting at $89,000
4. Forest River's Work and Play Toy Hauler
Who said toy haulers couldn't be efficient? Forest River's Work and Play is a toy hauler that has earned a gold rating from TRA. Made from recycled materials, the toy hauler features a rain drainage system, energy-efficient appliances, and low-flow water components. It also receives additional points for its nitrogen-filled tires and two skylights.
Additionally, with five-floor plans available, the Work and Play is an excellent choice for those looking to travel with an ATV or UTV.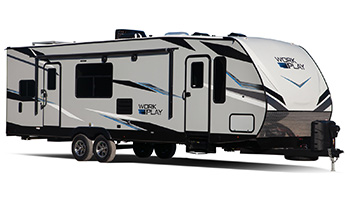 MSRP: starting at $39,000
A Look Into the RVs of the Future
With both Winnebago and Thor Industries recently revealing their electric RV concepts, the future of RVing is looking green. Here's what you can expect.
Winnebago
At the Florida RV SuperShow, Winnebago Industries revealed their e-RV. According to Winnebago, the e-RV will be the "first all-electric zero-emission motorhome."
While production dates have yet to be announced, Winnebago has provided full specifications to give us an idea of what we can expect.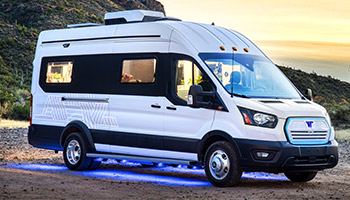 Modeled after the Ford Transit campervan, Winnebago's e-RV will have the following once it hits the market:  
An electrical power system from Lightning eMotors.
The e-RV will feature an 86-kWh battery, which will provide a 125-mile driving range.
A charging time of 45 minutes at high-current charging stations.
An eco-friendly interior such as cork-rubber flooring.
Modern kitchen amenities and a full bathroom.
Thor Industries
A day after Winnebago announced their e-RV, Airstream's parent company, Thor Industries, also announced their plans to enter the electric RV space. With two concept vehicles, an Airstream eStream and the Thor Vision Vehicle, Thor Industries hopes to be a leading figure in the electrification of the RV industry.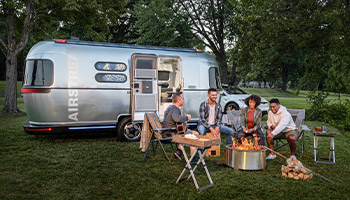 With the eStream, Thor Industries is giving a modern touch to a classic towable. According to their website, the eStream will feature a battery-powered electric drivetrain that will help boost fuel economy. Most notably, the eStream is set to have low-speed remote control maneuverability to assist with hitching and backing up.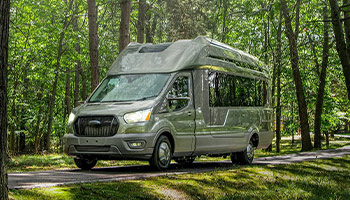 Thor's Vision Vehicle will be built on an electric chassis co-developed with automotive company Roush. Powered by a high-capacity battery pack and an integrated fuel cell, the Vision Vehicle is currently expected to have a range of 300 miles.
Thor Industries has yet to announce any production plans for both concept vehicles.
When you buy your dream RV, don't forget that Specialty RV Insurance covers more than a standard auto policy will.  To learn more or get a free quote, call our Specialists at (866) 501-7335.
---
The information in this article is obtained from various sources, may change without notice, and is offered for educational purposes. Furthermore, it should not replace manuals or instructions provided by the manufacturer or the advice of a qualified professional. No warranty or appropriateness for a specific purpose is expressed or implied.