5 Dutch Oven Desserts for Perfect, Cozy Camping Dinners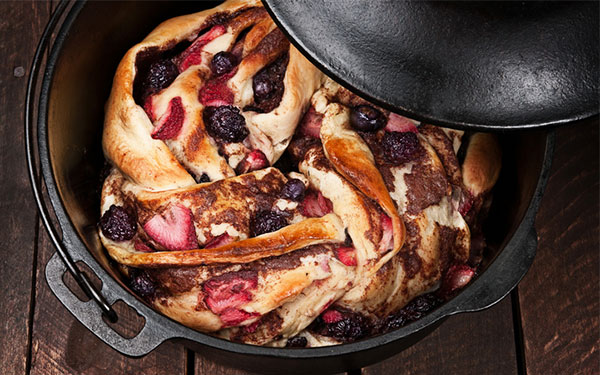 Dutch oven desserts are classic camping crowd-pleasers. Plus, dutch ovens are one of the most versatile pieces of camping equipment and are super easy to use! Simply throw all your ingredients straight into the pot, place it on the coals, and impatiently wait for its sweet bubbly goodness. We're going to apologize ahead of time because these dessert recipes may make you drool! Let's jump right on in with these deliciously easy dutch oven dessert recipes that offer a little more flavor than classic dutch oven cakes.
Dutch Oven Tips to Keep in Mind
If you're new to the dutch oven game or a little rusty on how to use a dutch oven while camping, you may want to read these tips:
Season your dutch oven – We can't stress this enough because who likes their food to stick? A well-seasoned dutch oven has a non-stick surface. Season your dutch oven at the comfort of your home and not at camp. It's easier!
Prep ahead of time – Any ingredients that you can peel, chop or marinate beforehand, should be done at home. Once done, simply pack and store them in Ziplock bags in the cooler.
Bring the right equipment – There are tons of camping cookware options out there, so it helps to do a little bit of research ahead of time. You need to think about utensils, mixing bowls, spatulas, tongs, and items to use for clean-up. In addition, what type of heat source will you be using? Firewood or charcoal? Do you need lighter fluid or a charcoal chimney starter?
Learn the "rule of 3" – To maintain a 350° baking temperature, if you have a 12-inch Dutch oven, place 12 charcoal briquettes plus three more on top of the oven. For the bottom, minus 3 briquettes from 12 briquettes to achieve the 350°. The results are 15 on top of the oven and 9 on the bottom. To increase the temperature, add one briquette to the top and one to the bottom for every additional 25 degrees. This enables you to control the temperature.
---
1. Campfire Monkey Bread
Prep time: 10 mins | Cook time: 35 mins| Serves: 8-10
Ingredients
2 rolls of pre-made buttermilk biscuits
1/3 cup white sugar
1/3 cup brown sugar
3 tablespoons cinnamon
1 stick butter, melted
Instructions
Get a good fire going and burn it until there are several hot coals. You'll need enough to place on the bottom and top of the dutch oven.
Meanwhile, combine the sugars and cinnamon in a zip lock bag.
Line a fire-safe dutch oven with foil and spray with cooking spray.
Cut the biscuits into bite-size pieces and drop each piece into the bag with the cinnamon-sugar mix. Toss to coat then drop the biscuit pieces into the prepared dutch oven.
Pour the melted butter over the top for the mixture.
Place the lid on top and put over hot coals. Carefully place a few of the hot coals on top of the lid and cook for 30 to 35 minutes, rotating regularly.
Remove and serve hot!
---
2. Dutch Oven Peach Cobbler
Prep time: 30 mins | Cook time: 50 mins| Serves: 6
Ingredients
For the peach filling:
6 tablespoons unsalted butter
3 pounds ripe peaches, peeled, about 5-6 large or 8-9 small/medium peaches
1/3 cup honey
2 tablespoons cornstarch
1 teaspoon vanilla extract
1/2 teaspoon ground cinnamon
1/2 teaspoon ground ginger
For the topping:
3/4 cup granulated sugar
1/3 cup white whole wheat flour
1/3 cup all-purpose flour
2 teaspoons baking powder
1/2 teaspoon kosher salt
1/2 cup milk
For Serving:
Vanilla ice cream, whipped cream, Greek yogurt, or any nut toppings
Instructions
Preheat 45 charcoal briquettes until white and glowing.
Lightly butter the inside of a camp dutch oven—do not melt the butter inside of it.
Combine and mix all ingredients of the peach filling.
In a separate bowl, stir together the topping ingredients as directed. After adding the milk, stir in the melted butter.
Spoon the fruit into the bottom of the dutch oven, along with any juices. Slowly pour the batter over the top. DO NOT STIR.
Cover the dutch oven with its lid. Place 15 hot charcoal briquettes together (they will be covered with ash) and set the dutch oven over them. Using tongs, place the remaining 30 briquettes on the dutch oven lid.
After 10 minutes, rotate the dutch oven over the coals clockwise and the lid over the dutch oven counterclockwise to promote even cooking.
Check after 20 minutes, the cobbler is done when the topping is golden brown, and the fruit juices are bubbling. Continue cooking as needed—about 35 to 45 minutes or so total—the time will vary based on the exact temperature of your coals, so trust your judgment and adjust the time as needed.
Be careful when checking for doneness so that you don't let any ashes drop onto the cobbler. Enjoy hot with all the fixings of your choice!
---
3. Mixed Berry Dutch Baby
Prep time: 15 mins | Cook time: 25 mins| Serves: 6
Ingredients
1/2 cup butter
9 eggs
1 ½ cups milk
1 tablespoon vanilla
zest from one lemon
1 ½ cups flour
1/2 teaspoon salt
4 cups berries of your choice
1/4 cup powdered sugar (amount varies based on preference)
lemon juice (to squeeze on berries, if desired)
Instructions
Prepare 24 charcoals until white and glowing.
In a large bowl, combine the eggs, milk, vanilla, lemon zest, flour, and salt. Whisk together until well blended.
Carefully place 8 hot coals directly under the dutch oven. Add the cube of butter and allow it to melt. Once melted, add the batter to the pot, cover.
Add the remaining 16 coals to the lid.
Rotate the lid ¼ turn every 5 minutes and allow the dutch baby to cook until set, about 25 minutes. It should puff up and once the lid is removed it will fall. Remove from heat.
Cover with berries, powdered sugar, and a squeeze of lemon. Cover with a lid to allow the berries to warm before serving. Cut into 6 slices and enjoy!
---
4. Pecan Praline French Toast
Prep time: 15 mins | Cook time: 30-45 mins| Serves: 6
Ingredients
6 eggs
1 ½ cups half and half
1 tbsp brown sugar
2 tsp vanilla
1-2 12 oz. loaf French or Italian bread
1 tbsp butter
3/4 cup brown sugar
1/2 cup maple syrup
3/4 cup chopped pecans
Instructions
Whisk eggs, half and half, brown sugar, and vanilla in a bowl until the mix is smooth and sugar is dissolved.
Pour 1 cup of egg mixture into a size 12 Dutch Oven.
Arrange slices of bread on top of the mixture and pour the rest of the egg mixture on top.
Melt butter in a saucepan over medium heat. Mix ¾ brown sugar and maple syrup into the butter, stirring until smooth.
Bring syrup to a boil, and then bring to simmer for 1 minute. Stir pecans into syrup.
Spoon the syrup pecans over the bread mixture and close the lid.
Place 9 hot coals on the bottom and 15 on top of the dutch oven and cook for 30-45 mins, or until golden brown. The temperature needs to reach 350 degrees.
Be sure to rotate the lid clockwise every 15 minutes, and the bottom counterclockwise every 15 minutes.
Serve and enjoy hot!
---
5. Banana Cake with Caramelized Bananas
Prep time: 15 mins | Cook time: 30-45 mins| Serves: 6
Ingredients
1 prepared yellow cake mix
2 ½ cups brown sugar
1/2 lb. margarine
5 lbs. bananas
3 tablespoons sugar (optional)
1 tablespoon cinnamon (optional)
1/4 cup rum (optional)
Instructions
Heat a 12-inch Dutch oven and cover with hot coals for 15 minutes.
Prepare cake mix according to package directions and set aside.
Slice bananas crosswise and set them aside.
Remove preheated dutch oven from coals and melt margarine in the bottom. Add brown sugar and mix well.
Add in the cut bananas and sauté for three minutes over fire. Remove from the fire and add rum, if desired. Stir until the rum is heated and flambe.
Pour cake mix over bananas. Fold banana/sugar mixture up over cake mix a few times. Sprinkle with cinnamon and sugar.
Bake 35 to 50 minutes at 350°. For the first 10 minutes use coals on the bottom only, then add coals to the top and continue baking until done.
More Camping Recipes
Want more quick and easy campfire recipes? Check out these hearty and delicious camping meals perfect for your next camping adventure! Most of these campfire recipes only require a few simple ingredients and can be prepared in minutes. Be sure to tag us on Instagram if you tried one of these recipes! We'd love to see your campfire masterpiece.
---
The information in this article is obtained from various sources and is offered for educational purposes. It should not replace manuals or instructions provided by the manufacturer or the advice of a qualified professional. No warranty or appropriateness for a specific purpose is expressed or implied.