Did You Know These Celebrities Own an RV?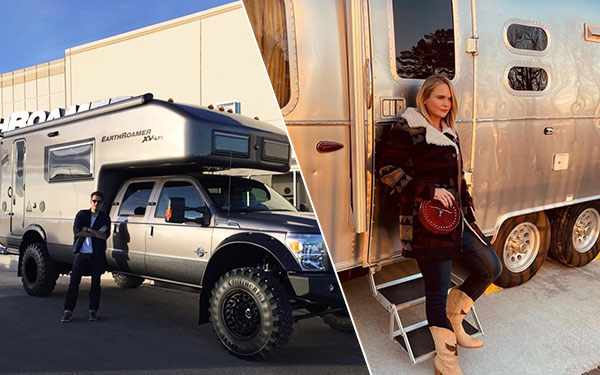 Catching on quickly to the wonders of the RV lifestyle are some surprising celebrities who we'd never expect to purchase and vacation in an RV. Of course, when you're a multi-millionaire celebrity with money to burn, you can invest in some over the top luxurious RVs. Here's a sneak peek at some of our favorite stars who love RVing and their impressive motorhomes. Did any of these celebrities surprise you?
1. Matthew McConaughey
One of our favorite Texans, Matthew McConaughey, just proved that it's possible to love him even more. The Academy Award-winning actor and producer loves the vagabond lifestyle. In fact, when he purchased his first Airstream International in 2004, he lived in the trailer full-time for four years traveling across America before purchasing his permanent home. Nicknamed "The Canoe," it was once a home, office, adventure vehicle, and at one point, a promotional tour trailer for his movie, Sahara.
2. Dax Shepard
Dax Shepard and his wife, Kristen Bell, are no strangers to the outdoor life. Often posting photos of off-roading, RVing to national parks, or riding at the dunes, Kristen shares that her favorite part of RVing is quality time spent with their children. These RV pros have been renting motorhomes several times a year for the past eight years. The pandemic eventually gave Dax the nudge to purchase their motorhome last December. After what he describes as ten long years of researching, he finally has a luxury coach we can all dream of owning, a Foretravel Realm Presidential Series. Watch the interview with Jimmy Kimmel below and head over to Forbes to read all about Dax's RVing tips.
3. Miranda Lambert
Country superstar Miranda Lambert recently sold her 1961 Shasta vintage camper trailer nicknamed "Dixie" back in June. But don't think she's giving up the RV lifestyle – it's quite the opposite. She just purchased a 2020 Airstream Globetrotter called "The Sheriff" and is spending her time glamping with her husband. Miranda wrote on Instagram, "I've been touring for 19 years, and most times we just roll in, play our show, and roll to the next town." Although she's been all over the country, she realizes that she hasn't experienced the places truly. What's a more perfect way to revisit those places than in an RV?
4. Will Smith
As one of the biggest Hollywood stars, it makes sense that Will Smith should have one of the most impressive motorhomes to match his status. Nicknamed the "Heat," this $2.5 million, double-decker, 1,200 square-foot mobile home was designed by Anderson Mobile Estates. Used as his home on wheels when shooting films, you can rent this epic trailer for $9,000 a week. HGTV "Celebrity Motor Homes" got an exclusive look inside the A-listed celebrity's luxury RV. Take a look!
5. John Mayer
Grammy-winning musician, John Mayer, is a proud owner of the ultimate overland expedition vehicle, an EarthRoamer. Purchased back in 2014, the EarthRoamer is based on Ford's F-550 chassis that is self-sustainable and environmentally friendly. While the exterior may look rugged to tackle the rough terrains, the interior is elegant and features custom finishes for a luxurious overland experience.
6. Sara Blakely
Celebrities aren't just made up of movie stars and musicians. Sara Blakely, the founder of Spanx, and her husband, Jesse Itzler, caught the RV bug last year. Itzler surprised Blakely with his online purchase of a 35-foot 2020 Thor Magnitude Super C Class. The pair have been taking road trips and posting their newbie RV experience ever since. On her latest Instagram post, when her husband asked what she wanted for her 50th birthday, she responded with "I want to be alone for 7 days" and took a trip by herself. Want to experience an RV solo trip for yourself? Check out our tips for traveling alone.
7. Vin Diesel
The Hollywood action man who plays Dominic Toretto in the blockbuster sequel, Fast and Furious, has one of the most extensive car collections. The collection includes a custom Rolls-Royce inspired Sprinter van gifted by his co-star Tyrese Gibson on his birthday. The speechless Vin Diesel jokingly says that he now has to buy Tyrese a G5 plane to get even for his generous gift. Tyrese responded that this Sprinter van is like a G5 plane but on wheels. Watch the surprise gifting below.
8. Milo Anthony Ventimiglia
If Milo Ventimiglia isn't breaking hearts with his role as Jack Pearson on the NBC drama "This Is Us" he's breaking Instagram's unspoken rule of posting dozens of photos a day. It's fine by us because we've been envious of Milo's socially distanced cross-country trip in an Airstream. In an interview with Jimmy Fallon, he describes the iconic Airstream as a sexy silver bullet that allowed him to safely visit his family and travel the states like no other.
9. J.B. Smoove
The biggest RV enthusiast goes to actor, writer, and comedian J.B. Smoove with his 2013 Damon Outlaw Toy Hauler. In an Architecture Digest tour, Smoove talks about why he and his wife love the RV lifestyle. The friendliness of the RV community, beautiful resorts, and laid-back life are some of the reasons why he loves traveling in what he calls "a small New York City apartment on wheels." Smoove's rolling home has some impressive upgrades. Watch the AD tour below!
10. Camila Mendes
Okay, so Camila Mendes doesn't own this Mercedes Sprinter van. But, she, along with many other celebrities such as Mariah Carey, La La Anthony, Brooke Burke, and Rachel Brosnahan, rented various types of RVs this past year from Outdoorsy. Being such a great friend, Camila surprised her Riverdale co-star, Madelaine Petsch, with an epic California road trip. The girls went to Escondido Falls in Malibu, Big Sur, and ended at the California Redwoods.
Ready To Go RVing Like These Celebrities?
Celebrities are just like us regular folks. We love exploring the great outdoors and RVing is the perfect way to do just that. If you're thinking about getting an RV or want to replace your current one, speak with an RV Insurance Specialist today at (866) 501-7335 for a free RV insurance quote. We'll help you answer all your RV insurance questions and ensure you have the proper coverage before you hit the road.
---
The information in this article is obtained from various sources and is offered for educational purposes. It should not replace manuals or instructions provided by the manufacturer or the advice of a qualified professional. No warranty or appropriateness for a specific purpose is expressed or implied.