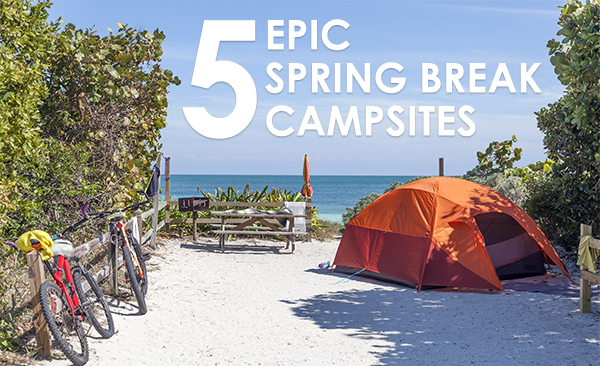 Spring break is right around the corner. That means it's time to decide which RV destinations are next on your list. Need some help figuring it out? Don't worry, we've already done all the work for you. In fact, we put a list together of some of the most magical destinations we could find. Check out the best campsites to park your RV for spring break. They're perfect for a weekend getaway, sunny vacation spot or a road trip pit stop.
What's your next adventure?
1. Yosemite National Park – California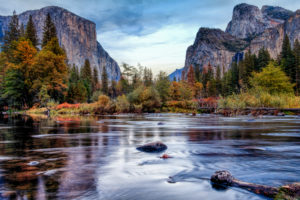 Many would consider Yosemite National Park to be a great destination during any season of the year. However, Yosemite National Park in the springtime is particularly magical because of the slowly melting waterfalls and blossoming dogwood trees. Plus, you'll beat the summer crowds for a peaceful spring break getaway. Hike to Yosemite Valley and enjoy one of the best outdoor playgrounds in the U.S. Nothing beats the spectacular views you'll find here. It's one of those places that every nature-lover should visit at least once in their lifetime.
Park your RV at one of Yosemite National Park's 10 available campgrounds. Definitely make a reservation in advance and check the maximum RV or trailer length at each site beforehand.
2. Oh Be Joyful Campground – Colorado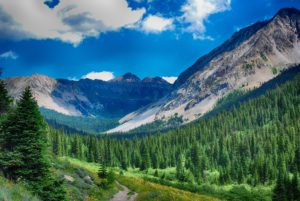 Colorado is well-known for being a winter wonderland, but warm spring temperatures breathe life back into its beautiful mountains. The Oh Be Joyful Campground is located just outside of Crested Butte, and yes, you will have nothing but a joyful time here. Enjoy stunning views of the countryside as well as fishing along the Slate River. There are plenty of hiking and biking trails to explore as you take in the spring wildlife around you. The best part about visiting during spring break? You can beat the summer crowds while enjoying the nature around you in peace. It's no wonder that this is one of the best campsites to visit in the spring.
Park your RV at the Oh Be Joyful Campground but beware that there is a steep road that may be difficult for a large or oversized rig to make it down.
3. Coral Pink Sand Dunes State Park – Utah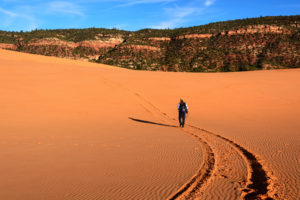 Formed by the erosion of pink-colored Navajo sandstone, Coral Pink Sand Dunes State Park is a dream come true for RVers, outdoorsmen and ATV riders alike. The first thing you'll want to do is take in the warm, pink dunes surrounding you. The hardest part will be figuring out what you want to do next! Go hiking, horseback riding, rafting or off-roading. Just looking at pictures of this state park will take your breath away. It's also located near Zion National Park, so you can quickly turn your spring break into a Utah road trip.
Park your RV at one of the park's campsites for about $16 a night for vehicles up to 40 feet.
4. Enchanted Rock State Natural Area – Texas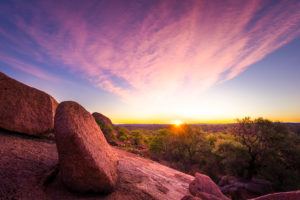 Spring is one of the best times to visit Texas because you'll beat the scorching summer heat. Enchanted Rock State Park is home to one of the largest granite batholiths in the country. It's 425 feet tall and named the Enchanted Rock by the Tonkawa Indians who believed it had spell cast over it. You may think it's worth a visit just to see the magnificent slab of rock alone, but the park also has so much more to offer. There are fun hiking trails to explore, rock climbing, picnic areas and geocaching. It's also one of the best campsites for stargazing under the night sky.
Unfortunately, there is no RV camping here, but you can park your RV outside of the area at one of the 99 campsites at Aat The Ranch for about $15 a night.
5. Bahia Honda State Park – Florida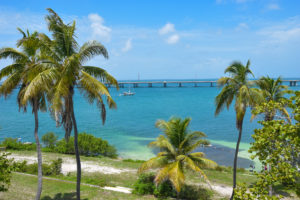 If you're looking for just a taste of summer, then head to Bahia Honda State Park in Florida. It features an award-winning beach with crystalline blue water that you won't be able to resist dipping your toes in. It's one of the best ways to experience the Florida Keys for spring break because you'll feel like you're in paradise. There's also so much to do within its 500 acres of wildlife and beaches. Go snorkeling, kayaking, boating, fishing and more. There are also daily snorkeling tours to the Looe Key National Marine Sanctuary, where you know everyone will have a blast. Trust us, you won't ever want to leave.
Park your RV at one of the park's 42 RV sites after making a reservation ahead of time.
RV Insurance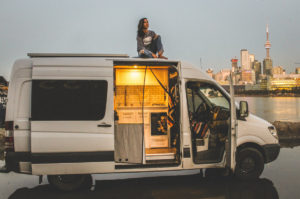 So, which RV destination will you choose? We know it's hard deciding between some of the best campsites for spring break in the country. Luckily, getting the right RV Insurance is easy with Quick RV Insurance. You don't want to go RVing without the proper coverage. Regular Auto Insurance won't cover you in case of an accident on the road. Call (866) 501-7335 to get great coverage at a great price before your spring break rolls around. You can get a free quote from an Insurance Specialist in minutes.
---
The information in this article is obtained from various sources. This content is offered for educational purposes only and it does not represent contractual agreements. It should not replace manuals or instructions provided by the manufacturer or the advice of a qualified professional. The definitions, terms and coverage in a given policy may be different than those suggested here. Such policy will be governed by the language contained therein.