8 Easy Breezy Campfire Recipes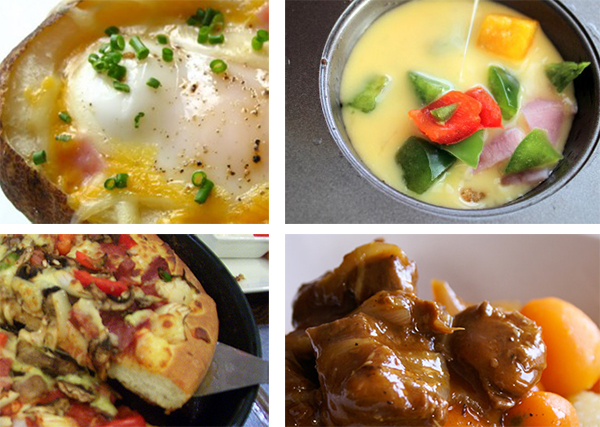 No one said you have to eat franks and beans every time you go camping. But aside from throwing hamburgers in the mix, you might feel lost when it comes to getting creative with outdoor cooking. However, all you have to do is learn how to make these eight easy campfire recipes. Plus, you can alter an ingredient or two every time you prepare them so it's almost like eating something new every time!Also, you may want to considering buying a Dutch oven for even more flexibility in campfire cooking. You can cook anything in these sturdy pots, including pasta, stew, pizza and desserts! Until then, try out these simple, easy campfire recipes to get started.
Baked Eggs, Bacon and Potato Bowls
This recipe is super easy if you make potatoes the night before and have a few leftover for breakfast. Otherwise, wake up a little bit ahead of time to cook the potatoes until they are almost completely done. If you have an oven in your RV, you can bake them. Or, you can wrap the raw potatoes in tin foil and let them cook over a campfire. If you have a rack over the fire, that'll work best, or simply place them near (not directly on top of) the hot coals. When the potatoes are done, you can turn them into amazing egg pockets.
Ingredients:
2 mostly-baked or fully cooked potatoes
2 eggs
1 tablespoon butter
2 strips of bacon, cooked (or cook them over the fire using kebab skewers!)
2 tablespoons cheddar cheese
1 tablespoon fresh, chopped parsley
Directions:
Cut off the top of the potato. Use a spoon to take out some of the middles of the potatoes to make room for more food.
Place a ½ tablespoon of butter in the middle of each bowl. Break an egg into each bowl. Top with cooked bacon, cheese, and parsley.
If you're using an oven, bake at 350 degrees for 20 -30 minutes or until the eggs are cooked. Or, wrap your prepped potato in foil and cook over the campfire.
Add salt and pepper to taste. Serve and enjoy!
Muffin Tin Omelets ala Campfire
For this fun recipe, you need jumbo-sized muffin tins. This is such an easy way to make several omelets at once which makes it one of the easiest campfire recipes around. You can even set up a build-it-yourself bar with different chopped veggies, meats and cheeses to choose from. The kids will love being a part of making breakfast happen.
Ingredients:
Eggs, scrambled
Meat previously cooked beforehand or on the campfire (bacon and sausage can be cooked on skewers)
Green peppers, chopped
Mushrooms, chopped
Spinach, loose
Onions, chopped
Tomatoes, chopped
Shredded cheese
Directions:
Place a dab of butter at the bottom of each tin cup.
Next, pour egg batter and as many ingredients as you like.
Cook over hot coals until the top and centers look solid.
Remove from heat and enjoy!
Campin' Philly Cheesesteak Sandwiches
Who doesn't love a cheesesteak sandwich after a long day of hiking or fishing? This has to be the easiest way to fill up a group of people while making their taste buds smile. Now, this is what we call a hearty lunch!
Ingredients:
One large loaf of French bread
¼ cup garlic butter (pre-make this by mixing butter with garlic powder)
2 cups cooked onions and peppers (you can pre-cook and slice them or cook them over the fire in aluminum foil with just a little oil or butter)
Roast beef, sliced
Provolone cheese slices
Directions:
Cut the loaf into 1.5-inch strips but avoid cutting all the way to the bottom to keep the loaf as one big unit.
Butter each slice of bread.
Then, add pepper and onion mixture into each slice and then add on slices of roast beef and cheese.
Before wrapping the loaf in aluminum foil, spray the inside of the foil with non-stick cooking spray.
Wrap your loaf.
When placing over the campfire, never place the foil in the fire, but near the hot coals. Your huge sandwich should be melted and toasty within 20 to 25 minutes.
Foil-Pack Stew

Foil is your best friend in the great outdoors. As long as you add oil or butter, a couple of teaspoons of water (or even beer) before sealing up your food, you can pretty much cook anything in foil. The beef stew recipe below can be substituted not just with chicken, but shrimp or any fish you may catch during your adventure. You can also cook any vegetable this way too. Just keep in mind that veggies and most fish do not need to cook as long as meat and poultry. Get playful with spices too, if you're organized enough to bring your spice rack along.
Ingredients:
1 potato cubed
6 ounces roast, trimmed and cut into cubes (you can also substitute this using chicken breast, cubed or shrimp)
1 onion, sliced
1 clove garlic
2 carrots sliced
1 tablespoon butter
1 tablespoon water
Salt and pepper to taste
Directions:
On a large piece of foil, place beef, potatoes, carrots, onion and garlic. Add salt, pepper, butter and a couple of tablespoons of water.
Next, roll foil together at the top and seal tightly.
Bury foil in coals for an hour and voila!
Dutch-Oven Campfire Pizza

Dutch ovens are pretty much a necessity if you want to be a true master chef around the campfire. The great thing about them is they can last forever if you take care of them. You can also make a range of dishes, like pizzas, soups and stews, jambalaya, enchiladas and baked fish. If you're feeling really creative, you can even bake pies and other desserts in a Dutch-oven. There are endless easy campfire recipes when you have a Dutch oven. And sure, there are some delicious but complicated recipes out there too.
Ingredients:
Sliced onions, garlic peppers (green, red, yellow, orange, pick your favorite), mushrooms
1 cup tomato puree or diced/crushed tomatoes
2 tablespoons olive oil
2 teaspoons basil, chopped
1 teaspoon oregano
1/3 teaspoon pepper flakes
1 pound mozzarella cheese, sliced
Pepperoni, thinly sliced
Any toppings you desire
Your favorite store-bought pizza dough, like Pillsbury Pizza Crust or Boboli
Directions:
In the Dutch oven, mix together all the ingredients except the pizza crust, pepperoni, and cheese. Cook to a boil and move away from the hot coals to allow the mixture to simmer for about 15 minutes.
Pour the sauce into a container. Clean out the Dutch oven so it's sauce-free.
Take your pre-made pizza dough and use olive oil to oil all sides.
Place the dough in the Dutch oven and flatten it before adding the sauce. Top the sauce with mozzarella cheese and pepperoni and allow it all to cook over the hot coals until the dough is golden brown.
Allow to cool and serve. This is just delicious!
Fast and Filling Jambalaya

This is another fun and easy meal to share with a group if you own a Dutch oven. Jambalaya is comfort food at its best and pairs well with your drink of choice. To cut down on cooking time, you can prep at home by chopping up the veggies and storing them in the fridge/cooler. After you prepare this at your next camping trip, you'll want to start making it at home too. It really is that good.
Ingredients:
1 tablespoon olive oil
1½ pound sausage, chicken or shrimp (or a little of all three)
1 large onion, chopped
1 green bell pepper, chopped
5 ounce can diced tomatoes
2 cloves garlic, minced
1 cup celery, chopped
2 cups chicken broth
½-1 teaspoon Cajun seasoning
1 cup white rice
Directions:
Heat up the oil, making sure to grease the entire Dutch oven. Stir in the sausage, chicken (not the shrimp yet) and cook for 2 or 3 minutes.
Add onion, pepper, celery and seasoning and cook for 7-10 minutes or until vegetables are soft.
Add rice, diced tomatoes (with the juice), garlic, chicken broth and salt to taste.
Simmer over medium-high heat (over hot coals) and reduce heat to medium-low (a bit farther away from hot coals). Cover and simmer for 20 minutes.
Now add in the shrimp and cook for another 10 minutes (uncovered this time) until the shrimp are cooked through and pink.
Allow to cool before serving. Enjoy!
No-Bake Campfire Oatmeal Coffee Cookies

Not only does this dessert recipe require no heat, but these delicious cookies are actually pretty healthy. They also taste so good and are so easy to make, you'll want them at every camping trip with the family.
Ingredients:
½ cup butter, softened or whipped.
2/3 cup white sugar
3 tablespoons unsweetened cocoa powder
1 tablespoon strong, black coffee
½ teaspoon vanilla extract
1 ¾ cups rolled oats
Directions:
Blend the butter, sugar, cocoa, coffee and vanilla together well.
Add in oats and mix until smooth. Roll into balls and serve.
No-Bake Peanut Butter Oatmeal Cookies
This is another one of our easy campfire recipes that produces a delicious dessert that's sure to please the entire family. Again, there's no baking involved at all, just a lot of mixing and enjoying.
Ingredients:
2 cups of sugar
3 tablespoons cocoa
1 stick butter
½ cup milk
1 teaspoon vanilla extract
3 cups instant oatmeal
½ cup peanut butter (smooth or crunchy)
Directions:
Mix sugar and cocoa together in a pan. Add butter and milk and boil for 2 minutes while stirring.
Then, remove from heat, add vanilla and peanut butter while stirring.
Add mixture to instant oatmeal. Mix well before rolling them into balls or flat cookies.
Let cool before serving. Yum!
---
The information in this article is obtained from various sources.