6 Custom Airstreams We're Jealous Of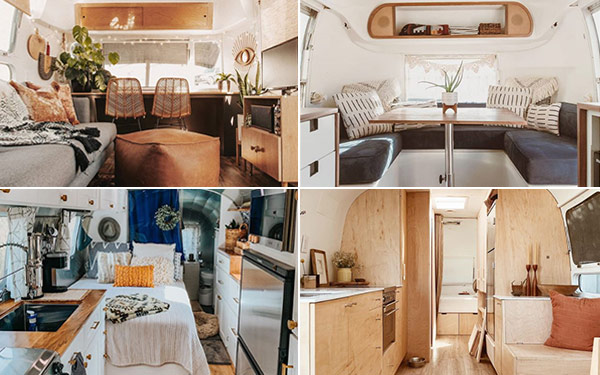 Since the first one was built in 1936, Airstreams have always been an icon when it comes to recreational vehicles. Their shiny, silver exterior is not one to be missed driving down the road. Airstreams are also one of the only types of trailers that don't typically depreciate if they're well-kept. Are you interested in buying your own Airstream? Maybe you just purchased an old one that you want to renovate yourself. Either way, we've compiled a list of some of our favorite custom Airstreams that are sure to inspire your next adventure. Guess what? You can follow them on Instagram, too.
Follow along with Sheena, Jason, and their little dog Riley as they travel in a 1977 Airstream that they've made into a bohemian-style dream. Just take one look at their trailer's living room and you'll want to curl up on their cozy couch with a good book and a cup of tea. Warm tones and hanging plants have clearly inspired the décor, and the couple sure knows how to set up a homey patio area, too.
If you're into a simpler and more functional design, then check out Nathalie and Louis' modern Airstream. They renovated the interior themselves and share it with their newborn daughter and two dogs. They are frequent RV travelers that post lots of tips, as well. You can definitely learn a thing or two from this couple about what it's like to live on the road full-time in an Airstream.
Kate and Ellen originally downsized to an Airstream in 2014 before starting a business of helping others renovate their Airstreams into dream homes, too. Their style includes earthy tones, clean lines, and modern décor with just a touch of boho. They also have lots of useful tips on how to renovate an Airstream on their blog, which you can find here.
This couple is currently in the process of renovating a 1975 Airstream into their perfect home on wheels. Following along on their DIY journey is sure to inspire you and teach you a few things along the way. Their style is definitely cozy and we can't wait to see the final product on the road!
Tom and Laura's Airstream has a more colorful bohemian flair inside, and they make living on the road look like the most fun of times. They own a 1976 Airstream and if you scroll far enough down, you can see their renovation process. The patterned walls, unique plants, and organized storage is what we love the most about their trailer.
This account showcases the Airstreams that they help renovate for RVers. The designs are modern, sleek, and customizable. It's a great place to find Airstream renovation inspiration. They're not afraid to take risks with unique floor designs, colorful cabinetry, and custom storage solutions. Somehow, each design always ties together perfectly.
RV Tips & Airstream Insurance
Do you have more questions about starting your RV adventure? Check out this article that answers the eight most commonly asked questions about RVing. If you already know what type of RV you want, then you can get a free RV Insurance quote here or give us a call at (866) 501-7335. Once you know how much your RV Insurance will be, you can calculate that into your monthly costs of RVing full-time, which we give a full breakdown of here.
---
The information in this article is obtained from various sources. This content is offered for educational purposes. It should not replace manuals or instructions provided by the manufacturer or the advice of a qualified professional. No warranty or appropriateness for a specific purpose is expressed or implied.