4 Easy Campfire Recipes for Summertime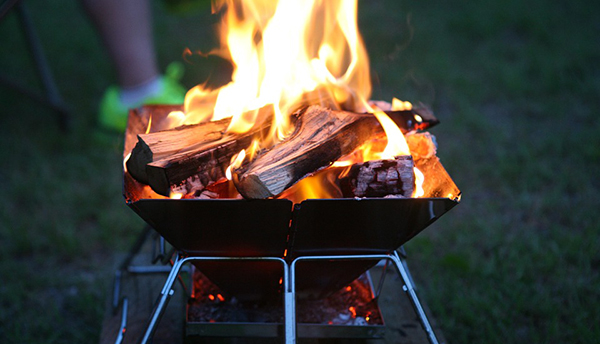 The greatest part about a camping trip is that you get to escape from the office, the house and the kitchen. You have the fun opportunity to get a little creative with meals by cooking them over a campfire instead of a stove. While having an RV stove is definitely convenient, cooking outside can sometimes be an adventure all its own. These four campfire recipes will get you even more excited once you realize that you can make a quick and easy meal without giving up colorful ingredients and flavors. These simple recipes will all serve a family of four, so park your RV, start up a fire and get cooking!
1. Breakfast – Ultimate Egg Sandwiches
The first meal of the day is always the most important, especially when you have a long day of hiking, exploring and the great outdoors ahead of you. It's also the best meal to make over your RV stove before you have your campfire burning outside. You'll need a skillet for this one, so make sure you have it handy before starting this hearty breakfast recipe. And if you do already have a fire going, you can also make this easy breakfast sandwich that way, too.
Ingredients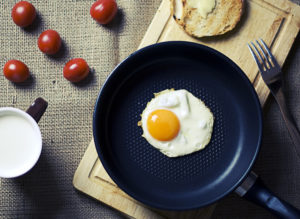 4 English muffins
4 eggs
1 tomato
4 slices of cheddar cheese
4 strips of bacon
1 skillet
Total Time: About 20 minutes
Directions
First, open and layout the four English muffins. Place one slice of cheese on the bottom half of each English muffin. Next, scramble the eggs and place about one egg on top of the cheese. Fry the strips of bacon on the skillet for about 10 minutes, or until crispy. Slice your fresh tomato into four slices and place one slice on top of the eggs. Once your bacon is ready, tear each strip in half. Place two strips on top of each tomato slice. Lastly, place the other half of the English muffin on top of it all. Take in your beautiful breakfast sandwich before stuffing it in your mouth!
2. Lunch – Grilled Summer Kebabs
Lunch is an opportunity for something a little healthier and a little more colorful. This recipe includes bright summer veggies like corn, zucchini and bell peppers that will really add some flavor and spunk to your meal. The turkey sausages offer a healthier option for protein and one skewer will replenish your energy so you can take on the rest of your beautiful summer day.
Ingredients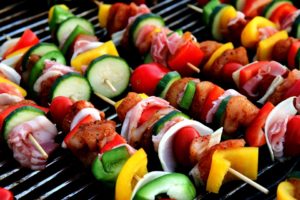 3 turkey sausages
2 corn on the cob
1 large red onion
1 large red bell pepper
2 garden zucchinis
1 stick salted butter
1 ½ tablespoons garlic salt
4 metal skewers
Total Time: About 30 minutes
Directions
Start by shucking the two corn cobs before cutting them into 1 ½ inch rounds. Cut the two zucchinis and three turkey sausages into 1-inch rounds. Cut the red onion and bell pepper into 1-inch square shaped pieces and discard the pepper seeds. Then, put all the vegetable and sausage pieces onto the skewers evenly and in a random order. Make your skewers colorful! Next, melt the butter and mix in the garlic salt. Grill the skewers over the campfire for about 15 minutes. Then, brush the garlic butter over the skewers and grill them for another 5 minutes over the fire. Make sure to rotate the skewers every 3-5 minutes so that they cook evenly. Grill any extra veggies and brush them with the leftover garlic butter. Lastly, enjoy your colorfully delicious meal!
3. Dinner – BBQ Hot Dog Packs
What's a summer camping trip without a hotdog or two? While this recipe calls for a few ingredients that need to be kept in your handy RV refrigerator, it's still so easy to make. It's one of those campfire recipes you can literally throw together, throw over the fire and throw into your mouth! You'll have a quick and delicious dinner ready for the whole family in only twenty minutes. We bet it won't take you too long to devour it, either.
Ingredients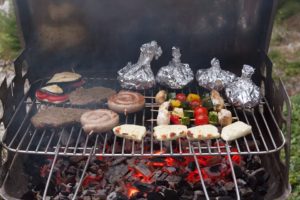 1 package (20 oz.) refrigerated red potato wedges
4 hot dogs
1 small onion, chopped
¼ cup shredded cheddar cheese
½ cup barbecue sauce
4 garlic cloves, diced
4 sheets of heavy-duty foil (about 18 in. square)
Total Time: About 20 minutes
Directions
First, layout the four sheets of foil. Divide the potato wedges evenly among the four sheets. Then, top them each with one hot dog. Add the chopped onions and diced garlic evenly between the four sheets. Sprinkle the cheddar cheese on top and drizzle the barbecue sauce over everything. Fold the foil around the mixture, making sure it's sealed tightly. Next, grill the foil packs over your campfire, covered, for about 10-15 minutes or until everything is heated all the way through. Be careful when removing the foil packs from the fire because they will be hot! Open the foil packs to allow steam to escape. Now it's time to devour your yummy BBQ hot dog packs!
4. Dessert – Nutella S'moreos
Don't ever let anyone tell you there's such thing as too much chocolate, especially in campfire recipes. For dessert, we have a very sweet treat that everyone can join in to roast over the fire. The ingredients are simple and don't take much preparation at all. Grab some blankets from the RV and snuggle around the fire while you roast marshmallows for your own ultimate s'mores masterpiece. You'll definitely want to make room in your stomach to eat the whole thing, too.
Ingredients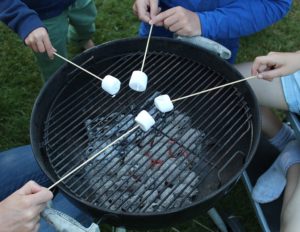 4 Oreo cookies
3 tablespoons of Nutella
8 graham cracker halves (4 whole graham crackers total)
1 milk chocolate candy bar, quartered
4 large marshmallows
4 long metal skewers or long-handled forks
Total Time: 15 minutes
Directions
Start by laying out four of the eight graham cracker halves. Then, spread both sides of the Oreo cookies with Nutella. Place one Nutella-covered Oreo on top of each of the four graham cracker halves. Place one quarter of the milk chocolate candy bar on top of each Oreo. Next, put one large marshmallow on the end of your long metal skewer. Hold the marshmallow over the campfire, turning occasionally, until golden brown or however roasted you desire. Place one roasted marshmallow on top of the quartered chocolate bars. Cover your creations with the remaining graham cracker halves. Step back and appreciate your gooey chocolatey s'mores masterpiece. Now, dig in!
Everything sounds pretty delicious, right? You can even turn a lot of these campfire recipes into your own, too. Put ham in your breakfast sandwich, add mushrooms to your skewers or even replace peanut butter for Nutella in your s'moreos. With these awesome campfire recipes, your next camping trip this summer will be a blast!
---
The information in this article was obtained from various sources. This content is offered for educational purposes only and does not represent contractual agreements, nor is it intended to replace manuals or instructions provided by the manufacturer or the advice of a qualified professional. The definitions, terms, and coverage in a given policy may be different than those suggested here and such policy will be governed by the language contained therein. No warranty or appropriateness for a specific purpose is expressed or implied.